Taupo had a violent past. In 181AD the volcanic crater erupted causing such a mess that its effects on the weather and sky were recorded in ancient Rome and China. After the massive explosion of the crater the resulting hole filled with water and created Lake Taupo, which is about the same size as the whole land area of Singapore and the largest freshwater lake in Australasia.
---
Population: 33,000
Vibe: Laid-back and scenic with great eateries and lots of outdoor activities on offer.
Known for: Bordering on the massive Lake Taupo, the creation of which is the result of a violent eruption thousands of years ago.
Must Do: Visit Huka Falls – Located just outside of Taupo, they're famous for the speed and volume of water they produce and their uniquely blue colour.
---
THINGS TO SEE AND DO

Huka Falls Walk – New Zealand's most photographed natural attraction. Located on the Waikato River, a crazy 222,000 litres of water travel through per second – enough to fill an Olympic sized swimming pool in just 11 seconds! You'll get a great view of the racing water from the pedestrian bridges.
Jump out of a plane – Get a birds eye view of Lake Taupo, Mt Tongariro and Mt Ngauruhoe (aka Mt Doom to Lord of the Rings fans).  If you're lucky with weather you may even be able to see both coasts of the North Island!
Bungy or extreme swing off a bridge – you have the choice! Located above the Waikato River, complete a water touch bungy. If you're not too keen on jumping, choose the Cliffhanger swing instead - both as thrilling as the other!
Soak in natural thermal hot pools – thanks to underground geothermal activity, Spa Thermal Park offers free natural hot pools to relax in. Grab your towel, a few pals and spend a couple of hours soaking.
Grab a takeaway coffee and walk around the Taupo lakefront area – Stroll around the shops and lakefront. You can also try the hole-in-one challenge – drive a golf ball onto a floating pontoon on the lake for a chance to win a great prize. 
NB. Our travel passes do not include Taupo but you are able to hop-off en route (between Lake Aniwhenua and Whakahoro) to spend a night or more there!
---
EATING AND DRINKING
The lakeside town of Taupo offers plenty of eateries– pubs, restaurants and cafes line the lakefront – a meal with a view.
Spoon & Paddle is a great café with colourful décor and outdoor seating – their menu has lots of gluten-free and dairy-free options.
Pub 'n Grub offers classic pub food and extensive selection of beer, with an amazing view of Lake Taupo.
Storehouse is the trendiest café in Taupo - a transformed warehouse, they serve bagels and coffee during the day and beer, cocktails, wine and share plates at night.
Lakehouse are specialists in craft beer from breweries across NZ – sit outside for great lake views or inside around the fire. They also have weekly specials and live music! 
See Taupo for yourself! 
---

READ OUR BLOG: Why you should hop off in Taupo!
One of the North Island's most beautiful townships and home to NZ's largest lake, there are so many things to see and do in Taupo that you definitely need to hop off and spend a few extra days exploring everything it has to offer.
---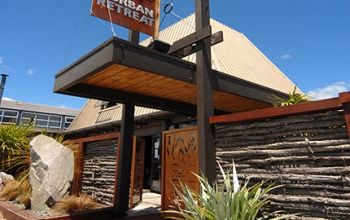 Location Taupo Urban Retreat has a fantastic central location with only a couple of minute...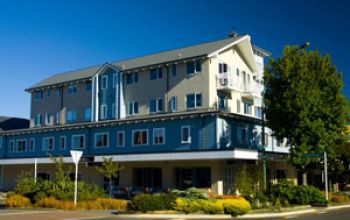 Base Taupo is located just a few seconds from the lakefront and have transport, cafés & shops on your doorstep.