Picton is a bustling little coastal township, popular with tourists (both domestic and international) as the gateway between the North and the South Island.
Nestled at the head of Shakespeare Bay in the heart of the Marlborough region, Picton is where the ferries arrive and depart from transporting passengers, cars and goods between the two islands. It's a lovely place to spend a couple of days, enjoying the local eateries, watching boats of all shapes and sizes come and go or enjoying some of the walks/cycle trails in the area. From Picton you have access to the Marlborough wine region (inland), famous for its Sauvignon Blanc, as well as the Marlborough Sounds which is rich in rich in marine life including 5 species of dolphin, orca, humpback whales, seals, penguins and other rare birds.
---
Population: 4,340, but this swells in summer with many visitors
Vibe: Small, sunny and bustling with holiday makers and boaties. It you don't have a beer/wine in hand then you probably have an ice-cream, watching ferries and yachts come and go from pretty waterfront park.
Known as: The gateway to the beautiful Marlborough Sounds and where the inter-island ferries disembark.  
Must Do: Take a water taxi into Marlborough Sounds and walk a section of the Queen Charlotte Track (ie Resolution Bay – Camp Bay)
---
Things to see and do
Queen Charlotte Track - Hike! 
Picton is the perfect place to plan a walk on the scenic Queen Charlotte Track. This spectacular walking/cycling track (approx 70km in total), stretches from Ship Cove to Anakiwa, passing through coastal forest, sandy bays and up onto ridges where you can get view across Queen Charlotte and Kenepuru Sounds. While the full track takes 3-5 days to walk, there are plenty of great options to do day walks on parts of the track. You can organise a water taxi to drop-off and pick-up at your preferred start and finish location. For more information on this track visit the Queen Charlotte Track website.
Wildlife and Dolphin Experience
Head out on a guided boat tour for an encounter with some of the many marine mammals and birds that reside in the Marlborough Sounds. Enjoy respectful interactions with friendly dolphin pods and if the conditions permit you may get the opportunity to swim with these amazing creatures.   
Edwin Fox Maritime Museum
Moored on the waterfront of Picton, you will find Edwin Fox, the worlds second oldest surviving merchant ship. Built in 1853 this ship has a fascinating history battling the oceans to transport settlers, convicts, coal and beer. In 1965 she was purchased for 1 shilling and a local committee began a major restoration project to preserve her for others to enjoy.  For those who like a bit of history you'll love learning more about this ship's colourful past. 
Shelly Beach to Bobs Bay - Short Walk 1km
This is a great little walk for those wanting to stretch the legs without breaking a big sweat. The track is accessible from Picton's waterfront by following the foreshore around to the right side of the bay heading towards to the boat Marina. Cross the Marina bridge and veer left. The track should be clearly marked. 
---
Eating and Drinking
Picton is full of little bars, restaurants and cafes for every budget. If you enjoy seafood this is a great place to order a bowl of steaming green lip mussels or sample freshly caught fish from the Sounds (Blue Cod, Gurnard and Tarakihi are the local favourites).  There are plenty of options whether you want a beer in the sun, a strong cup of coffee or something a little more gourmet. For those feeling energetic you can walk/bike around the the neighbouring Waikawa Bay and reward yourself with a cold beer and some delicious fish and chips at the Jolly Roger. 
Whatever you decide on, wash it down with a double scoop hokey pokey ice cream. That's the Kiwi way!
---
Get to Picton!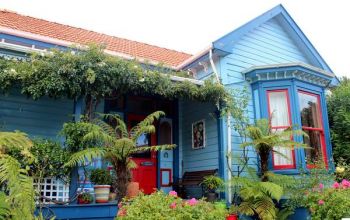 The Villa is a 100 year old character home. Enjoy the warm homely comforts this hostel offers. Relax in the backyard, have a hot spa or go out for a ride on one of their free bikes.