Located in the South Island, in the heart of Mackenzie Country, the stunning Lake Tekapo lies just a short distance from Mt Cook and New Zealand's highest peaks providing breath-taking views and ample photo opportunities. Lake Tekapo is the highest (710m) and largest of 3 lakes in the MacKenzie area (the others are Lake Ohau and Lake Pukaki). Tekapo means 'night sleep place' in Maori, derived from the words 'taka' or 'teka' (sleeping mat) and 'po' (night).
Lake Tekapo is a spectacular turquoise blue in colour caused by finely ground glacial rock that's fed into the lake via rivers from the Southern Alps; and is reputed to have one of the clearest night skies in the world.
On the lake shores you will find two iconic features; a dog statue - which is dedicated to the working collie dogs of the MacKenzie Country; and the Church of the Good Shepherd which was built in 1935. It was the first church in the area and is now a favourite location for weddings (just in case you meet someone nice on your travels).
Stray stops at Lake Tekapo en-route to Mt Cook and allows time for some unforgettable photos.
---
See Lake Tekapo for yourself! 
---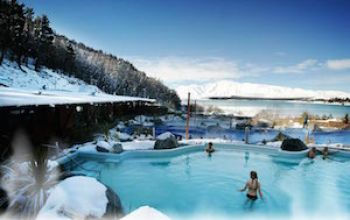 Tekapo Springs has entertainment for everyone! There are hot pools, an ice skating rink and a snow tubing park in a picturesque location!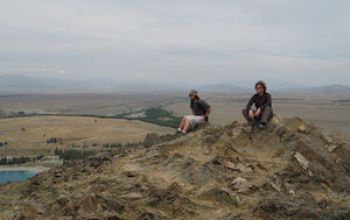 Get amazing 360 degree panoramic views of the Mackenzie Basin flats, surrounding mountains and lakes at the summit of Mt John.