Hahei is a beautiful white sand beach in the Coromandel, particularly popular over the Christmas and New Year with Kiwi holidaymakers. From here you can access the world-famous stunning scenery at Cathedral Cove by either foot, boat or kayak and just down the road you'll find the famous "Hot Water Beach" - where you can dig holes in the sand and relax in the hot water which comes up from underground natural springs.
---
Population: 300 - although in the summer it swells to around 3,000!
Vibe: Laid back, summer days. A great place to just relax and soak up some of the most beautiful beaches in New Zealand.
Known for: Being the access point to Cathedral Cove, arguably one of New Zealand's most picturesque beaches. 
Must Do: Visit Cathedral Cove and see it for yourself. Oh and wear sunscreen! Getting sunburnt can really ruin your day. 
---
THINGS TO SEE AND DO
Explore Cathedral Cove
Cathedral Cove is a beautiful beach only accessible on foot or by water. There is a water taxi that leaves regularly from Hahei beach to Cathedral Cove, but the most rewarding way to see it is by hiking the coastline track. You can take the track from the northern end of Hahei beach.  It will take you around the coastline, past Gemstone Bay (the best place to snorkel) and Stingray Bay (which has a big cave you can explore). You can also take a scenic boat cruise or join a kayak tour and paddle around from Hahei to see the coastline from another perspective. 
Dig your own hot tub at Hot Water Beach! 
Hot Water Beach (just a few kilometres down the road from Hahei) is quite unique. There is a natural hot spring that runs under the sand and at low tide you can dig a hole in the sand and make your own natural hot tub! The water under the sand is really hot so watch your toes! 
Visit historical Maori Pa sites
At the southern end of Hahei beach there is a short 15min track that takes you through an ancient pohutukawa grove (pohutukawa trees are known as New Zealand Christmas trees due to their bright red flowers that bloom in December) up to Te Pare Historic Reserve.  This historic area of headland has spectacular views up and down the coast and was once the site of two Maori Pa. A Maori Pa is a defensive settlement or fortress area where warriors could keep watch against enemy invaders. 
Go snorkelling in a marine reserve
A large portion of the area between Hahei and Cathedral Cove is a marine reserve that is completely protected from fishing so it's teeming with marine life.  You can hire a mask and snorkel from the dive store and hike around to Gemstone Cove on a self guided snorkel tour, or you can book a dive trip which will take you out to the outer islands. 
Eating and Drinking
There are a couple of options for eating and drinking in Hahei. In the central area you'll find a fish and chips shop, a small convenience store, the Hahei Beach Cafe, Maddens Ice Cream and The Pour House, which has a nice beer garden, gourmet wood fired pizzas and locally brewed beer. At the Stray accommodation we have a great outdoor area where we can cook a classic Kiwi BBQ and relax with a few cold ones.
---
Getting to Hahei
There are no public bus or rail options for getting to Hahei. The Stray Bus departs Auckland for Hahei multiple times a week, year round. Stray passengers stay in purpose-built Stray accommodation.
Get to Hahei! 
---
READ OUR BLOG: Discover the best of Hahei with the Hahei Explorer
Experience the adventure on the Hahei Explorer as we show you the best of what Hahei, Cathedral Cove and our incredible volcanic coastline has to offer.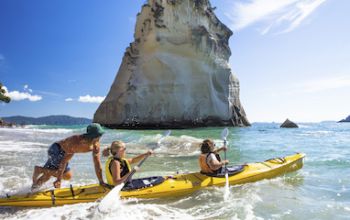 Paddle through sea caves, interact with the local marine life and discover the thrill of kayak sailing with the wind on your back.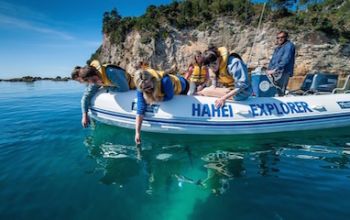 The Hahei Explorer is a scenic boat trip in the Hahei Marine Reserve.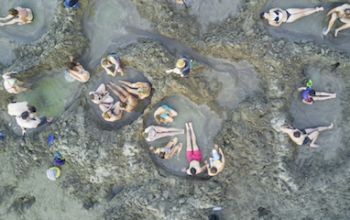 Hot Water Beach is the hottest spot in the Coromandel Peninsula and a popular place for people around the world.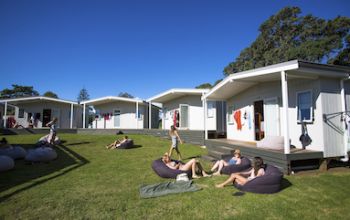 Brand new cabins located on 500m of pristine beachfront in Hahei - exclusively for Stray passengers!