Kaikoura is a pretty little coastal town, known as one of New Zealand's marine-life meccas. 
After roads were destroyed in an earthquake in 2016, Kaikoura was shut off from the rest of the country and sadly missing from the Stray route. However the roads have now reopened, and we're back in business! 
---
Population: 2,000 
Vibe: Quiet, relaxed, coastal vibe, the local people are friendly and laid back.
Known for:  Being the best place to eat crayfish! When translated literally, Kaikoura means "food-crayfish" in Maori – in other words, "meal of crayfish" so make sure you give it a try when you're in town.
Must do: Go whale watching! Kaikoura was originally established as a very successful whaling base in the mid 19th century. Thankfully whales are now protected and Kaikoura has a huge range of whales and dolphins visiting its marine rich waters. Sperm Whales are the most common, but you can also see White Whales, Minke Whales, Blue Whales, Killer Whales and Humpback Whales. 
---
Things to see and do
Kaikoura peninsula walkway
Hiking the Kaikoura peninsula walkway is one of the most popular, enjoyable and best ways to see Kaikoura – and it's totally free – bonus!  Allow half a day to complete the whole walk at a leisurely pace. 
Go whale watching
Kaikoura is home to giant Sperm Whales all year round and many other species of dolphins and whales migrate through its waters. You could see Humpback whales, Blue Whales, Pilot Whales and Orca. Word from the wise – if you get seasick, take a tablet before getting on board!
Swim with the dolphins
Dolphin swimming is another big drawcard and available all year round. In Kaikoura you can swim with Dusky dolphins, renowned as the best dolphins in the world to swim with due to their playful and inquisitive nature!  If you don't want to get in the water you can join the tour just to watch. The dolphins put on a spectacular show jumping out of the water, riding the bow of the boat and the clear water means you get a really good view! Best time to go - sunrise! 
Go Fishing
There's a reason there are so many whales, dolphins and seals in Kaikoura – it's because there are so many fish! Koura Bay Fishing Charters is one of the best value tours you can do in Kaikoura. You'll pull up a crayfish pot, go fishing in the deep trench for Blue Cod and Sea Perch. Once back on dry land you'll  get to taste crayfish and have a few glasses of wine before leaving with your freshly filleted fish.  Top tip – take the fish fillets down to the fish and chip shop where they'll batter and cook them for you for just a few dollars! 
---
Eating and Drinking
It's all about seafood in Kaikoura and you'll see little seafood carts/caravans along the coastline where you'll be able to get fresh Crayfish, Scallops, Fish, Paua and Mussels – Nins Bin is the most famous one and the Seafood BBQ Kiosk near the start of the peninsular walk is popular too.  The Fish and Chip shops opposite each other in the town compete to do the best fish and chips – you can't go wrong with either! 
If you need a pint after a day out on the water the Whaler on the main street has a good pub atmosphere with local beers.
---
 Get to Kaikoura!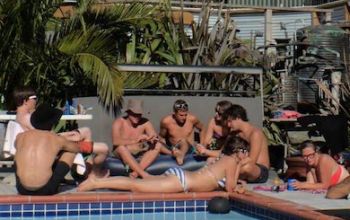 Dusky Lodge is a good place to unwind and has great facilities including 3 self-catering kitchens, a games room, BBQ, and a swimming pool.