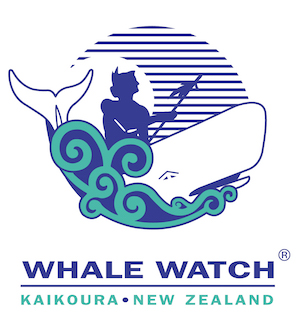 Whale Watch® Kaikōura is New Zealand's only marine-based whale watching company offering visitors an exciting up-close encounter with the Giant Sperm Whale at all times of the year. Our 95% success rate means we guarantee an 80% refund if your tour does not see a whale.
Whale Watch® Kaikōura is located in the town of Kaikōura - a scenic two and a half-hour drive north from Christchurch in New Zealand's South Island. Kaikōura is a special place of lush pastures and towering, snow covered peaks that fall to the sea. This rare magic continues just offshore where a deep undersea canyon combines with unusual sea currents to attract an extraordinary abundance of marine life, the most famous being the Sperm Whale, the stars of the show and year round residents. 
A typical Whale Watch tour may also encounter New Zealand Fur Seals, pods of Dusky Dolphins and the endangered Wandering Albatross. Depending on the season you may also see migrating Humpback Whales, Pilot Whales, Blue Whales and Southern Right Whales. Kaikōura often hosts the Orca - and is home to the world's smallest and rarest - the Hector's. Kaikōura also attracts the largest concentration and variety of seabirds on mainland New Zealand including 13 species of Albatross, 14 varieties of Petrels and 7 types of Shearwater.
Kaikōura truly is a marine mecca. 
It is recommended to dress warmly and wear flat shoes. If you wish to spend time on the outside decks of our vessels you may need light waterproof clothing depending on the sea conditions.
Tours are scheduled at 7.15am, 10am and 12.45pm daily with an additional tour at 3.30pm in summer months (Nov-March).  Bookings essential.  Adverse sea conditions can cause cancellation. It is also advised to take precautions in case of motion sickness. 
 The price listed is the retail rate - book in your Stray Mate app for a discounted price! 
Have a question or want to book? Get in touch with our team