Christchurch is a European settlement started with the English who arrived in large numbers starting from 1850 and the city still shows huge signs of their influence. From the street names to the River Avon which runs through the middle of town, to the early gothic architecture including what was the fantastic Cathedral in the town's square (imaginatively named 'Cathedral Square').
On February 22nd 2011, a major earthquake struck the Canterbury region, forever altering the beautiful city of Christchurch. The earthquake caused widespread damage, especially in the central city and eastern suburbs. The city has undergone a massive facelift and now has lots of chic restaurants, urban bars and funky cafes. Although much of the city's heritage architecture was damaged during the quake the city still displays some traditional English charm. The rebuild started the day after the quake hit and they still have a long way to go, but Cantabrians are a resilient lot and are committed to rebuilding their city and restoring it to its former glory.  
---
Population: 375,000 - the South Island's largest city and New Zealand's second largest.
Vibe: Walking around Christchurch and observing the devastation from the earthquakes may make you feel a little sad but there is also a feeling of hope and revival as funky street art, new cafes and shops, are popping up over the city.
Known as: 'The Garden City' thanks to the Botanic Gardens and Hagley Park - beautiful big parks in the city centre.
Must Do: Visit the 185 Empty White Chairs - the Earthquake Memorial where a chair has been placed for every person who died in the earthquake.
---
Things to see and do
Christchurch Botanic Gardens
Wander through the Christchurch Botanic Gardens and see why Christchurch is known as the Garden City. The gardens are free to visit. 
Visit Riverside
Riverside is a brand new development consisting of an indoor market, laneways of boutique shops, restaurants, cafes & bars. 
Check out the Street Art
A serendipitous tourist attraction, Christchurch's street art was literally born from the rubble. Hundreds of torn down buildings left the city scarred, with large ugly concrete walls facing what was left of the CBD. And so, the people began to paint. Uplifting, inspiring and comforting murals began to adorn the city, and before long, the world took notice. Tonnes of local and international street artists have now left their mark, and the city hosts annual street art festivals (that inevitably lead to more art being created). Wander around the central city and you're bound to find works, or check out this map of where each piece is located. 
Visit Quake City
Quake City tells the story of the recent Christchurch Earthquakes and the effect they had on the city. Watch the film where people tell their stories and check out the exhibits showing the extent of the devastation. 
185 Empty White Chairs
At 236 Cashel Street you'll find an empty lot with 185 white chairs of varying sizes and shapes, even a baby's chair, which represents the people who lost their lives in the earthquakes and the turmoil the city went into after the quakes. It offers a place for people to remember and grieve for the victims. 
Take a tram ride around the city
Why walk when you get sit comfortably on a restored historic tram and travel around the city in style? A tram pass is valid for the whole day so you can hop on and off as you please. Your driver guide will provide commentary and point out places of interest. 
International Antarctic Centre
The International Antarctic Centre is located within walking distance of the airport and is a great way to spend a couple of hours if you're waiting for a flight. You can experience an Antarctic Storm, learn about Antarctica and see the little blue penguins. 
Visit Kaikoura for whale and dolphin watching
From Christchurch you can book a return trip to visit Kaikoura, an iconic marine haven a few hours north. Either plan a day trip or stay for a few days and make the most out of all the exciting activities on offer.
Visit Akaroa Township
Just 75km from Christchurch is New Zealand's very own French village, Akaroa. The French colony here was what prompted the British to set about proceeding to make New Zealand a formal colony leading to the Treaty of Waitangi. Nestled in the heart of an ancient volcano, explore the colonial architecture, galleries, craft shops and cafes of this historic French and British settlement.  
---
Eating and Drinking
If you're after a casual bite to eat, check out Little High (on High Street, CBD). A collection of budget friendly local eateries share space in an upmarket food hall. A popular spot for groups of varying tastes, you can have vegan dumplings while your dining partner gets a plate of ribs, and enjoy together with a beer or wine. 
Riverside market also offers casual 'eat in' options as well as plenty of delicious fresh produce to take away. 
The Christchurch Tramway Restaurant is a unique dining experience that comes highly recommended- although at $99 per person it's not the most budget friendly. 
Smash Palace is a Christchurch hospitality icon. Known for an eclectic mix of punters, this outdoor beer garden serves their famous Bodgie Beer (among many others) from an old bus. Any night of the week you might find leather clad bikies, live music, electronic/EDM gigs, or crowds of workers catching up over a burger and a cold one. With heating, blankets and hot water bottles(!) available in the winter, this is a hot spot any time of the year!
Check out Christchurch!
---

READ OUR BLOG: What to do in Christchurch (even if you're short on time)
If you've only got a few hours before a flight, half a day or a whole day, we've got the perfect Christchurch sightseeing itinerary for you!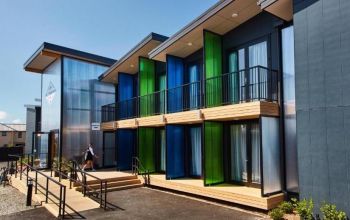 Bealey Quarter (rebranded from All Stars Inn on Bealey), a purpose built complex with your...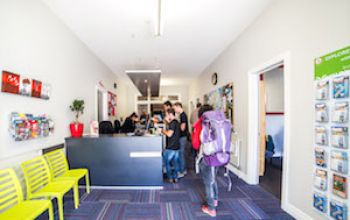 YHA Christchurch is a homely, comfortable, 100 year old building with a friendly, modern a...