Strademark Experience
Lake Aniwhenua is one of the most special places on the Stray route. That's because not only is it a tranquil, lakeside retreat with the best sunsets, it's also a place where you can experience authentic, modern day Maori culture, learn about what life is like in rural New Zealand, and enrich the lives of children in the local community. 
The Local Area
This region is steeped in history and culture. The Maori Ngati Manawa tribes have lived here for centuries and their culture still thrives. There are also many sites of historic significance, including the oldest Maori rock art in the country.
The closest town is Murupara, once a very prosperous forestry town, but as forestry became more reliant on machinery and less reliant on human labour, the region has struggled. Unemployment is high and many families live below the poverty line. 
The Vision
Stray and the owners of Kohutapu Lodge had a shared vision to revitalise Murupara town (economically and socially) and to provide an authentic insight into modern day Māori culture and a connection to local communities for Stray travellers. 
The 'Strademark Experience' 
The experience starts with a traditional Maori greeting in the Kaingaroa Forest by a local guide (member of the Ngati Manawa Iwi). We are introduced to the tribal lands with a forest walk to a sacred archeological site where you will see the oldest recorded Maori rock carvings (carbon dated to 1050 AD), hear tales of battle and revenge, as well as stories of the water guardians (taniwhas) that protect the local people and the waterways.  
As we make our way through Murupara township, we will learn about the people of the area, its history and challenges.
When we reach the beautiful lakeside lodge, we are warmly welcomed by our hosts (a local Maori family) and spend the afternoon learning about Maori customs, hearing stories of early settlement in New Zealand, trying out traditional activities like Mau Rakau (Maori stick games), flax weaving, learning the Haka and watching a traditional Hangi being prepared - which is later served for dinner! 
The following day we visit the local school for a cultural exchange and spend some time in the classroom with the children to help expand their thinking beyond the confines of Murupara.  We deliver packed lunches of leftover hangi to children who would otherwise go without.  We share stories about our respective cultures, countries and careers, which allows the kids to think of exciting possibilities for their futures.   

We have delivered more than 28,000 hangi meals to the Murupara community! 
What's Included: 
Guided tour to a sacred archaeological site to view Maori rock carvings
Introduction to Murupara area, its history and challenges
Hangi cooking demonstration
Traditional Maori stick games
Storytelling around the fire (local myths and legends)
Traditional Hangi feast for dinner + dessert
1 night's accommodation in comfortable lodge cabins, bedding provided
Continental breakfast 
Participation in a local community program (only available during school term)
 Price: $89 NZD Book in the Stray Mate App
Optional Activities: 
Learn how to perform the Haka or try traditional Flax Weaving
Please note: The minimum number required to visit Lake Aniwhenua is 9 people. Groups that don't meet minimum numbers will stay in Taupo instead. If school is not in term, left over hangi is delivered to local elderly people in the community. 
---
Experience Lake Aniwhenua with Stray
---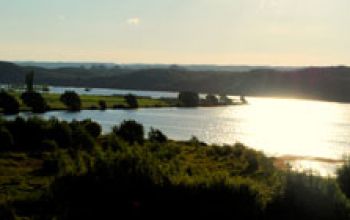 As one of Stray's top rated experiences, a visit to Lake Aniwhenua has a sense of magic th...