This area is a true outdoor playground. Whakahoro is off the beaten track, along an unsealed road, in the Ruapehu District on the banks of the Whanganui and Retaruke Rivers, and surrounded by Whanganui National park.
Stray stay at Blue Duck Station, a 7,200 acre high country farm that is both a working station and an environmental conservation leader. Blue Duck Station is consistently ranked as Stray's #1 destination, and once you arrive, you'll see why. Getting off the grid (there's no mobile reception!) and out into the New Zealand bush to experience real station life is a highlight you don't want to miss.  
Whakahoro has a very colourful history, both Maori and European, and there are remnants of this all around Blue Duck Lodge.
There is also a huge conservation effort in preserving the Blue Duck (or Whio in Maori), which is an endangered species. 
Must see and do
Try to spot a rare Blue Duck while walking along the Kaiwhakauka track above the waterfall

Discover your inner cowboy/girl and explore the station on horseback 
Kayak up the Whanganui river, and return by jet boat! 
Get a taste of what Blue Duck Station is all about on a 4WD bush safari

Shoot a gun! You can choose claybird shooting or to go on a guided goat hunt
Get involved in the various conservation projects when you stay at Blue Duck Lodge from surveying the Kiwi and Whio population to helping restore some of the historic buildings in the area
Star-gazing, turn off the lights, lie on your back and watch for shooting stars!
Get off the beaten track to Blue Duck Station!
---

READ OUR BLOG: The Day We Found Blue Duck Lodge 
Experience the beautiful rural playground that is Blue Duck Lodge and see a side of New Zealand not seen by many.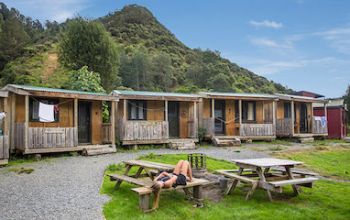 Situated in a clearing above the banks of the Retaruke River Blue Duck Lodge looks out ont...