Bubbling mud pools, geysers and the smell of rotten eggs, Rotorua is definitely a fascinating place.  Whilst "roto" means lake and "rua" means two in Maori, the name translates as "second lake" (there are in fact 18 lakes in the region). Over 70% of the population in the area is Maori, with the earliest settlers ("Te Awara") arriving more than 600 years ago. It is therefore unsurprising that the culture is highly ingrained into the city, with numerous cultural experiences available for visitors.
---
Population: 65,000
Vibe: A backpacker/touristy vibe, as Rotorua is one of New Zealand's busiest tourist destinations thanks to its lively geothermal activity, combined with strong Maori history and adventure tourism. 
Known for: The distinct 'rotten egg' smell, created by hydrogen sulphide emissions from the geothermal activity under the ground. 
Must Do: Go white-water rafting down the highest commercially rafted waterfall or mountain bike some of NZ's best mountain biking trails in Whakarewarera Forest.  
---
Things to see and do
Kaitiaki Adventures
This is your chance to go rafting over the highest commercially rafted waterfall in the world! Face your fears and challenge yourself to face grade 5 rapids, a one metre waterfall and then the big daddy - a 7 metre waterfall! You could also try white water sledging on grade 3 rapids.  
Zip-line Canopy tour
Fly through ancient native forest on a series of increasing challenging ziplines. Do your best superman impression and challenge yourself by falling backwards, or running and jumping from the platforms! Canopy Tours is also doing some great conservation and when you go zipling, you're helping to contribute to the restoration of the native forest and birdlife. 
Go mountain biking
Rotorua has became a hot spot for mountain biking and the international mountain biking festival Crankworx is held here each year. The Whakarewarera Forest offers some of the best mountain biking trails in New Zealand. Bike hire is available in Rotorua with transport out to the forest.  
Wai-O-Tapu Thermal Wonderland

Wai-O-Tapu Thermal Wonderland is named one of the "20 Most Surreal Places in the World" by Trip Advisor.  See a stunningly diverse range of natural examples of geothermal activity including the Lady Knox geyser, champagne pools, steaming vents, boiling mud pools and volcanic craters. You won't see anything like this anywhere else! 
Velocity Valley
Check out the exhilarating activities at Velocity Valley including the Agrojet (jet boat stunt ride), Freefall Xtreme (feel like you're flying on top of a giant jet), Sheeb (the world's one and only monorail cycle raceway) or Swoop (the closest thing to a bungy without being a bungy)! 
Hobbiton Movie Set Tours
If you're a Lord of the Rings fan you'll want to visit Hobbiton.  You can take a half-day tour from Rotorua which includes your transport to Matamata. 
Go Zorbing
Zorbing is another great adventure activity that started in New Zealand! Roll down a hill in a giant ball, either dry and fully clothed, or in a zorb filled with warm water. You can fit up to three people in a zorb which makes it less than $30 per person. 
Soak in thermal hot pools

There are no shortage of hot thermal pools in Rotorua, most accommodation providers have a pool and the thermal water comes directly out of the ground. The Polynesian Spas and Hells Gate offer thermal pools and mud baths. You can also find some beautiful natural hot pools (pictured above) just outside of Rotorua, the most popular one is Kerosene Creek but if you ask a local (or your driver) nicely, they might tell you some of the other secret spots. 
Wander around the peaceful Government Gardens and the lake front area. See the locals playing lawn bowls, stop in at the Rotorua museum or take a picnic lunch. In the weekends you'll sometimes find events taking place on the green.

Kuirau Park
Check out some geothermal activity for free! Take a walk around Kuirau Park to see some boiling mud pools . You'll also find the local market here on Saturday mornings with yummy food, souvenirs, art and crafts and other knick-knacks for sale. 

Go Luging
Luging is yet another awesome New Zealand founded adventure activity.  Take the Skyline Gondola to the very top of the mountain where you'll get great views over Rotorua and the lake. Race down the tracks in a little go cart/toboggan type contraption, through the forest, then take the chairlift back to the top - one ride is never enough!
Fun fact: Rotorua earned the name 'Rotovegas' based on its popularity as a tourist destination - there's even a 'Welcome to Rotovegas' sign modelled after the famous Las Vegas landmark at the top of the Skyline Gondola. 
---
Eating and Drinking
There's plenty of great restaurants and places to drink ranging from iconic historic pubs like the Pig and Whistle, casual dining restaurants like the Fat Dog (where the portion sizes are massive!), to the backpacker bars like Lava Bar (great drink specials) and the new craft beer bars and bistros on Eat Street - Rotorua's main drinking and dining precinct. 
---
Get to Rotorua!
---

READ OUR BLOG: The Ultimate NZ Road Trip
Got a few extra days up your sleeve? Rotorua is a great place to hop off.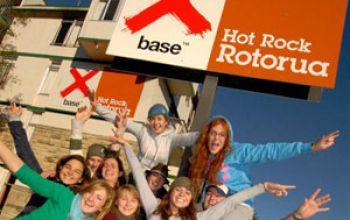 Experience a warm Base Rotorua welcome in the geothermal wonderland that is Rotorua. Base...
About YHA RotoruaYHA Rotorua is the perfect place to stay in Rotorua. This backpacker host...