Tour Highlights
Enjoy some winter sun in the subtropical North. This 3 day tour takes you from Auckland to the Bay of Islands and back again. You'll get out on the water exploring the beautiful beaches, see giant native Kauri trees and go sand boarding down massive dunes. It's a jam-packed adventure made even better with the company of an awesome driver guide and a great group of travellers to explore the region with. 
WHAT'S INCLUDED: 
All transport
You'll travel in our comfortable private, air-conditioned minivans
---
Stray Guide
Far more than just a driver - expect entertaining commentary, insight into local secrets and extra support from your guide. 
---
Accommodation
2 nights' hostel, dorm-share accommodation
---
Top rated activities
From cruising the Bay of Islands to sand-boarding down giant dunes, this is an action-packed tour with great activities included:  
Paihia: Day trip to see the meeting of two oceans at NZ's northernmost point, Cape Reinga 
Cape Reinga:  Sandboarding on massive sand dunes. 
Paihia: Hole in the Rock marine cruise
Your Guide can help you book any additional activities you want to do that are not included in the itinerary, often at a special discounted Stray price!
Itinerary
Due to COVID-19 all Stray trips are suspended until 1 November 2020. Please check our Service Updates page for more information.
---
Departs from: Auckland
Day: Wednesdays & Saturdays
Time: 7:30am
You can select your departure date and check availability at checkout. 
Haere mai (welcome)! Your Stray adventure kicks off in New Zealand's largest city, Auckland. We depart northbound for the relaxed seaside town of Paihia, gateway to the beautiful Bay of Islands. On the way you'll learn about the rich early European and Maori history of the region. After stopping to see giant kauri trees en-route, we continue on to Paihia. This afternoon you will do the famous 'Hole in the Rock' cruise and make an island stop in the bay. Keep a watchful eye out for playful dolphins and other marine life!
Today you travel to the northernmost point of the country, the spiritually significant Cape Reinga. Highlights of this day trip include a visit to 90 Mile Beach, dune surfing and seeing the clashing of two oceans! You have the option to sample some of the best fish and chips available on your way back to Paihia (own expense). Make sure you pack a lunch, snacks and enough water to fuel you through the day.
This morning you are free to explore this charming seaside town. You could view the 144 islands of the Bay of Islands from above with an exhilarating skydive, visit the nearby Waitangi Treaty Grounds, hop on the ferry to wander around Russell across the bay or just relax on the beach. We depart in the afternoon to head back to Auckland, where your journey comes to an end. We hope you had a blast!
Accommodation
Dorm-share accommodation at the Peppertree Paihia is included with your tour. You can choose to upgrade your accommodation to a single or twin/double private room (subject to availability). 
Single Room: +$165
Double/Twin Room: +$90 per person 

(can only be booked if you are travelling with a companion). 
To request an accommodation upgrade please email [email protected]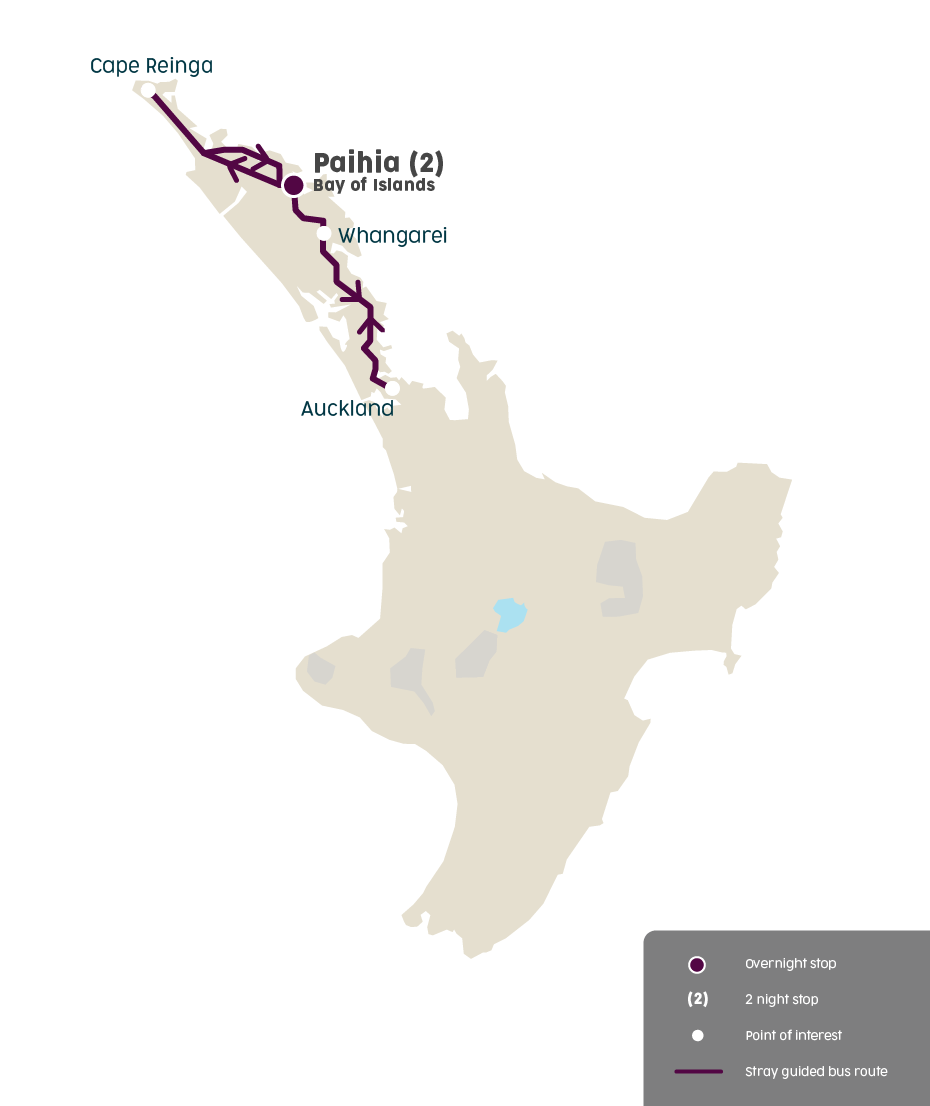 Need to Know
Due to COVID-19 all Stray trips are suspended until 1 November 2020. A new timetable will be available 1 August 2020. Please check our Service Updates page for more information.
---
Stray Journeys are designed to take you on a once-of-a-lifetime journey, with plenty of awesome stops along the way showing you the real New Zealand!


During the off-peak season (April to September) Stray Journeys tours are operated on the Freestyle Travel route. This means that some passengers on your trip who are travelling on flexible passes will be hopping on and off the bus but you will stick with the bus for the duration of your tour. 

Some key details...

Group Size: Small Group (Avg 15, Max 45)
Physical Rating:  Average - our tours include light hiking
Transport: Travel by private, air-conditioned bus (20-45 seats). 
Guides: Your Guide is also your driver - expect entertaining commentary, to learn some interesting facts about New Zealand and to hear a crazy story or two. 
Accommodation: Standard accommodation is dorm-share. Upgrades may be available on request.  
Activities: Top-rated activities are included. If you want to do any additional activities, not specified in the itinerary, these can be booked via your guide, often at special Stray price. 
Meals: Meals are not included so you have the flexibility to choose your own. 
Stray Journeys Travellers: Our travellers are from all over the world, they are energetic, adventurous and mainly aged between 22-35 years old. 70% of our travellers are travelling solo.
Children: While not common, children aged between 7 - 17 are permitted to travel on this tour providing they are travelling with a parent or legal guardian and are booked to stay in a private room together. A 15% discount off these rates is available for children. Please email 

[email protected]

 to enquire about availability. 
What to Bring:
Sturdy walking shoes/boots, swimming gear, hat and sunscreen, motion sickness tablets, water bottle, towel and toiletries, warm clothing and waterproof jacket, insect repellent, camera. 
Luggage should be restricted to 15kg in a single bag or suitcase, plus a small day pack. 
Departures: 
Every Wednesday and Saturday between April and September from Auckland City: 
YHA City (Go to Queen St) 7:30am
YHA International 7:30am 
Base ACB (Corner of Queen St & Darby St) 7:40am
Oakley Shop (99 Queen Street) 7:50am

Travelling in Summer from October - April
Between October and April, a variation of this tour is available: Worsley Tour

This tour follows a different itinerary to suit the season.