Explore the very best of the North Island. Visit volcanic plateaus and vibrant cities, immerse yourself in local Maori culture and relax on some of the best beaches New Zealand has to offer.
---
---
DEPARTURE DATES: 
6 October (Auckland)
Want to travel after October? Check out our Whio Tour.

---
Tour Highlights:
Scroll through to see what you'll get up to...
---
What's included:
Dorm Style Accommodation (4-10 beds) is included. You'll stay in comfortable backpacker hostels, cabins and lodges. All accommodation facilities have self-catering kitchen facilities. 
---
 Private coach transport
Take the pressure off, kick back, relax, soak up the scenery and let someone else do the driving. You'll travel by private, air-conditioned bus. 
---
Stray Guide
Expect entertaining anecdotes, great recommendations, extra support and local insider knowledge from your charismatic guide. They know every inch of this country. You can't get this from a google search!
---
Lake Aniwhenua - Strademark Experience 
This experience is an introduction to modern day Maori culture. You'll be hosted by a local Maori family, taken on a guided tour to a sacred archaeological site, be introduced to the local Maori stories and games and be treated to a delicious hangi dinner, cooked under the ground.
---
What our customers say:
Are you thinking about joining an upcoming tour?
Here's why our passengers chose to travel the Stray way...
"I couldn't ask for a better group with so many amazing warm-hearted people. Thank you so much for making this adventure so magical. The goodbyes are only hard because it was such a great time!"
- Tim, Haere Mai Tour June 2020

"This trip was the happiest 24 days of my 6 months in New Zealand. Thank you for adding so much joy to this journey!"
- Monica, Haere Mai Tour June 2020

"I'd say that the last few weeks were the best time for me in New Zealand and probably the best time of my life as well. This trip was incredibly awesome!"
- Mischa, Haere Mai Tour June 2020
---
What we're all about...
We're locals who support locals. We're not about mass produced tourism.
We're all about finding one-of-a kind experiences and supporting small communities. 
---
We spearheaded the 'off the beaten track' movement in New Zealand. 
Stray are the original experts in seeking out secluded destinations, taking our travellers off the grid since 2002.
---
Our Stray Guides are next level and will, no doubt, play a starring role in your travel stories. 
Read our reviews and you'll see what we mean!
---
Travel is about creating lasting connections and sharing experiences. 
Stray travellers are open minded adventurers who make the most of every moment.
---
We aim to leave New Zealand better than we found it, protecting our environment for future generations.
Travel with us and together we can make a positive change.
Haere Mai - North Island Tour
---
Itinerary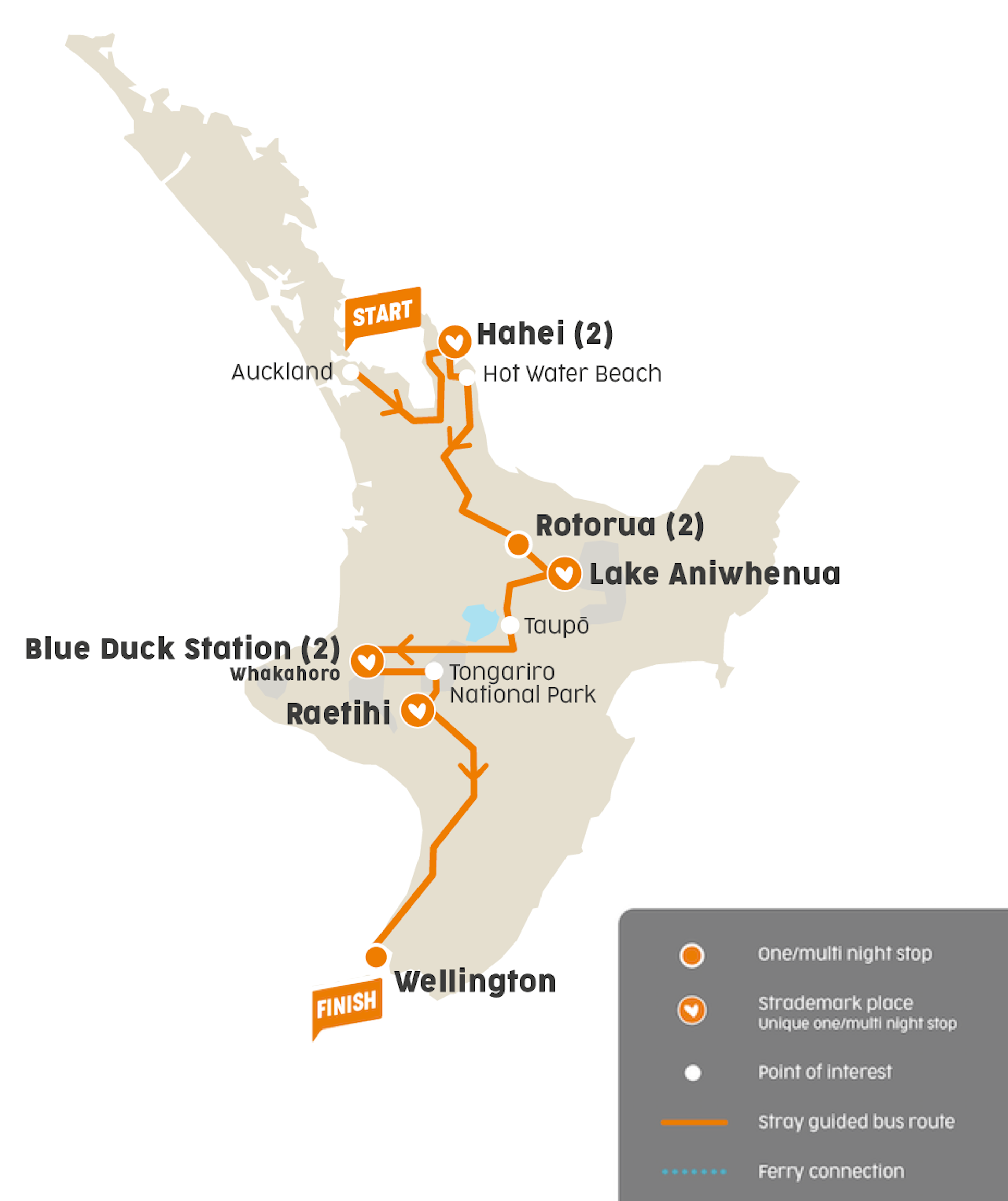 Need to Know
COVID-19 Health and safety measures 
We will ensure that we adhere strictly to government guidelines for tourism operators to minimise risk to our travellers, staff and operators. 
What this will mean: 
We will be doing everything we can to reduce the risk of transmission and we will be playing it safe. 
Travellers will be required to sign a declaration of health prior to beginning the tour 
Handrails and surfaces inside the bus will be wiped down daily 
Disinfectant will be used on the air conditioning filters in the bus daily
Hand sanitizer will be available on the bus 
If you would like a copy of our full WorkSafe COVID-19 Safety Plan, please email [email protected]