The Far South Pass will transport you away from Queenstown and into the deep, remote, southern region of New Zealand. Take a walk in the rainforest in Fiordland National Park, soak in the incredible scenery in Milford Sound then head to New Zealand's third island, Stewart Island where you have the best chance of seeing kiwi birds in the wild. 
---
Pass Highlights:
---
What's included:
Flexible Bus Transport
Take the pressure off, kick back, relax and let someone else do the driving. You'll be travelling on our comfortable private buses and can "hop-on, hop-off" anywhere along the route.
---
Stray Guide
So much more than just your driver - expect entertaining anecdotes, great recommendations, extra support and local insider knowledge. They know every inch of this country. You can't get this from a google search! 
---
Stray Mate App
It's easy to view your itinerary and book accommodation and activities on-the-go. 
Flexibility at its finest!
---
Reserved Accommodation
A dorm bed will be reserved for you at every Stray overnight stop. 
Book and pay as you go via our Stray Mate app
---

What we're all about...
We're locals who support locals. We're not about mass produced tourism.
We're all about finding one-of-a kind experiences and supporting small communities. 
---
We spearheaded the 'off the beaten track' movement in New Zealand. 
Stray are the original experts in seeking out secluded destinations, taking our travellers off the grid since 2002.
---
Our Stray Guides are next level and will, no doubt, play a starring role in your travel stories. 
Read our reviews and you'll see what we mean!
---
Travel is about creating lasting connections and sharing experiences. 
Stray travellers are open minded adventurers who make the most of every moment.
---
We aim to leave New Zealand better than we found it, protecting our environment for future generations.
Travel with us and together we can make a positive change.
Itinerary
Due to COVID-19 all Stray trips are suspended until 1 November 2020. Please check our Service Updates page for more information.
---
This pass starts and finishes in Queenstown.
Please Note: The cost of accommodation is not included in your travel pass but under each day we have described our recommended accommodation, along with some free and paid activity suggestions. 
Given the spontaneous nature of our trips and lack of control over New Zealand's weather(!), what we do each day might occasionally vary.
Today you are in for a treat. It's an early start as we make our way to Milford Sound, one of NZ's most famous destinations, sometimes called the 'Eighth Wonder of the World'. You won't want to nap on this leg of the journey as we drive past Lake Wakatipu and watch the landscape change from farmland to mountains, glacier-carved valleys and fiords. There is time to do an afternoon boat cruise around Milford Sound to soak up this untouched world, where it's likely you'll spot a few wild dolphins, seals and penguins. We then head through to Te Anau for the night.
This morning we'll travel further south to Invercargill and on to Bluff, where you can catch a ferry to Stewart Island. NZ's third largest island, Stewart Island, has an abundance of activities for the outdoor enthusiast, such as fishing, bird watching and tramping tracks. Those not going to Stewart Island will spend the night in Invercargill.
See More moment: When the solar winds are right, between March – September, you might be lucky enough to see the Aurora Australis, better known as the Southern Lights!
For those who stayed overnight on Stewart Island, this morning is free for you to explore, meet the locals, go fishing or enjoy some of the walks before catching an afternoon ferry back to the mainland. Those in Invercargill will have the option to visit Demolition World (a world entirely constructed from demolished buildings and recycled items), race your bus mates around a go-karting track or walk up to the Bluff Hill lookout before reuniting with the island-goers for an express journey back to Queenstown.
Timetable
The days and times shown below are for the current season. For future seasons, please refer to our Bus Timetables page.
Timetables are subject to change but our team will email you if this happens whilst you are travelling. You can also see your confirmed departure times in the Stray Mate app.
Queenstown (via Milford Sound) to Te Anau
| | MON | TUE | WED | THU | FRI | SAT | SUN |
| --- | --- | --- | --- | --- | --- | --- | --- |
| Queenstown (Depart) | | | | 06:40 | | | 06:40 |
| Te Anau (Arrive) | | | | 10:00 | | | 10:00 |
| Gunn's Camp (Arrive) | | | | 19:00 | | | 19:00 |
Te Anau to Invercargill/Stewart Island
| | MON | TUE | WED | THU | FRI | SAT | SUN |
| --- | --- | --- | --- | --- | --- | --- | --- |
| Te Anau (Depart) | 11:30 | | | | 11:30 | | |
| Bluff Wharf (for ferry) (Arrive) | 16:00 | | | | 16:00 | | |
| Invercargill (Arrive) | 17:00 | | | | 17:00 | | |
Invercargill/Stewart Island to Queenstown
| | MON | TUE | WED | THU | FRI | SAT | SUN |
| --- | --- | --- | --- | --- | --- | --- | --- |
| Bluff Wharf (Depart) | | 16:30 | | | | 16:30 | |
| Invercargill (Depart) | | 17.00 | | | | 17.00 | |
| Queenstown (Arrive) | | 19:00 | | | | 19:00 | |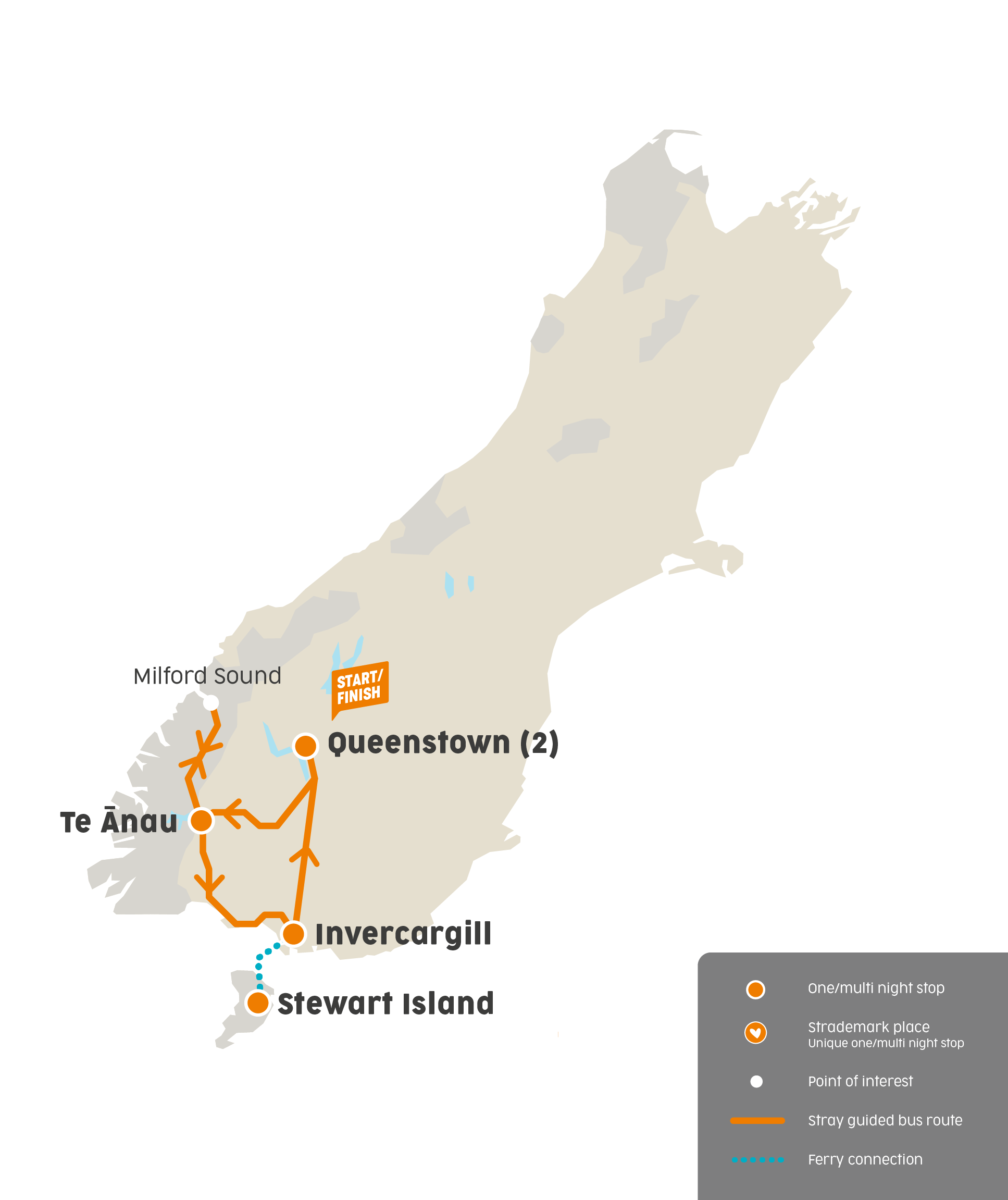 Need to Know
Due to COVID-19 all Stray trips are suspended until 1 November 2020. A new timetable will be available 1 August 2020. Please check our Service Updates page for more information.


Transport - Travel by private, air-conditioned bus (24-48 seats). We actively seek to reduce our carbon emissions by scaling bus fleet to meet demand, so if there are not as many passengers we use a smaller coach.


Validity - Start travel within 12 months of booking and then your Freestyle Pass is valid for 12 months from the first day of travel.


Booking Buses (Hopping on/off) - Use the Stray Mate app to manage your trip - you'll receive log in details in your Booking Confirmation email. Hop on and off as much as you like along the travel route - Here are our favourite places to hop-off. If you're on a short timeframe, we recommend booking all your buses in advance.
 
Minimum Days - You don't need to hop off if you're short on time - you can travel your pass in the "Minimum Days". There are non-travel days throughout the route so you will not be travelling everyday. 


Departures - Buses run to a seasonal timetable with multiple departures per week. View Pickup Points and Departure Times


Flexibility - The cost of your accommodation, activities and meals is not included in a Freestyle Travel pass giving you extra flexibility to choose options that suit your budget and taste.


Accommodation - Book Stray preferred accommodation as you go via the Stray Mate app - there will be a dorm bed allocated to you at each overnight stop providing you book via the app 24 hours before.  Backpacker hostel rates are between $27-$37 per night for a dorm bed. 


Activities - Book activities as you go via the Stray Mate app.


Stray Travellers - Our travellers are from all over the world, they are energetic, adventurous and mainly aged between 18-30. 75% of our travellers are travelling solo.


Payment Options - If you'd like to secure your place on the trip, but are a little bit short on cash, you can reserve a seat with a 20% deposit. You then have 6 months to pay it off - too easy! Better yet - there's no admin fee. You can make payments when it suits you using our Extra Payments page. You just need to have paid for your trip in full 14 days before you jump on the bus.

---
Learn more about: 
Travelling Freestyle   The Stray Experience   Our Unique Strademark Places