If you're here for a good time, not a long time, and you'd like to see more than just Auckland City, why not shoot up to the Bay & Back? The Bay of Islands region has played an important role in New Zealand's story. Here you'll find New Zealand's first capital "city" (Russell) and the Waitangi Treaty Grounds as well as a plethora of beautiful islands to explore. 
If you want to also visit Cape Reinga - the northernmost tip of New Zealand - get the Far North Pass instead.  
---
Pass Highlights:
---
What's included:
Flexible Bus Transport
Take the pressure off, kick back, relax and let someone else do the driving. You'll be travelling on our comfortable private buses and can "hop-on, hop-off" anywhere along the route.
---
Stray Guide
So much more than just your driver - expect entertaining anecdotes, great recommendations, extra support and local insider knowledge. They know every inch of this country. You can't get this from a google search! 
---
Stray Mate App
It's easy to view your itinerary and book accommodation and activities on-the-go. 
Flexibility at its finest!
---
Reserved Accommodation
A dorm bed will be reserved for you in Paihia and Auckland.
Book and pay as you go via our Stray Mate app.
---

What we're all about...
We're locals who support locals. We're not about mass produced tourism.
We're all about finding one-of-a kind experiences and supporting small communities. 
---
We spearheaded the 'off the beaten track' movement in New Zealand. 
Stray are the original experts in seeking out secluded destinations, taking our travellers off the grid since 2002.
---
Our Stray Guides are next level and will, no doubt, play a starring role in your travel stories. 
Read our reviews and you'll see what we mean!
---
Travel is about creating lasting connections and sharing experiences. 
Stray travellers are open minded adventurers who make the most of every moment.
---
We aim to leave New Zealand better than we found it, protecting our environment for future generations.
Travel with us and together we can make a positive change.
Itinerary
Due to COVID-19 all Stray trips are suspended until 1 November 2020. Please check our Service Updates page for more information.
---
This pass starts and finishes in Auckland.
Please Note: The cost of accommodation is not included in your travel pass but under each day we have described our recommended accommodation, along with some free and paid activity suggestions. 
Given the spontaneous nature of our trips and lack of control over New Zealand's weather(!), what we do each day might occasionally vary.
Nau mai, haere mai (welcome)! Your Stray adventure kicks off in New Zealand's largest city, Auckland. We depart for the beautiful Bay of Islands, bound for the relaxed seaside town of Paihia often called the 'gateway to the Bay.' We stop en-route to visit the Parry Kauri Forest Park and hug some of the world's mightiest trees, the native kauri, on our way to Paihia.

Enjoy a sleep in and spend the morning at your leisure. There's time to do the fantastic half-day Hole in the Rock cruise around the Bay in the morning or take this opportunity to squeeze in another optional activity before we jump back on board the Stray bus mid-afternoon. Destined for the bright lights of Auckland, there are plenty of exciting things to see and do if you have a free day or two.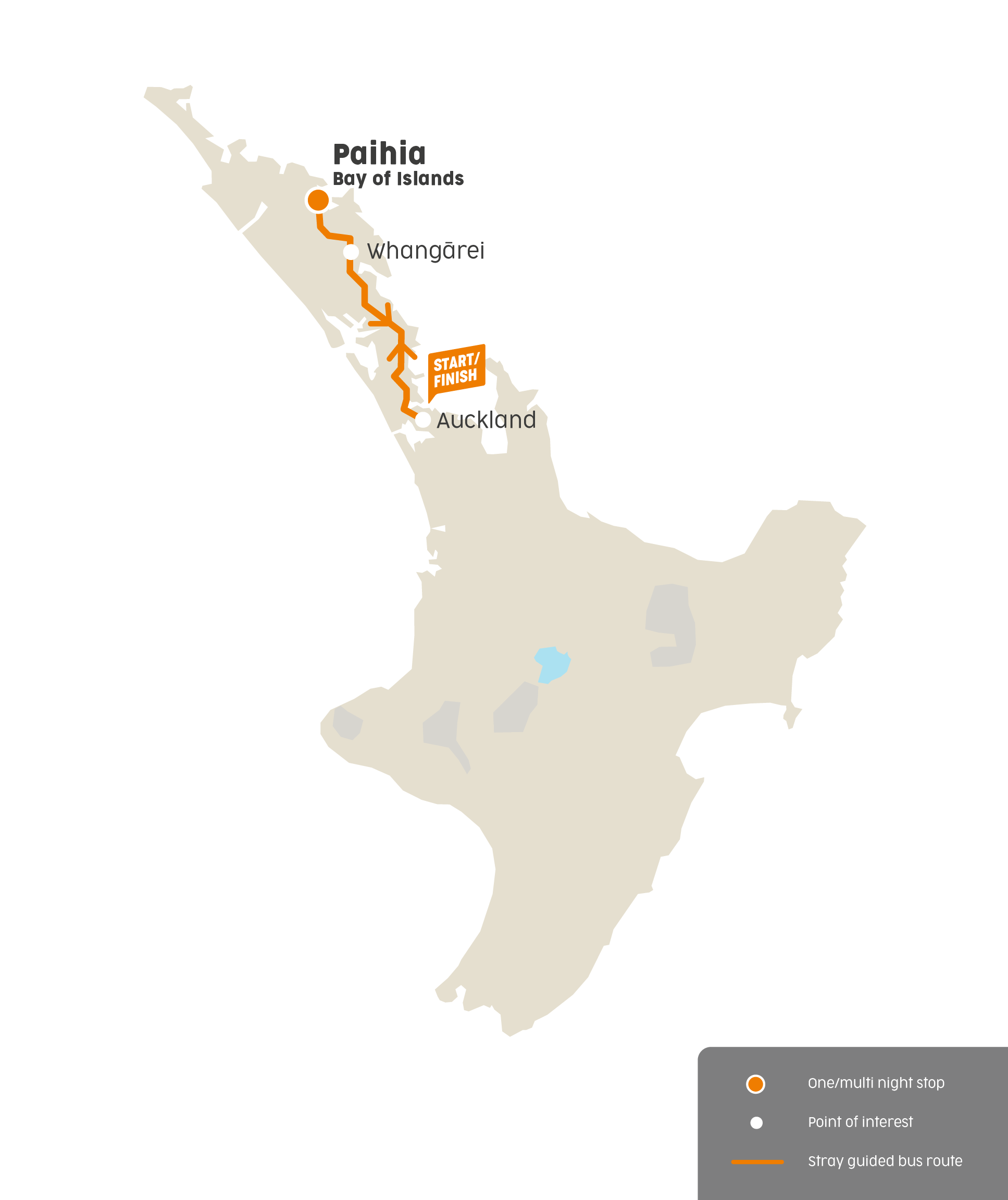 Need to Know
Due to COVID-19 all Stray trips are suspended until 1 November 2020. A new timetable will be available 1 August 2020. Please check our Service Updates page for more information.



Book with confidence

 -

You can start travel anytime within 18 months of booking and you can change your start date as many times as you like.  Once you start travelling, you can use your Freestyle Pass  for up to 12 months.
Transport - 

Travel by private, air-conditioned bus (24-48 seats). We actively seek to reduce our carbon emissions by scaling bus fleet to meet demand, so if there are not as many passengers we use a smaller coach.
Booking Buses (Hopping on/off) - Use the Stray Mate app to manage your trip - you'll receive log in details in your Booking Confirmation email. Hop on and off as much as you like along the travel route - Here are our favourite places to hop-off. If you're on a short timeframe, we recommend booking all your buses in advance.
 
Minimum Days - You don't need to hop off if you're short on time - you can travel your pass in the "Minimum Days". There are non-travel days throughout the route so you will not be travelling everyday. 


Departures - Buses run to a seasonal timetable with multiple departures per week. View Pickup Points and Departure Times


Flexibility - The cost of your accommodation, activities and meals is not included in a Freestyle Travel pass giving you extra flexibility to choose options that suit your budget and taste.


Accommodation - Book Stray preferred accommodation as you go via the Stray Mate app - there will be a dorm bed allocated to you at each overnight stop providing you book via the app 24 hours before.  Backpacker hostel rates are between $27-$37 per night for a dorm bed. 


Activities - Book activities as you go via the Stray Mate app.


Stray Travellers - Our travellers are from all over the world, they are energetic, adventurous and mainly aged between 18-30. 75% of our travellers are travelling solo.


Payment Options - If you'd like to secure your place on the trip, but are a little bit short on cash, you can reserve a seat with a 20% deposit. You then have 6 months to pay it off - too easy! Better yet - there's no admin fee. You can make payments when it suits you using our Extra Payments page. You just need to have paid for your trip in full 14 days before you jump on the bus.

---
Learn more about: 
Travelling Freestyle   The Stray Experience   Our Unique Strademark Places