Short and sweet, the Greg Pass (6+ days) is the perfect way to explore all the best spots from Sydney to Brisbane that you didn't even know existed. From surfing in Spot X to dancing on table tops in Byron Bay or relaxing in a hot tub overlooking a national park!
---
Pass Highlights:
---
What's Included:
All Transport
Take the pressure off, kick back, relax and let someone else organise your transport. You'll be travelling up the coast on our comfortable Stray buses.
---
Stray Guide
So much more than just a guide - expect entertaining anecdotes, great recommendations, extra support and local insider knowledge. They know every inch of this country. You can't get this from a google search! 
---
Explore New South Wales, including some off-the-beaten-track destinations that make Stray stand out from the crowd. You can see them marked with a heart on the map because they're the places our travellers love.
---
Stray Mate App
It's easy to view your itinerary and book accommodation and activities on-the-go. 
Flexibility at its finest!
---
Reserved Accommodation
A dorm bed will be reserved for you at every Stray overnight stop. 
Book and pay as you go via our Stray Mate app.
---
Included activities:
Wine tasting, Hunter Valley
Koala hospital visit, Port Macquarie
Kangaroo spotting, Emerald Beach
Canoeing experience or Bush walk, River Retreat
Angourie Blue Pools, Yamba
Byron Bay Orientation Drive
All National Park Fees
---

What we're all about...
We've redefined the 'traditional tour' to give you the flexibility and freedom you crave. 
Hop-off, stay longer and explore anywhere along the route. It's your time, your way.
---
Stray are the experts in taking you off the beaten track. 
We're all about finding one-of-a-kind experiences and immersing you in the REAL Australia.
---
Our epic in-location and driver guides will ensure you get the most out of your trip. 
Tick off your East Coast bucket list with ease and be introduced to places you wouldn't discover on your own.
---
Travel is about creating lasting connections and sharing experiences. 
Stray travellers are open minded adventurers who make the most of every moment.
---
We aim to leave Australia better than we found it, supporting local communities and protecting our environment.
Travel with us and together we can make a positive change.
---
Itinerary
The itinerary below is for the current season. Given the nature of our trips and lack of control over weather, what we do each day might occasionally vary. 
G'day, mate, and welcome to your Stray adventure! We depart the big city of Sydney early this morning to make our way to the Hunter Valley wine region for a tasting at an award-winning vineyard. From there, we carry on through the backcountry to our first stunning Strademark stop right on the edge of the World Heritage-listed Barrington Tops National Park. At our Stray exclusive accommodation beside the Karuah River, you can choose to go river tubing on the mild rapids, go for a bush walk, or visit a local farm.  Finish the day with a shared group dinner and a couple of drinks round the campfire.  
See More moment: Spend the night on the edge of the World Heritage-listed Barrington Tops National Park, well and truly off the beaten track!
We depart after breakfast and journey north through the remote countryside back towards the coast. Our next stop is the Port Macquarie Koala Hospital, where you can get a closer look at Australia's laziest (and arguably cutest) marsupials. Check out the information centre to learn all about the hospital's efforts to rehabilitate, protect and preserve the koalas. After this, we head to Emerald Beach, an iconic kangaroo hangout, where if you're lucky you can spot them hopping along the beach. We arrive at our beachfront overnight stop Spot X in the early evening.
The morning at Spot X is all yours. Learn to surf in some of the best beginner waves in Australia, or for those who already know how to 'hang 10,' rent a board and show us what you can do! We recommend staying longer to do a Surf & Stay if you are keen to really hone your surf skills. You can also swim and chill out on the beach or sink into a hammock at the camp. We depart around midday, grabbing a bite to eat in town before travelling to our relaxing, rural River Retreat. Spend the afternoon on a guided canoe trip down the Nymboida River to learn about the area, which is home to amazing birds, snakes, and the incredibly shy platypus, and unwind with a refreshing dip in the river. This evening, we'll gather round a bonfire and sleep in wilderness cabins or tents beneath the stars.
See More moment: Head out on a guided canoe trip or walk to spot wildlife and learn about the fascinating local history. In the evening, cook a classic Australian meal together and watch the stars. 
Do More moment: Your stay here helps to support the local community of Nymboida. Once a hub for white water canoeing, the town has struggled since a crucial dam was shut down and after the 2019 bushfires. With the help of community volunteers and Stray passengers, the centre is being revived. 
Next up - Byron Bay, known as the most chilled out town in Australia! On the way there, we stop in the picturesque seaside town of Yamba for lunch. We'll also visit the Angourie Blue Pool, an old quarry that was accidentally (and awesomely) filled by an underground spring, meaning you can now cool off in an epic fresh-water pool right on the beach! Upon arriving in Byron Bay, we'll take you on an orientation drive around town to help you get your bearings, showing you the points of interest and the top spots for food, shopping and nightlife.
You have two full free days in Byron Bay to "cheer up, slow down, and chill out" as the town's famous welcome sign instructs. And there is plenty to do in this laidback hippy town: practice your surfing skills down at the beach, walk to mainland Australia's most easterly point at the Cape Byron Lighthouse, search for dolphins and other marine life on a sea kayaking trip, or visit the alternative town of Nimbin. Tonight, get out to experience Byron's eclectic nightlife – there is always something going on!
You have another free day in Byron Bay today. Tick off any activities you didn't get the chance to do yet, or pass the day wandering the township and exploring the many boutique shops and cafes. Eating your way around Byron is an experience in itself, and there are plenty of vegetarian options available!
This morning we cross the border from New South Wales into Queensland. Your destination today is Brisbane, but those with more time might want to hop off and spend more time in tourist hot spot Surfers Paradise on the Gold Coast. We hope you had a blast on your Stray adventure!
Timetable
The days and times shown below are for the current season. To see future timetables, please visit our Timetables page. N.B. These are subject to change based on weather.
Trip departures:
Monday (Minimum 7 days, 2 free days in Byron Bay)
Wednesday (Minimum 8 days, 3 free days in Byron Bay)
Saturday (Minimum 7 days, 2 free days in Byron Bay)
Sydney to Barrington Tops
| | MON | TUE | WED | THU | FRI | SAT | SUN |
| --- | --- | --- | --- | --- | --- | --- | --- |
| Sydney (Depart) | 08:00 | | 08:00 | | | 08:00 | |
| Barrington Tops (Arrive) | 15:00 | | 15:00 | | | 15:00 | |
Barrington Tops to Spot X Surf Camp
| | MON | TUE | WED | THU | FRI | SAT | SUN |
| --- | --- | --- | --- | --- | --- | --- | --- |
| Barrington Tops (Depart) | | 09:00 | | 09:00 | | | 09:00 |
| Spot X Surf Camp (Arrive) | | 17:00 | | 17:00 | | | 17:00 |
Spot X Surf Camp to River Retreat
| | MON | TUE | WED | THU | FRI | SAT | SUN |
| --- | --- | --- | --- | --- | --- | --- | --- |
| Spot X Surf Camp (Depart) | 12:30 | | 12:30 | | 12:30 | | |
| River Retreat (Arrive) | 17:00 | | 17:00 | | 17:00 | | |
River Retreat to Byron Bay
| | MON | TUE | WED | THU | FRI | SAT | SUN |
| --- | --- | --- | --- | --- | --- | --- | --- |
| River Retreat (Depart) | | 09:30 | | 09:30 | | 09:30 | |
| Byron Bay (Arrive) | | 14:00 | | 14:00 | | 14:00 | |
Free Day 1 in Byron Bay
| | MON | TUE | WED | THU | FRI | SAT | SUN |
| --- | --- | --- | --- | --- | --- | --- | --- |
| Byron Bay (Free Day) | Free | Free | Free | Free | Free | Free | Free |
Free Day 2 in Byron Bay
| | MON | TUE | WED | THU | FRI | SAT | SUN |
| --- | --- | --- | --- | --- | --- | --- | --- |
| Byron Bay (Free Day) | Free | Free | Free | Free | Free | Free | Free |
Byron Bay to Brisbane
| | MON | TUE | WED | THU | FRI | SAT | SUN |
| --- | --- | --- | --- | --- | --- | --- | --- |
| Byron Bay - Jonston Street Bus Stop (Depart) | | | 08:00 | | 08:00 | | 08:00 |
| Gold Coast (Depart) | | | 09:30 | | 09:30 | | 09:30 |
| Brisbane (Arrive) | | | 11:00 | | 11:00 | | 11:00 |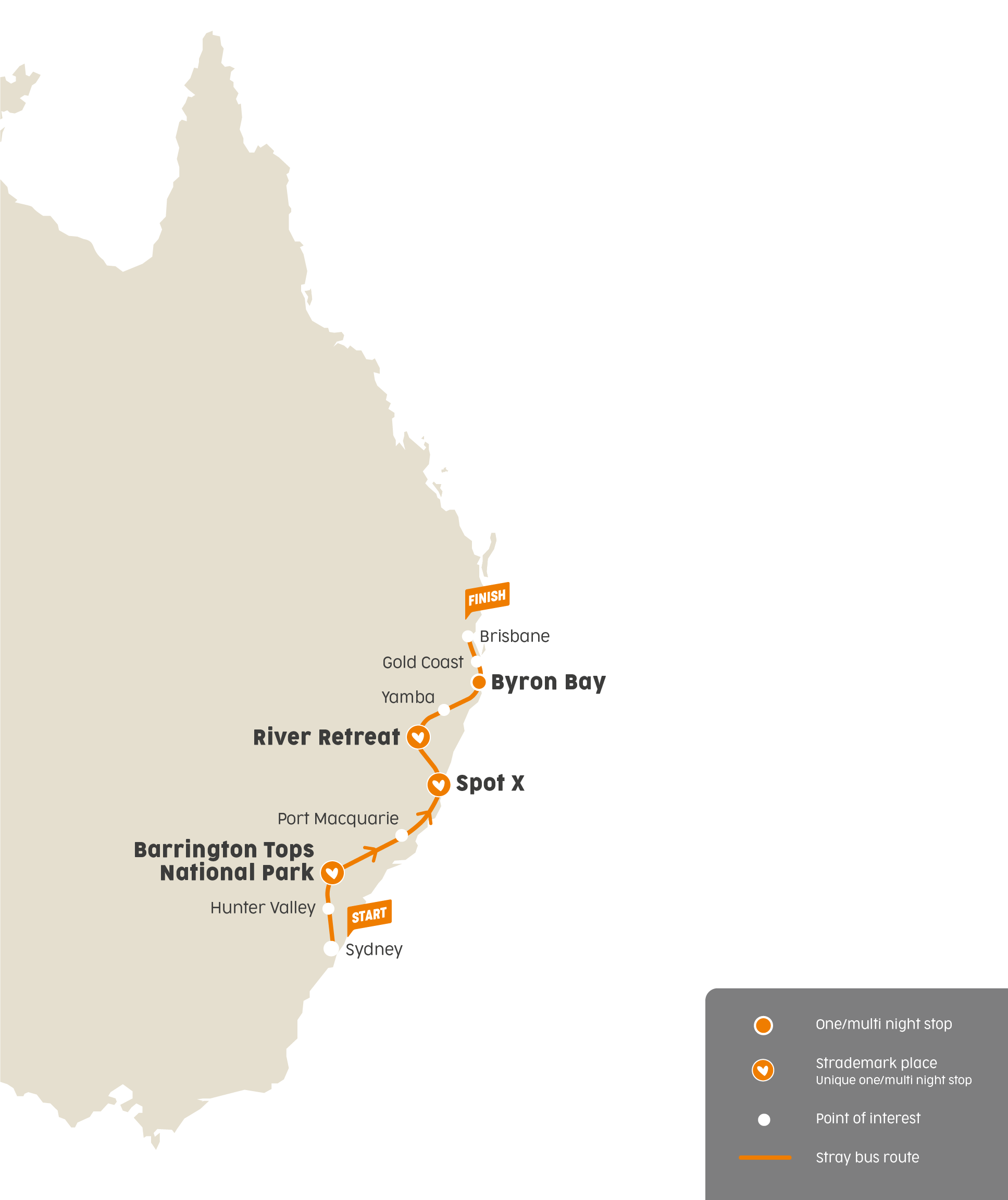 Need to Know
Transport - All bus transport is included in the price of your pass and organised by Stray.


Validity - Start travel within 12 months of booking and then your Freestyle Pass is valid for 12 months from the first day of travel.


Booking Buses & Trains (Hopping on/off) - Use the Stray Mate app to manage your trip - you'll receive log in details in your Booking Confirmation email. Hop on and off as much as you like along the travel route - Here are our favourite places to hop-off. If you're on a short timeframe, we recommend booking all your transport in advance.


Minimum Days - You don't need to hop off if you're short on time - you can travel your pass in the "Minimum Days". There are non-travel days throughout the route so you will not be travelling everyday.


Departures - Buses/trains run to a seasonal timetable with multiple departures per week.


Flexibility - The cost of your accommodation, activities and meals is not included in a Freestyle Travel pass giving you extra flexibility to choose options that suit your budget and taste.


Accommodation - Book Stray preferred accommodation as you go via the Stray Mate app - there will be a dorm bed allocated to you at each overnight stop providing you book via the app 24 hours before.


Activities - Book activities as you go via the Stray Mate app.


Add on the Blue Mountains Day Trip - This action packed adventure is one of the best day trips on the east coast. Spend the day checking out some of the best view points over the famous Blue Mountain range, including the famous 'Three Sisters', and the breath taking Jamison Valley. If the weather is right, we'll take a dip at a gorgeous watering hole. Learn more!


Melbourne Express Sector - You can add a Melbourne > Sydney Express Sector to your pass by selecting it as an upgrade. Melbourne

 

Express Sector is not a Stray-operated sector and is subject to availability. Once a travel date is confirmed this sector is non-refundable. Peak season surcharges may apply for travel over the Christmas and New Year period. If travellers want to travel during this time they will be notified before their booking is confirmed of any additional charges.


Stray Travellers - Find your tribe and make meaningful connections with travellers from all over the world. The majority of our passengers are aged between 20-35 but there is no age limit! 70% of our travellers are travelling solo.