The Dan Pass (4+ days) is your short and sweet ticket from Brisbane to Sydney. Stopping in Byron Bay, you'll have the chance to explore Australia's most laid back town. Then you'll take a pit stop at Spot X, and have the choice to hop off and hang 10 at the surf school.
---
Pass Highlights:
What's Included:
All Transport
Take the pressure off, kick back, relax and let someone else organise your transport. You'll be travelling down the coast on our comfortable Stray buses.
---
More than just a guide - expect entertaining commentary, extra support and local secrets.
---
Stray Mate App
View your itinerary and book accommodation and activities on-the-go. Flexibility at it's finest!
---
Reserved Accommodation
Have a bed reserved for you at every Stray overnight stop. Book and pay via our Stray Mate app.
---
Flexible travel for up to 1 year
Travel your time, your way. From 4 days to 12 months, you can hop on and off anywhere along the route.
---
Included activities:
Byron Bay Orientation Drive
Opportunity to hop off at Spot X Surf Camp
Kangaroo spotting, Emerald Beach
All National Park Fees
---
Itinerary
The itinerary below is for the current season.  Given the nature of our trips and lack of control over weather, what we do each day might occasionally vary. 
We hop on the Stray bus this morning, heading to the relaxed resort town of Noosa. You can hop off here or join us as we continue down the coast, with quick stops in Brisbane and the Gold Coast. Our final destination today is Byron Bay, a relaxed, hippy surf town that travellers love!
 Please Note: Some trips may have an extra night in Byron Bay.
You have two full free days in Byron Bay to "cheer up, slow down, and chill out" as the town's famous welcome sign instructs. And there is plenty to do in this laidback hippy town: practice your surfing skills down at the beach, walk to mainland Australia's most easterly point at the Cape Byron Lighthouse, search for dolphins and other marine life on a sea kayaking trip, or visit the alternative town of Nimbin. Tonight, get out to experience Byron's eclectic nightlife – there is always something going on! 
You have another free day in Byron Bay today. Tick off any activities you didn't get the chance to do yet, or pass the day wandering the township and exploring the many boutique shops and cafes. Eating your way around Byron is an experience in itself, and there are plenty of vegetarian options available!
*If you arrive in Byron Bay on Saturday's bus, you will have 3 full days in Byron Bay. The next departure is Wednesday. 
Today is an express travel day to the final destination of our trip, Sydney. Along the way we stop at Spot X, a famous surf camp with perfect waves for beginners and pros alike. Hop off here to hang 10, or continue with the bus to Sydney, arriving in the evening. If you have some time in Sydney, there is plenty to do! From Stray's famous Blue Mountains day trip, whale watching tours to climbing the Harbour Bridge, you won't be bored for a moment. We hope you had a blast on your Stray adventure!
Timetable
The days and times shown below are for the current season. To see future timetables, please visit our Timetables page. N.B. These are subject to change based on weather.
Trip departures:
Brisbane to Byron Bay
| | MON | TUE | WED | THU | FRI | SAT | SUN |
| --- | --- | --- | --- | --- | --- | --- | --- |
| Brisbane (Depart) | 14:00 | | | 14:00 | | 14:00 | |
| Gold Coast (Depart) | 15:30 | | | 15:30 | | 15:30 | |
| Byron Bay (Arrive) | 17:30 | | | 17:30 | | 17:30 | |
Free Day 1 in Byron Bay
| | MON | TUE | WED | THU | FRI | SAT | SUN |
| --- | --- | --- | --- | --- | --- | --- | --- |
| Byron Bay (Free Day) | Free | Free | Free | Free | Free | Free | Free |
Free Day 2 in Byron Bay
| | MON | TUE | WED | THU | FRI | SAT | SUN |
| --- | --- | --- | --- | --- | --- | --- | --- |
| Byron Bay (Free Day) | Free | Free | Free | Free | Free | Free | Free |
Byron Bay to Sydney (via Spot X)
| | MON | TUE | WED | THU | FRI | SAT | SUN |
| --- | --- | --- | --- | --- | --- | --- | --- |
| Byron Bay (Depart) | | 07:00 | | | 07:00 | | 07:00 |
| Spot X Surf Camp (Departs) | | 09:30 | | | 09:30 | | 09:30 |
| Sydney (Arrives) | | 19:00 | | | 19:00 | | 19:00 |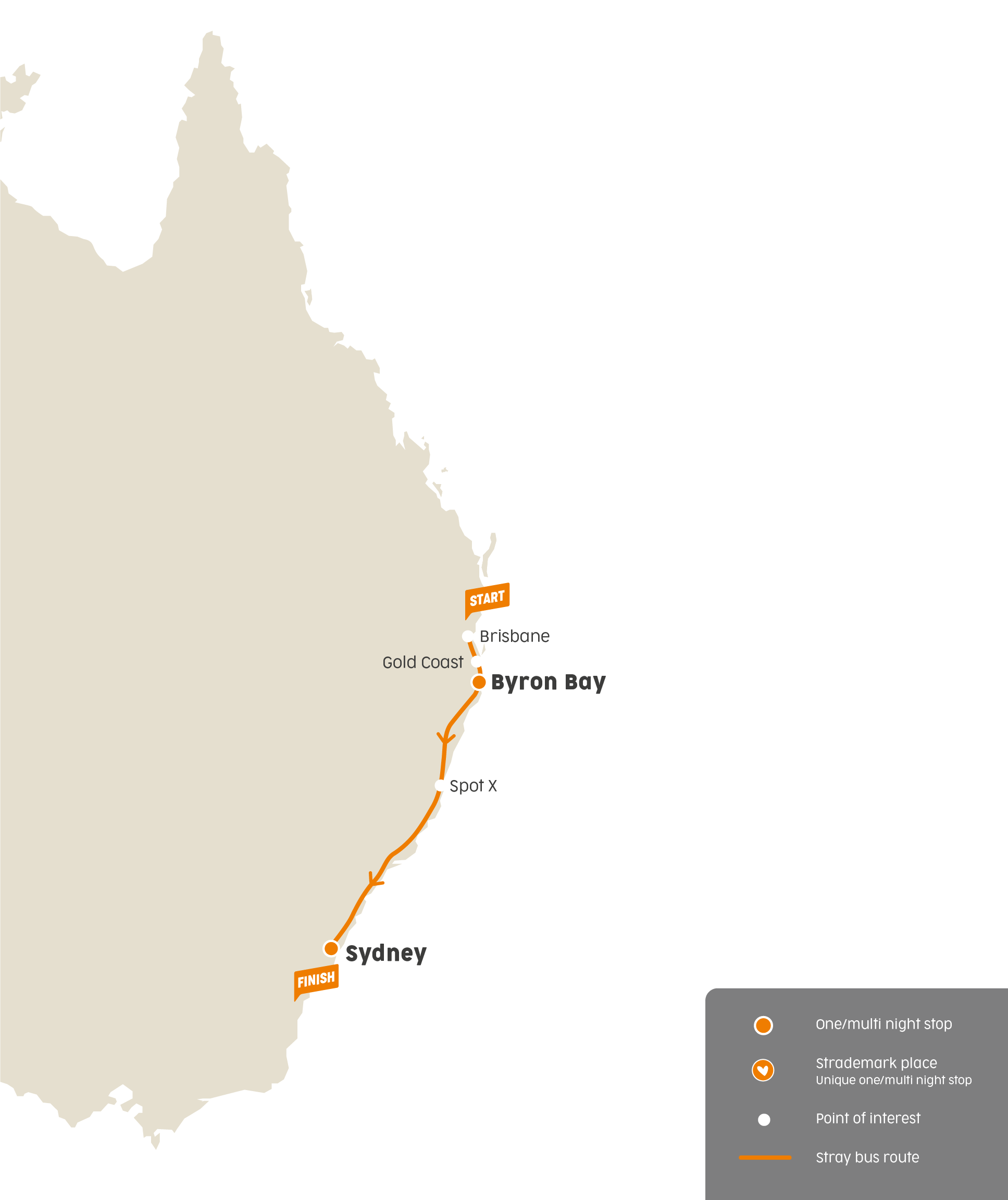 Need to Know
Transport: All bus transport is included in the price of your pass and organised by Stray.
Guides: Your Stray driver guide is your go-to for entertaining commentary, interesting facts, crazy stories and travel advice.
Stray Travellers: Find your tribe and make meaningful connections with travellers from all over the world. The majority of our passengers are aged between 20-35 but there is no age limit! 70% of our travellers are travelling solo.
Hopping on/off: Hop on and off as much as you like along the travel route for up to 12 months. To hop back on, simply book your next travel date and pickup location through our Stray Mate app. 
Minimum Days: You don't need to hop off if you're short on time - you can travel your pass in the "Minimum Days". There are non-travel days throughout the route so you will not be travelling everyday.
Departures: Buses/trains run to a seasonal timetable with multiple departures per week.
Inclusions: The cost of your accommodation, meals and extra activities is not included in a hop-on hop-off pass. You have the flexibility to choose what suits your budget and pay-as-you-go.
Booking Buses: Use the Stray Mate app to manage your trip - you'll receive log in details in your Booking Confirmation email. If you're on a short timeframe, we recommend booking all your transport in advance. 
Booking Accommodation:

 You

 can book and pay-as-you-go for accommodation via the Stray Mate app. There will be a dorm bed allocated to you at each overnight stop providing you book via the app 24 hours before. 
Booking Activities: You can book and pay-as-you-go for activities via the Stray Mate app, often at an exclusive Stray price!
Melbourne Express Sector: You can add a Sydney > Melbourne Express Sector to your pass by selecting it as an upgrade. Melbourne

 

Express Sector is not a Stray-operated sector and is subject to availability. Once a travel date is confirmed this sector is non-refundable. Peak season surcharges may apply for travel over the Christmas and New Year period.  If travellers want to travel during this time they will be notified before their booking is confirmed of any additional charges.