Due to COVID-19, all Stray Australia trips are suspended until 1 October 2022. Please check our Service Updates for more info.
The Cam Freestyle Pass (10+ Days) is a one way ticket from Cairns to Brisbane. From exploring island paradises, chilling out on white sand beaches, and brunching in Byron Bay - Get ready for the best of Queensland!
---
Pass Highlights:
---
What's Included:
All Transport
Take the pressure off, kick back, relax and let someone else organise your transport. You'll be travelling down the coast on a mix of our Stray buses, comfortable trains and ferry.
---
Stray Guide
So much more than just a guide - expect entertaining anecdotes, great recommendations, extra support and local insider knowledge. They know every inch of this country. You can't get this from a google search! 
---
Travelling southbound through Queensland, you'll visit some off-the-beaten-track destinations that make Stray stand out from the crowd. You can see them marked with a heart on the map because they're the places our travellers love.
---
Stray Mate App
It's easy to view your itinerary and book accommodation and activities on-the-go. 
Flexibility at its finest!
---
Reserved Accommodation
A dorm bed will be reserved for you at every Stray overnight stop. 
Book and pay as you go via our Stray Mate app.
---
Included activities
Get some bonus inclusions with your Cam Freestyle Pass:
Hike to the historic Forts Complex or take a refreshing ocean dip at Radical Bay on Magnetic Island.


Witness panoramic views of the swirling Whitsundays from above on a guided rainforest hike in Airlie Beach.


Sandboard down giant dunes and watch the sunset over Carlo Sand Blow.
---

What we're all about...
We've redefined the 'traditional tour' to give you the flexibility and freedom you crave. 
Hop-off, stay longer and explore anywhere along the route. It's your time, your way.
---
Stray are the experts in taking you off the beaten track. 
We're all about finding one-of-a-kind experiences and immersing you in the REAL Australia.
---
Our epic in-location and driver guides will ensure you get the most out of your trip. 
Tick off your East Coast bucket list with ease and be introduced to places you wouldn't discover on your own.
---
Travel is about creating lasting connections and sharing experiences. 
Stray travellers are open minded adventurers who make the most of every moment.
---
We aim to leave Australia better than we found it, supporting local communities and protecting our environment.
Travel with us and together we can make a positive change.
---
Cairns > Brisbane: Cam Freestyle Pass
---
Itinerary
The itinerary below is for the current season. Given the nature of our trips and lack of control over weather, what we do each day might occasionally vary.
N.B. Hop off at Rainbow Beach or Noosa to visit Fraser Island and at Airlie Beach to visit the Whitsundays.
G'day mate and welcome to your Stray adventure! Meet your Stray local legend first thing, who will make sure you have everything you need (especially your train tickets) before you jump aboard the train and head south to Townsville. You will arrive mid-afternoon and meet your Stray Guide at the station. We'll travel together from there, taking the ferry out to our first overnight stop, the tropical Magnetic Island. Welcome to paradise! Nearly 50% of 'Maggie Island' is national park land, and it's chock-full of amazing beaches and abundant wildlife, so make sure you get out to do a little exploring before catching the sunset. Join in the group pizza dinner tonight (extra cost).
Join your guide today for a scenic walk. You might head off the beaten track to beautiful Radical Bay beach for an ocean dip and amazing photo opportunities. Alternatively, your guide will take you up to the historic Forts Complex, where you'll see incredible views over the island and ocean beyond.
See More moment: This island paradise is your best chance on the East Coast to see koalas in the wild. Keep your eyes out for these sleepy marsupials, rock wallabies, and colourful birds as you explore the forested island.
The morning is yours to explore more of the island, visit the wildlife park or just relax by the pool. In the afternoon, we'll travel back to the mainland by ferry, and jump on the train to Proserpine, transferring to Airlie Beach in the evening. Your Airlie-based Stray Guide will meet you off the train and accompany you on the bus into Airlie Beach, where they'll give you a brief orientation of the town to help you get your bearings.
We recommend you spend at least 3 days in Airlie beach so that you have some time to soak up the tropical vibes and join a multi-day sailing adventure around the famous Whitsunday Islands.
In Airlie Beach there are some beautiful rainforest hikes in the vicinity, and a splash in the lagoon is a must do on a hot afternoon. You can jump out of a plane, or just relax and spend your day discovering the local area. 
Please Note: Some trips may have an extra night at Airlie Beach.
Spend most of the day at your leisure in Airlie Beach, before we jump on the train to Rockhampton in the early evening. Our destination tonight is our Strademark stop of Emu Park. Emu Park is a cool little coastal town and the gateway to the Keppel Islands on the southern end of the Great Barrier Reef. (Be sure to book Emu's Beach Resort and the Great Keppel Island Adventure in the Stray Mate App prior to arrival.)
See More moment: Our stay at Emu Park provides your chance to get up close and personal with the Great Barrier Reef. You'll have the chance to snorkel and play amongst one of the seven wonders of the world.
Today we highly recommend taking part in a Stray highlight, an Island Adventure on the tropical paradise of Great Keppel Island, with untouched coral, turtles, reef fish and manta rays all straight off the beach. We catch the ferry in the morning for a day of swimming, walking, snorkelling with turtles or kayaking (additional cost) before exploring the island itself in search of the perfect white sand beach for a little afternoon rest and relaxation. You'll ferry back to the mainland in the late afternoon and gather together again at Emu's Beach Resort.
We begin our day with an early morning bus to the train station. It's a scenic train journey from here to Cooroy, where you'll meet your Stray Guide and bus to head to Rainbow Beach. Rainbow Beach is a gateway to the world-famous Fraser Island, the world's largest sand island. From here you can opt to take part in a multi-day tour of the island, or just spend your afternoon relaxing in this beachside paradise. Don't miss the chance to walk to Carlo Sand Blow to catch a gorgeous sunset.
We hop back on the Stray bus this morning, heading to the relaxed resort town of Noosa. You can hop off here or join us as we continue down the coast to our final destination today Brisbane. We hope you had a blast on your Stray adventure!
Cairns > Brisbane: Cam Freestyle Pass
---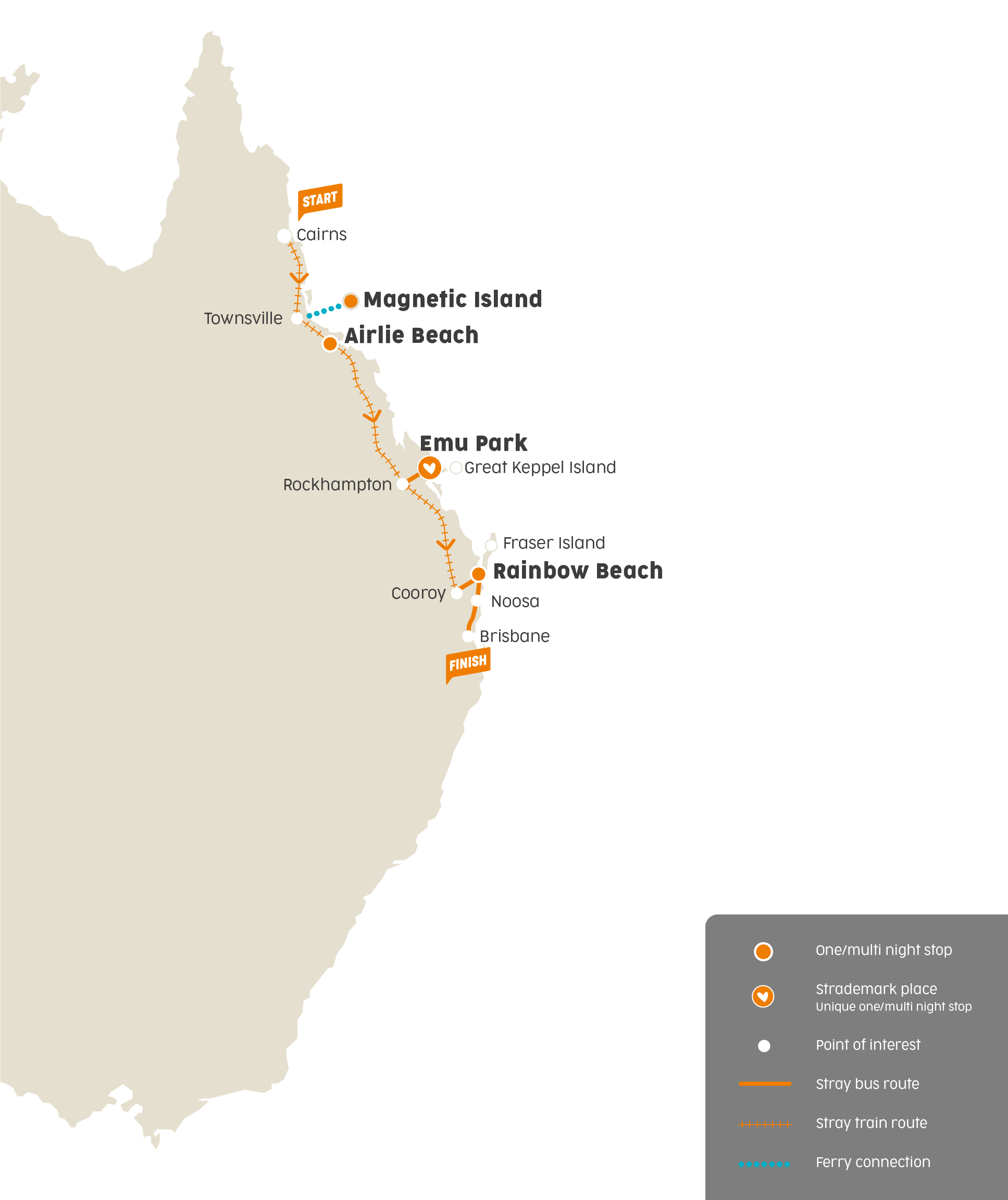 Need to Know
Transport - Travel by bus, train and ferry. All included in the price of your pass and organised by Stray.


Booking Buses & Trains (Hopping on/off) - Use the Stray Mate app to manage your trip - you'll receive log in details in your Booking Confirmation email. Hop on and off as much as you like along the travel route - Here are our favourite places to hop-off. If you're on a short timeframe, we recommend booking all your transport in advance.


Minimum Days - You don't need to hop off if you're short on time - you can travel your pass in the "Minimum Days". There are non-travel days throughout the route so you will not be travelling everyday.


Departures - Buses/trains run to a seasonal timetable with multiple departures per week.


Flexibility - The cost of your accommodation, activities and meals is not included in a Freestyle Travel pass giving you extra flexibility to choose options that suit your budget and taste.


Accommodation - Book Stray preferred accommodation as you go via the Stray Mate app - there will be a dorm bed allocated to you at each overnight stop providing you book via the app 24 hours before.


Activities - Book activities as you go via the Stray Mate app.


Guides - Between Cairns and Rainbow Beach, where we travel on the fast, comfortable trains, you'll have In-Location Guides who will meet you at the station and show you around. Between Rainbow Beach and Brisbane, your Guide is also your Bus Driver. 


Stray Travellers - Find your tribe and make meaningful connections with travellers from all over the world. The majority of our passengers are aged between 20-35 but there is no age limit! 70% of our travellers are travelling solo.


Book with confidence

 -

 You can s

tart your trip anytime within 18 months of booking and you can change your start date as many times as you like.  Once you start travelling, you can use your Freestyle Pass for up to 12 months.


Payment Options - If you'd like to secure your place on the trip, but are a little bit short on cash, you can reserve a seat with a 20% deposit. Click 'Book Your Travel' and choose the deposit option in checkout. You then have 6 months to pay it off - too easy! Better yet - there's no admin fee. You can make payments when it suits you using our Extra Payments page. You just need to have paid for your trip in full 14 days before you start your travels.