The Little Mekong Freestyle Pass takes you into Northern Thailand before crossing into Laos. Discover why Laos is so many travellers' favourite Southeast Asian country as you travel from North to South. Return to Bangkok to wrap up a spectacular adventure. 
"Freestyle" means flexible. With a Freestyle Pass, you'll travel with a guide and have all your transport organised for you, but you can stay as long as you like in each destination and choose your own accommodation and activities to suit your taste.
---
Pass Highlights:
What's included:
All Transport
Whether you're travelling on our air-conditioned buses, by boat, train, or even tuk-tuk, all your transport is included and organised for you. 
---
Local Stray Guide
Knowledgeable Stray Guides provide invaluable support and insider insights. Travelling with a guide makes navigating Asia a stress-free experience. Guides can translate for you and book optional activities on your behalf. 
---
Access to Strademark Places
These are the special off-the-beaten-track destinations on the route that make Stray stand out from the crowd. You can see them marked with a heart on the map because they're the places our travellers love.
---
 Stray Mate - Trip Manager Portal
View your itinerary and manage your travel on-the-go. Flexibility at its finest!
---
Reserved Accommodation 
There will be a bed reserved for you at every Stray overnight stop. If you would like to book it, let your Stray Guide know and pay-as-you-go directly to the accommodation.
---
Top rated activities
There are some awesome local experiences included with your pass:
Travel on the overnight sleeper train from Bangkok to Chiang Mai.

Visit the dazzling and bizarre White Temple in Chiang Rai.
Sit back and watch the world go by on a 2-day cruise down the Mekong River. 

Discover the Pak Ou caves full of thousands of Buddha statues from over hundreds of years.

Tour the city sights of Vientiane.

Learn about the secret war on Laos at the COPE Centre. 

See Buddha's footprint at Wat Prabat Phonsone.

Visit That Ing Hang Stupa, a Buddist temple from the 16th century. 

Swim at the base of the Tad Ngeuang waterfall, surrounded by lush coffee plantations.
---
What we're all about...
We've redefined the 'traditional tour' to give you the flexibility and freedom you crave. 
Hop-off, stay longer and explore. It's your time, your way.
---
Stray are the experts in taking you off the beaten track in Southeast Asia. 
We're all about seeking out secluded destinations and one-of-a-kind experiences.
---
We believe we have a responsibility to make a positive impact on the communities we visit. 
Supporting local operators and hiring local guides means that you can learn more about the culture and get more out of your trip.
---
Travel is about creating lasting connections and sharing experiences. 
Stray travellers are open minded adventurers who make the most of every moment.
---
We'll keep you safe and stress-free, with guidance and support every step of the way. 
We'll do the organising, you come along for the ride.
Little Mekong - Freestyle Pass
---
Itinerary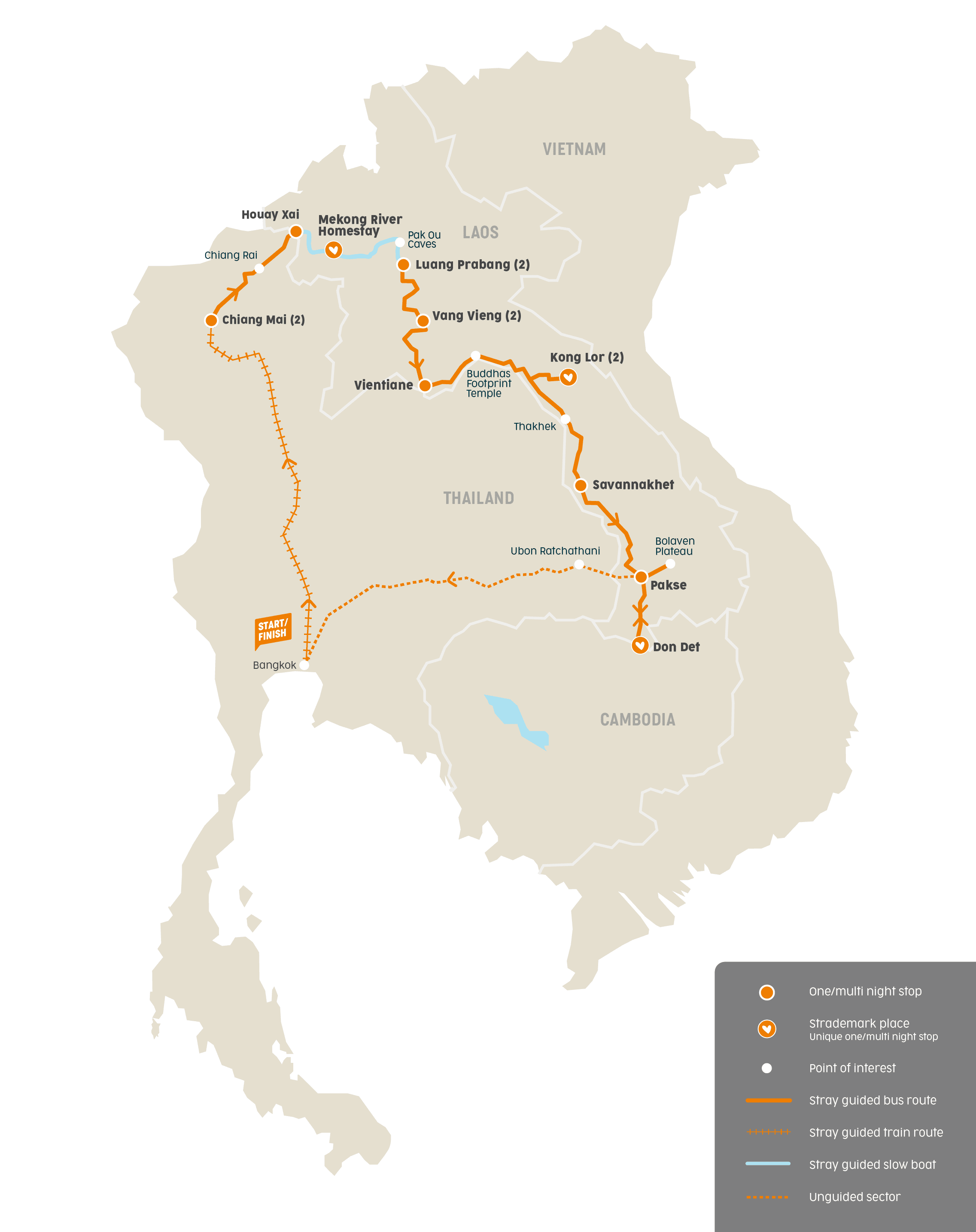 Need to Know
Due to COVID-19 all Stray trips are suspended until 1 November 2020. A new timetable will be available 1 August 2020. Please check our Service Updates page for more information.
---
Some key details...
Transport - All transport is included - you'll travel by bus (mostly private, air-conditioned buses with 24 seats), minivans, trains (Thailand only), boats (Laos only) and tuk-tuks. 


Guides - Stray employs local Guides to ensure you get more out of your trip. Hear the local stories, try their food recommendations, get insider tips and advice. If you hop on and off you'll have several different Guides throughout your journey - they're all absolute legends! 


Hopping on/off - You don't have to complete the Little Mekong in 17 days, take your time and go with the flow! You can hop-off at any destination along the route and spend more time there, then hop back on with the next group that is coming through. Where we recommend hopping off


Booking Buses - It's really easy to manage your trip online using the Stray Mate trip management portal.  You'll receive log in details in your Booking Confirmation email. If you're on a short timeframe, we recommend booking all your buses in advance.   


Travelling without hopping off - You don't need to hop off if you're short on time - you can travel in the number of days in the itinerary. There are non-travel days throughout the route so you will not be travelling everyday however we recommend allowing extra time to hop off. 


Departures - Buses run twice a week so the minimum amount of time you can hop off for is 3 days. Use the timetable to plan your trip. 
Accommodation - Accommodation is not included - we have preferred accommodation options at each overnight stop and a bed reserved for you. You can book this through your guide, or you can opt to book your own. Stray's preferred accommodation is simple and budget friendly. 


Activities - You can book optional activities through your Stray Guide. 
Visas - You are responsible for obtaining any visas you require for the countries you are travelling in. Visa requirements vary depending on where you're coming from and where you going, so we recommend that you contact the appropriate embassy in your country of origin. 


Travel Insurance - You must have a travel insurance policy to cover you for the entire time you are travelling with Stray. You will be asked for your policy details prior to starting travel. 
Stray Travellers - Our travellers are from all over the world, are energetic, adventurous and mainly aged between 20-35.  You'll have people who have booked Freestyle Passes and Tours in your group, as the route is exactly the same, it's just the inclusions that are different. 


Group Size - Max 18, Average 9


Unguided sectors - This trip includes an unguided border crossing from Laos back to Bangkok, Thailand as our local guides stay in their country of origin.  Crossing the borders can be a bit of an adventure but your guide will provide support and tell you what to expect. You can also find information about the day in Stray Mate. 
Book with confidence - You can start travel anytime within 18 months of booking and you can change your start date as many times as you like.  Once you start travelling, you can use your Freestyle Pass  for up to 12 months.
Payment Options - If you'd like to secure your place on the trip, but are a little bit short on cash, you can reserve a seat with a 20% deposit. You then have up to 6 months to pay it off - too easy! Better yet - there's no admin fee. You can make payments when it suits you using our Extra Payments page. You just need to have paid for your trip in full 14 days before you start. 
Learn more about: 
TRAVELLING FREESTYLE   THE STRAY EXPERIENCE    OUR UNIQUE STRADEMARK PLACES