The Khmer Freestyle Pass takes you further off the beaten track in Cambodia as well as to all the "must-see" locations! Visit a small Cambodian village, try the traditional cuisine and stay overnight, explore the magnificent temples of Angkor, learn about Cambodia's history in Phnom Penh and relax riverside in Kampot. 
"Freestyle" means flexible, and it doesn't get much more flexible than this! You'll travel with a guide and have all your transport organised for you, but you can stay as long as you like in each destination and choose your own accommodation and activities to suit your taste. 
---
Pass Highlights:
What's included:
All Transport
All of your transport is included and organised for you. You'll travel on air-conditioned buses and private minivans. 
---
Local Stray Guide
Knowledgeable Stray Guides provide invaluable support and insider insights. Travelling with a guide makes navigating Cambodia a stress-free experience. Guides can translate for you and book optional activities on your behalf.  If you'd like to hop off in Kampot to head to the Cambodian islands, your Guide can help arrange a transfer for you. 
---
Battambang Village Stay Experience
You'll get the opportunity to stay in a remote village close to Battambang, interact with the local people and learn about their community life. This is one of the most rewarding parts of this trip, as you'll get to visit a place that other travellers don't get to go. 
---
 Stray Mate - Trip Manager Portal
View your itinerary and manage your travel on-the-go. Flexibility at its finest!
---
Reserved Accommodation 
There will be a bed reserved for you at every Stray overnight stop. If you would like to book it, let your Stray Guide know and pay-as-you-go directly to the accommodation.
---
Top rated activities
There are some awesome local experiences included with your pass:
Climb aboard a unique form of transport - a Bamboo Train! 

Hear the sobering stories and chilling history of Cambodia at the Killing Fields 

Visit the Tuol Sleng 21 Prison in Phnom Penh. 
---
What we're all about...
We've redefined the 'traditional tour' to give you the flexibility and freedom you crave. 
Hop-off, stay longer and explore. It's your time, your way.
---
Stray are the experts in taking you off the beaten track in Southeast Asia. 
We're all about seeking out secluded destinations and one-of-a-kind experiences.
---
We believe we have a responsibility to make a positive impact on the communities we visit. 
Supporting local operators and hiring local guides means that you can learn more about the culture and get more out of your trip.
---
Travel is about creating lasting connections and sharing experiences. 
Stray travellers are open minded adventurers who make the most of every moment.
---
We'll keep you safe and stress-free, with guidance and support every step of the way. 
We'll do the organising, you come along for the ride.
Itinerary
Due to COVID-19 all Stray trips are suspended until 1 November 2020. Please check our Service Updates page for more information.
Welcome to Stray! Your adventure kicks off in the buzzing Asian metropolis of Bangkok, Thailand. If you arrive early in the day feel free to check out the vibrant markets and ancient temples that make up only a small side of this multifaceted city.
By 4pm, head to our Stray Shop to meet with a Stray staff member, who will give you your bus ticket and a briefing on what to expect on tomorrow's express trip to Siem Reap. You will also have the chance to sign up for Siem Reap's highlight activities so you're ready to dive right into the Cambodian scene. Make the most of your first night in Asia by exploring the exhilarating and intense Bangkok nightlife, snagging a bargain at a night market or dining out on some delicious Thai cuisine! 
It's best to stay close to Khao San Road. For accommodation and airport transfers add on a Bangkok Arrival Pack.
You'll leave Bangkok at 9am on an unguided public connection heading across the border to Cambodia. Today your destination is the small, but vibrant city of Siem Reap, best known as home to the UNESCO World Heritage listed Angkor temple complex.
After your early evening arrival, your Cambodia Stray Guide will meet you at 7.30pm to welcome you and explain more about how Stray works. Afterwards you are invited to join your Stray group for a walk along the iconic Pub Street where you will get to know your new travel mates over a tasty dinner and cold drinks. 
This sector is unguided. If you'd like more detailed information click here.
After your first night on Pub Street, you'll probably enjoy a free day to sleep in and relax at your accommodation. If you're up for it, get out and explore more of the downtown area, which tends to be a bit quieter during the day when most visitors are out at the temple complex. You'll find the heart of the city fairly easy to navigate by foot or bicycle. Finish the day by sampling traditional Khmer food and visiting the Angkor Night Market that's open every night.
Today you depart Siem Reap early enough to arrive in Battambang for a late lunch. After lunch, we'll visit a whiskey making village and learn about the local tipple, before checking out a village where they make a staple (but smelly) ingredient in most Khmer and Southeast Asian cuisine - fish sauce! Tonight, we'll stay in another little village, outside of Battambang, located in the picturesque countryside. You'll stay in a Cambodian family's home, experiencing rural community life. You can wander through the village and nearby rice paddies and finish the day by enjoying a delicious traditional meal with your host family.
See More moment: Immerse yourself in real Cambodian village life. Take the opportunity to interact with the locals, enjoy a traditional Khmer banquet and try a local favourite tipple: snake blood whisky (if you dare!). 
Do More moment: By getting off the beaten track and visiting this tiny village you're contributing to the economy and making a difference in the lives of the local families.
After waving goodbye to your hosts we'll head into the city of Battambang. Despite being the second largest city in Cambodia, Battambang manages to avoid an overly touristy vibe, allowing you to experience a more local side of urban Cambodian life. Wander through the central market alongside the river and grab a coffee at one of the cafes. On the way back to Siem Reap we'll stop to take a ride on the Bamboo Train, a rail system that was built by the French and destroyed by the Khmer Rouge, but is still used by the locals as a simple form of transport. Tonight is up to you, but we recommend finishing the day with the unforgettably unique Phare Circus, a locally run non-profit troupe that provides disadvantaged young people from the community with a place to learn the skills needed to earn their livings as professional performing artists.
See More moment: In the Cambodian countryside, a unique form of transport is still used by the locals to get around: a bamboo train! Take a ride on it and experience it for yourself.
You get a second full free day in Siem Reap because you simply cannot visit without seeing the highly recommended UNESCO World Heritage Angkor temples. Ranked at the top of many ultimate travel bucket lists (including Lonely Planet's), the awe-inspiring ancient city of Angkor is the largest temple complex in the world. You can easily spend a full day at the site and still only see a small portion of this dramatic architectural wonder, but to hit the biggest highlights and embrace your inner Tomb Raider, make sure you check out the famous Angkor Wat and Ta Prohm.
Next up, we head for the bustling Cambodian capital Phnom Penh. With an edgy blend of harrowing history and modern development, Phnom Penh is incredibly important place for a number of political, economic and cultural reasons. You're free this afternoon to get your first taste of this energizing capital city. Set out to explore the Royal Palace, Silver Pagoda and Wat Phnom, take a river cruise, shop for souvenirs at the huge Russian Market or see a living art performance at the National Museum.
Today, Cambodia's history is bought to life with a tour of two of the most infamous attractions: the Khmer Rouge's Killing Fields and the Tuol Sleng S21 Prison. While it is a very sobering experience to learn more about the country's harsh recent history and the atrocities of the Khmer Rouge, these are among the most recommended things to do in Phnom Penh. Afterwards, an afternoon drive brings us to the little riverside town of Kampot, where there is an option to take a leisurely boat cruise on the Kampot River. You'll be encouraged to sit back and reflect on your day with a refreshing cool beverage and absorb the spectacular views of Bokor National Park and Elephant Mountain as the sun sets over the calm waters.
You have a full free day to explore quaint Kampot. Visit the fascinating salt and pepper farms, go cycling or trek in the Bokor National Park or take a day trip to nearby Koh Tunsay (Rabbit Island) for some beach time. Tonight, we recommend sampling the exceptional regional seafood dishes at one of the many restaurants on the riverfront –the fried shrimp with green pepper corns is an absolute must try!
After a relaxing morning in Kampot, we return to Phnom Penh, where you'll have the evening free. For something different, why not join the locals at dusk for an aerobic workout along the riverfront. Here you'll find local ladies garbed in Western-style pyjamas, getting their groove on to Khmer techno music in order to burn a few calories. It may not be your most coordinated moment but will be good for a giggle (even if you're just laughing at yourself)!
This morning you'll be picked up from your accommodation for the (unguided) return journey to Siem Reap.  As it's your final evening in Cambodia, it's a good chance to do some last minute souvenir shopping at the night market or get a massage, enjoy some Khmer food, and relax.  
You'll be picked up from your accommodation in the morning and transferred to the bus station. You will be driven to the border town of Poipet to process through Thai immigration before the final leg to Bangkok. Expect to arrive at the Mochit bus station in Bangkok in the late afternoon. We hope you had a blast on your Stray adventure! 
*If you would like to be picked up from the Mochit Bus Station and have a final night's accommodation in Bangkok included and organised for you, please add on the 1n Bangkok Arrival Pack.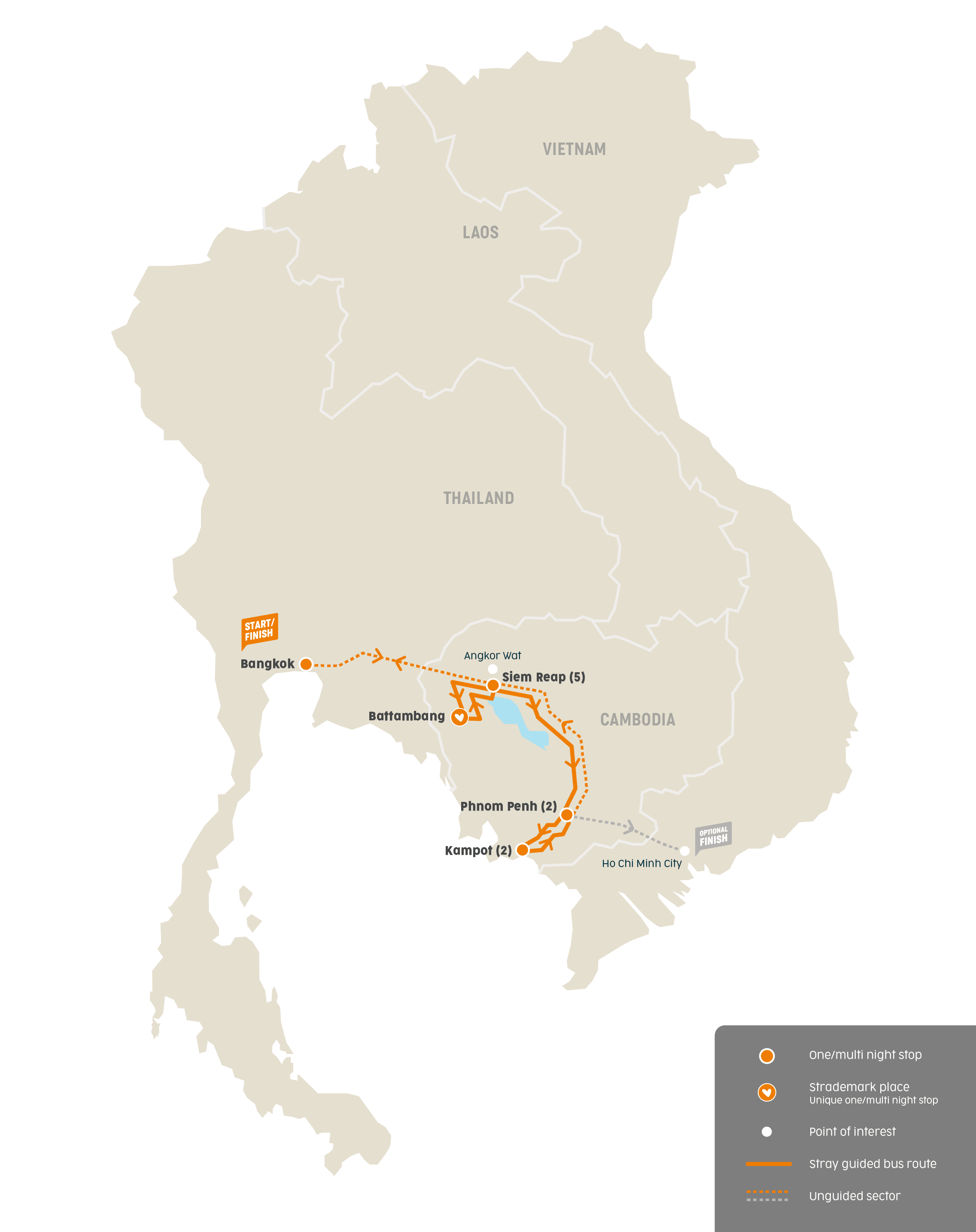 Need to Know
Due to COVID-19 all Stray trips are suspended until 1 November 2020. A new timetable will be available 1 August 2020. Please check our Service Updates page for more information.
---
Some key details...
Transport - All transport is included - you'll travel by air-conditioned buses and minivans.


Guides - Stray employs local Guides to ensure you get more out of your trip. Hear the local stories, try their food recommendations, get insider tips and advice. If you hop on and off you'll have several different Guides throughout your journey - they're all absolute legends! 


Hopping on/off - You don't have to complete the Khmer Pass in 12 days, take your time and go with the flow! You can hop-off at any destination along the route and spend more time there, then hop back on the tour with the next group that is coming through. Where we recommend hopping off


Booking Buses - It's really easy to manage your trip online using the Stray Mate trip management portal.  You'll receive log in details in your Booking Confirmation email. If you're on a short timeframe, we recommend booking all your buses in advance.   


Travelling without hopping off - You don't need to hop off if you're short on time - you can travel your tour in the number of days in the itinerary. There are non-travel days throughout the route so you will not be travelling everyday.


Departures - Buses run twice a week so the minimum amount of time you can hop off for is 3 days. Use the timetable to plan your trip. 


Accommodation - Accommodation is not included - we have preferred accommodation options at each overnight stop and a bed reserved for you. You can book this through your guide, or you can opt to book your own. Stray's preferred accommodation is simple and budget friendly. 
Activities - You can book optional activities through your Stray Guide. 


Visas - You are responsible for obtaining the visas you require for the countries you are travelling in. Visa requirements vary depending on where you're coming from and where you going, so we recommend that you contact the appropriate embassy in your country of origin to determine what you need. 


Travel Insurance - You must have a travel insurance policy to cover you for the entire time you are travelling with Stray in Asia. You will be asked for your policy details prior to starting travel.


Stray Travellers - Our travellers are from all over the world, are energetic, adventurous and mainly aged between 18-35.  You'll have people who have booked Freestyle Passes and Tours in your group, as the route is exactly the same, it's just the inclusions that are different. 


Group Size - Max 24, Average 9


Unguided sectors - This trip includes unguided border crossings between Thailand and Cambodia.  Crossing the border can be a bit of an adventure but our staff will provide support and tell you what to expect. You can also find information about the day in Stray Mate. 
Book with confidence

 - You can s

tart travel anytime within 18 months of booking and you can change your start date as many times as you like.  Once you start travelling, you can use your Freestyle Pass  for up to 12 months..
Payment Options - If you'd like to secure your place on the trip, but are a little bit short on cash, you can reserve a seat with a 20% deposit. You then have up to 6 months to pay it off - too easy! Better yet - there's no admin fee. You can make payments when it suits you using our Extra Payments page. You just need to have paid for your trip in full 14 days before you start. 
Learn more about: