One of our favourite places to get off the beaten track is Borneo.  This action packed tour is full of adventure and good times!  You'll see some of the world's rarest wildlife, swim at remote beaches, contribute to sea turtle conservation, see some epic sunsets, hike in the jungle and cruise the Kinabatangan River searching for gibbons, orangutangs and proboscis monkeys! 
Borneo is an explosion of wildlife and nature, waiting to be explored.  
---
Tour Highlights: 
Scroll through the gallery below to see the kinds of the things you'll get up to! 
What's Included:
Comfortable and air-conditioned minivan and boat.
---
Local Tour Leader
Knowledgeable Guide to provide invaluable knowledge, support and insider insights.
---
Accommodation
Twin-share accommodation is standard, and if you are travelling alone you will be paired with another traveller of the same sex. Single room upgrades may be available on request.
---
9 breakfasts, 5 lunches, 7 dinners
---
Included Activities:
Visit the Orangutan Sanctuary
Release baby turtles into the ocean as part of a turtle conservation project
Watch Flying Squirrels glide through the trees at sunset
Take a guided night walk in the jungle
Cruise the Kinabatangan river on several wildlife safaris 
Stay in a jungle camp along the Kinabatangan River
Hike the trails at Mount Kinabalu National Park
See the Bornean Sun Bears at the Conservation Centre
See unusual tropical plants at the Mount Kinabalu Botanic Gardens
And more! See the Itinerary tab for full details. 
---
Our mission is to get you off the beaten track amongst authentic local culture and our experienced crew has chosen some incredible destinations so you can see more and do more! 'Strademark' Places are the places you're less likely to find in the guide book but the ones you'll be talking about long after the adventure has ended. 
Stray further off the beaten track to Kudat, a remote stretch of beach at the northern tip of Borneo where you'll rarely find anyone else! Go snorkelling, swimming and watch the sunset while enjoying a BBQ dinner on the beach. 
Experience one of Borneo's highlights at our exclusive Stray Jungle Camp as we head out on the mighty Kinabatangan River on wildlife spotting cruises in the afternoon, evening and the following morning. You'll experience something different each time!
---
Reviews
"Visiting Borneo was one of the best travel experiences in 8 years of travelling!  Our itinerary was jam packed with excursions, island exploring and jungle ventures."

 

Tommy, United Kingdom 


---
Tour Options
If you would like to climb Mount Kinabalu, or go diving in Sipadan please contact our friends at Top Peak Travel to arrange that for you prior to your trip. 
---

Want more?


 BORNEO TRAVEL GUIDE 
The Borneo Travel Guide has all the info on what to do, some top tips and what the vibe is like in each destination we visit in Borneo.
        READ OUR BLOG
        6 Reasons to put Borneo on Your Bucket List - Find out why it's Asia's best kept secret.
Check out our Borneo Insta Story...
See what it's really like to Stray with us and find out more about all the amazing things you can get up to in Borneo!
Itinerary
Due to COVID-19 all Stray trips are suspended until 1 November 2020. Please check our Service Updates page for more information.
Hello, and welcome to Stray! Your adventure kicks off in Sandakan, the second largest city in the Malaysian state of Sabah. If you arrive early in the day, feel free to check in to the hotel, go for a swim in the outdoor pool and relax, or head out to explore the city. Make sure to be back at the hotel lobby by 6pm to meet your guide and your tour group for a Welcome Meeting. Your guide will review the upcoming trip and answer any questions you have, and afterwards, we'll head out to get to know each other better whilst sampling the local Malaysian food. 
This morning we'll board a water taxi to Walai Turtle Conservation Park on peaceful Libaran Island. When we arrive, an engaging conservation presentation will teach you all about the community based efforts to save the gentle native sea turtles. After lunch, you'll have the afternoon free to chill out on the beach or go kayaking. In the early evening we'll visit the hatchery and, if some eggs have hatched, we'll take the baby turtles down to the ocean and release them into the sea! After dinner, keep a watchful eye out for mother sea turtles crawling up the beach to lay their eggs in the sand. Includes Breakfast, Lunch and Dinner.
After breakfast, the water taxi will carry us back to the mainland for the short drive to Sepilok, home to the Orangutan Rehabilitation Centre and the Bornean Sun Bear Conservation Centre. The centres are conveniently located across the road from each other which means that you can walk between the two. You can easily spend a few hours watching the sun bears play in the forest and admiring the orangutans up close during their feeding sessions. Tonight, an experienced guide will lead you on elevated walkways through the rainforest canopy and along jungle tracks to discover the monkeys and other primates, flying squirrels, birds, and other nocturnal wildlife that call the rainforest home. Includes breakfast, lunch and dinner.
It's not far from Sepilok to the little village where we'll depart on our great two-night Kinabatangan adventure. We board a boat that takes us along the Kinabatangan River, then shoot off down a tree canopied canal to our exclusive Stray Jungle Camp. With no other tourist groups around, the native wildlife is in abundance here! After lunch, we'll head out for our first wildlife spotting cruise. Keep your camera handy as you look out for proboscis monkeys, crocodiles, long-tail macaques, hornbills, kingfishers, storks, and if you're incredibly lucky, wild orangutan and pygmy elephants! As the light starts to fade, we'll return to camp to refuel with a local style dinner. Night brings out even more creatures, so we'll go back out on the boat after dinner to spot fireflies and search for nocturnal wildlife. Includes breakfast, lunch, dinner and snacks. 
Today you'll get two more opportunities for wildlife spotting, one in the morning and one in the afternoon. Each time you head out on the boat, you're likely to have a completely unique experience from the ones before. In the afternoon you will also have some free time. The camp has a strong conservation focus and is actively involved in a reforestation programme, which you are welcome to contribute to by buying and planting your very own tree to keep the jungle growing. Tonight, we'll take a guided night walk to spot nocturnal wildlife close to the camp. Includes breakfast lunch, dinner and snacks.
This morning we leave the Jungle Camp and begin the scenic drive inland. Enjoy the views as you the road winds into the cool hillsides on the way to our destination in the tiny town of Ranau. Here we'll stay at the Slagon Homestay, a homey lodge run by a local family. Spend the afternoon relaxing in the lush gardens or take a refreshing dip in the plunge pool. Tonight, you'll enjoy a delicious homecooked dinner, a few games of pool and maybe even some karaoke (for the brave!) Includes: Breakfast and dinner.
Wave good bye to our hosts as we head for Mount Kinabalu, Malaysia's first World Heritage site. This National Park is one of the most important biological sites in the world, home to over 4,500 species of flora and fauna. A guide will point out just a few of these as we take a tour of the botanical gardens. Then you'll be able to test your knowledge on a short hike in the park afterwards! This afternoon we head well off the beaten track to a remote beach at the very tip of Borneo. Kudat boasts long stretches of white sand away from the tourist crowds. We'll wrap up the day by watching an out of this world sunset before enjoying a group dinner.  Includes breakfast and dinner. 
Get out this morning to make the most of this wonderful remote beach location. Join a half-day snorkeling trip out to some of the nearby reefs, hire a surfboard (seasonal), go kayaking or take a mangrove river cruise. Mid-afternoon we'll head over to 'The Secret Place', a nearby quiet stretch of beach with everything good holidays are made of. Spend an afternoon swimming in picture perfect blue waves, relaxing in a hammock, and enjoying the tasty cocktails and banter served up by the rustic beach bar's friendly local host. Finish the day watching another epic sunset while our host prepares a delicious beachside BBQ dinner. Includes Breakfast, Lunch and Dinner
Today we head for the busy capital city of Kota Kinabalu. On the way we'll stop at the Borneo Honey Bee Centre and at a local village famous for producing Sabah's best ceremonial gongs. We'll arrive in Kota Kinabalu early in the afternoon with enough time to explore the charming city. Wander the waterfront area, check out the Central Market, watch the local fishermen or peruse the shops. In the evening, we recommend heading down to the Night Market to sample some of the best seafood in Borneo. Includes breakfast. 
We'll share a final farewell breakfast at the hotel before saying goodbye. If you've got the whole day to spare, you could visit the nearby islands on an island-hopping trip. We hope you had a blast on the Borneo Explorer! Includes breakfast.
Accommodation
We've chosen high quality backpacker accommodation in a variety of hostels, homestays, lodges and even glamping on the beach! 
Twin-share is included with your tour. If you are travelling alone you will be paired with another traveller of the same sex. If you'd prefer a private single room, you can pay a single supplement of an additional $365 to have your own room. Private rooms are not available at the Kinabatangan Jungle Camp.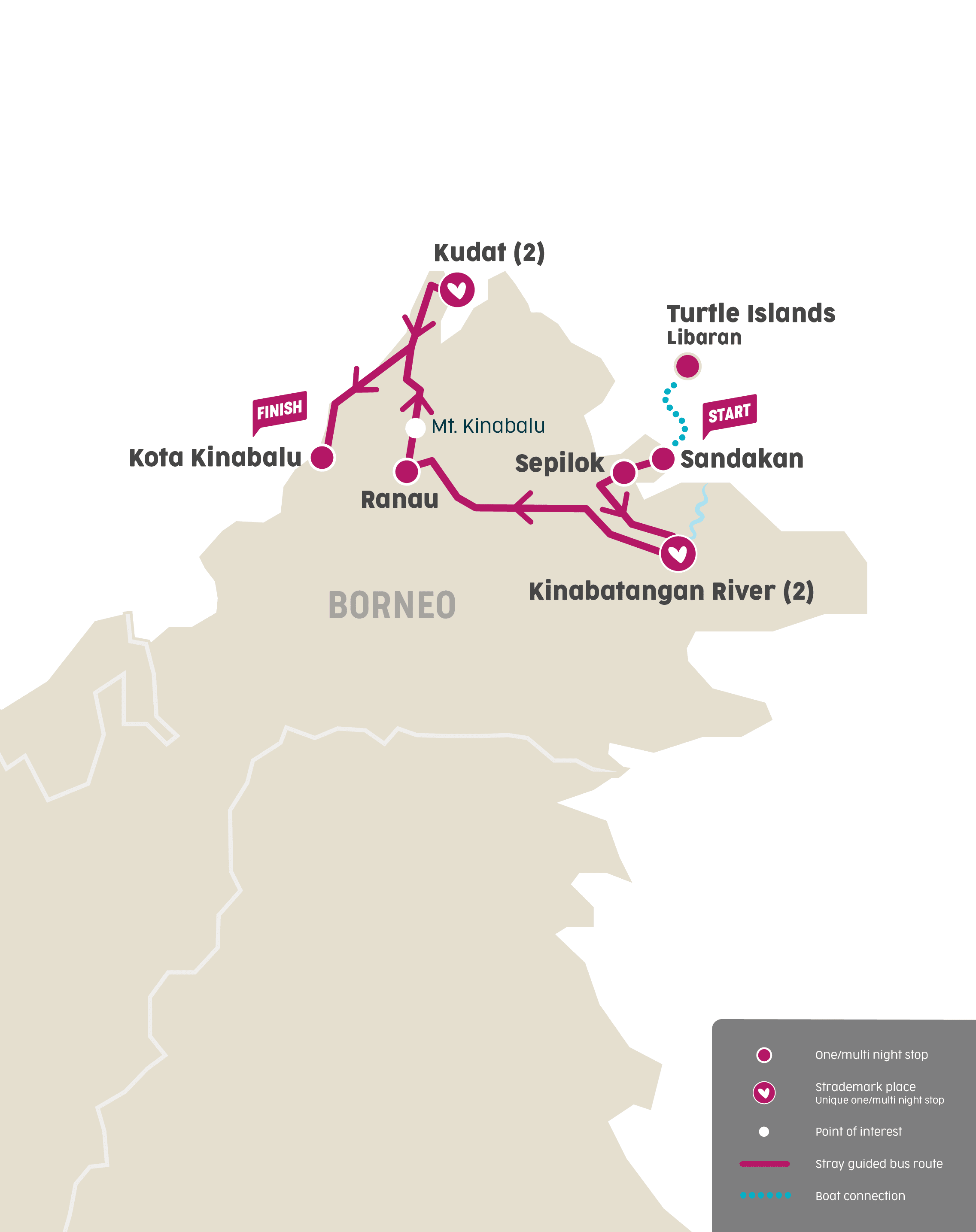 Departures
Due to COVID-19 all Stray trips are suspended until 1 November 2020. A new timetable will be available 1 August 2020. Please check our Service Updates page for more information.
---
Up-coming Departures: 
6 & 20 November 2020

4 & 18 December 2020


2021 Departures: 15 Jan, 19 Feb, 19 Mar, 16 Apr, 21 May, 18 Jun, 16 Jul, 20 Aug, 17 Sep, 15 Oct, 19 Nov, 17 Dec. 
Please Note: The minimum numbers for this tour to run is 3. Passengers on tours that do not meet minimum numbers will be informed 30 days prior to departure. If you would like to enquire about the number of people on the departure date you are interested in, please email [email protected]