Voted the number 1 country to visit in 2020 by Lonely Planet, Bhutan is a mesmerising place in the clouds, with lush valleys, tiered rice paddy fields, rich forests and rushing rivers. A place that measures the success of the country, not on outputs or financials, but on the Gross National Happiness of the people who live there.
Here, in the land of the Thunder Dragon, culture and spirituality are at the core of everyday life. People wear traditional dress, colourful prayer flags adorn the hills, monasteries perch precariously on cliff faces, and monks in crimson coloured robes wander the streets.
This forward-thinking little country has already banned plastic bags and tobacco. Their strong focus on education and protecting the environment means that many endemic species of animals still thrive in the Himalayan forests (including bears, clouded leopards and even tigers) and children are taught that keeping the country beautiful and clean is part of national pride. 
In some ways Bhutan is a country lost in time, in other ways it is so far ahead. A trip to Bhutan is an eye-opening, life changing experience. 
---
Tour Highlights: 
Scroll through the gallery below to see the kinds of the things you'll get up to! 
What's included:
Transport
SUV Car, mini-van or bus (depending on the group size)
---
Knowledgeable Local Guide to provide invaluable knowledge, support and insider insights.
---
Accommodation
9 nights accommodation in comfortable 3-star hotels and a homestay.
---
Meals
9 breakfasts,  10 lunches, 9 dinners  (all meals at a local restaurant or hotels) and bottled water throughout the trip. 
---
Top rated activities
There are heaps of awesome activity inclusions in this tour:
Thimpu City Tour
Guided visit to Takin Park
Guided visit to Tashichho Dzong
Guided visit to the National Memorial Chorten
Guided visit to the Buddha Dordenma
Visit to local craft workshops
Guided visit to the Changangkha Lhakhang
Wangditse trail hike (2 hours return)
Hike through local countryside to Chime Lhakang (3 hours return)
Guided visit to Punakha Dzong.
Hike to the Khamsum, Valley Monastery (4 hours return)
Guided visit to the Nalanda Institute (a Buddhist monastic school)
Bumthang town orientation walk
Day visit to Burning Lake and Ura Valley
Guided visit Jampay Lhakhang
Hike to Tamshing Monastery and Kunchosum temple
Guided visit to Trongsa Fortress
Gangtey village orientation walk and nature trail walk.
Guided visit to the Black Crane Centre.
Tiger's Nest - hike to Taktsang monastery (5+ hours return)
Not included:
Visa application fee (approx $50 USD)
Cost of flights
Travel Insurance (compulsory to travel on this tour) 
---
Our mission is to get you off the beaten track amongst authentic local culture and our experienced crew has chosen some incredible destinations so you can see more and do more! 'Strademark' Places are the places you're less likely to find in the guide book but the ones you'll be talking about long after the adventure has ended.
Bumthang: Most tours to Bhutan do not make it to Bumthang in eastern Bhutan because it's quite a journey to get there, but it is one of the most scenically beautiful road trips, and one of the best ways to really see Bhutan. Bumthang's traditional style of architecture is almost reminiscent of alpine chalets in Switzerland, the streets are lined with fields growing organic vegetables, and the people are some of the friendliest in Bhutan, curious to meet western visitors. Three of Bhutan's most sacred religious sites are here. Marijuana grows freely everywhere which is quite a sight to behold! 
Gangtey Traditional Farmstay: Stay with a local family in a traditional farmhouse overlooking the famous Phobjika valley where the endangered Black Necked Crane migrates to annually. Enjoy a traditional Bhutanese meal, cooked on the stove in the middle of the living room and relax in the warm homely atmosphere. 
---
Price
Off-peak season: $2845 USD twin-share, per person 
Departures in: June, July, August, December, January, February
Peak season: $2995 USD twin-share per person 
Departures in: March, April, May, September, October, November
Single Room Upgrade: If you would like your own room, the additional cost is $545 USD (in both peak and off-peak season). Please 'Select Upgrade' when booking.  
---
Want More?
READ OUR BLOG
5 Reasons Why Visiting Bhutan is a Life Changing Experience
What is it that puts Bhutan so high on people's bucket list?
Itinerary
Due to COVID-19 all Stray trips are suspended until 1 November 2020. Please check our Service Updates page for more information.
---
Where a departure coincides with a festival, the itinerary may vary slightly from the itinerary below so that you can attend the festival.
When you arrive into Paro airport you'll be greeted by your guide and welcomed to the 'Land of the Thunder Dragon'. Once the group is all together we'll travel to the capital city of Thimphu.  We'll discover local life in Thimphu, see people playing archery (the national sport of Bhutan), explore the farmer's market, speak to the local stallholders and taste some of their goods before we cross the bridge to the handicraft market. After a delicious Bhutanese style lunch we'll head up into the hills to see Bhutan's national animal, the Takin. On the way back into town we'll visit Tashichho Dzong, a Buddhist monastery and fortress built in traditional Bhutanese style, surrounded by beautiful gardens, now used as the local Government offices and the residence of the King of Bhutan.  Includes lunch and dinner. 
We start the day with a visit to the National Memorial Chorten, an important religious monument popular with elderly Bhutanese people who come to walk around the Chorten and spin the prayer wheels to build their karma for the next life. We'll then head up to visit Buddha Dordenma, one of the largest Buddha statues in the world made of bronze, gilded in gold, and filled with 125,000 little copper Buddha statues! 
Bhutan's cultural heritage is zealously protected and art and handicrafts are important professions. We visit a textile workshop, a traditional paper making factory, an art gallery and woodcarving workshop where the intricate creations will leave you amazed.  Next we'll visit Changangkha Lhakhang, an important temple where parents take newborns to get auspicious names for their babies and blessings for their children.
After this we'll head further up into the hills above Thimphu to hike the Wangditse trail, a fairly flat track which the young and active King is known to frequent! It's a good chance to stretch our legs, get used to hiking at altitude and enjoy the view over the valley.
Tonight your Guide will take you to one of their favourite restaurants/bars in Thimphu city.
Includes breakfast, lunch and dinner. 
It's a scenic drive towards Punakha, up into the mountains, above the clouds, to Dochula Pass, 3050m above sea level. If the day is clear you'll be able to see the snow capped Himalayas, if it's misty that holds a certain magic too. Winding down the other side of the pass, watch the forest and landscape change as you descend into Punakha. We'll enjoy a lunch from organic, locally sourced produce before taking a walk through the rice paddy fields and the small village to Chime Lhakang, the temple of the Divine Madman. The phallic symbols and pictures of phalluses painted on the buildings will begin to make sense as you hear the story of the Divine Madman and walk towards what is known as the 'fertility temple'. Inside the temple, look for the album of postcards and letters from couples who've successfully conceived after visiting the temple.  Next we'll visit Bhutan's most beautiful fortress; Punakha Dzong, located at the confluence of the Pho Chhu (male) and Mo Chhu (female) rivers. Includes breakfast, lunch and dinner. 
This morning we'll hike to the Khamsum, Yalley Monastery. Crossing over the suspension bridge covered in prayer flags, we'll walk alongside a small river, through crop fields of chillies, eggplants and potatoes, through rice paddy fields, uphill towards the monastery (approx. 4 hour walk).  This is our second practice hike for Tiger's Nest on Day 9! The beautiful temple and views from the top are worth the climb.
After lunch we'll visit the Nalanda Institute, an important place of learning for Buddhist monks. The monks here are learning English and we might get the chance to speak with them or sit in on a class. After that we'll visit a nunnery in time to hear the evening prayer chants before returning to the hotel for dinner. Includes breakfast, lunch and dinner. 
One of the best ways to experience Bhutan is to go on a cross-country road trip! Eastern Bhutan is distinctly different to Western Bhutan and most tourists don't venture this far off the beaten track. It is a long day but an incredibly beautiful journey.  Driving out of Punakha you'll wind through the valley alongside a gushing river, see historic forts and beautiful villages perched high on the hills. Drive through lush rainforest, see little farm houses seemingly in the middle of nowhere. We'll travel slowly as the roads are windy and basic. We'll stop for refreshments in Nubding, a little village in the clouds and at a traditional Bhutanese restaurant for lunch. Bumthang is one of the most spectacular valleys, and the name translates to 'beautiful field'. As we drive into Bumthang valley you'll notice a distinctly different style of architecture almost reminiscent of Austria or Switzerland. When we arrive in Bumthang we'll stretch our legs and familiarise ourselves with the town before settling into our hotel for the evening. Includes breakfast, lunch and dinner. 
Today we'll visit a sacred site known as Burning Lake before continuing towards Ura Valley. Here our driver will drop us above the valley so we're able to hike down, through alpine style flora and fields of wild strawberries. When we get to the bottom we'll have some time to explore this picturesque little village, with its cluster of traditional houses. You're unlikely to see any other tourists here. We'll either have a picnic lunch, or a lunch prepared for us by the villagers in the monastery. 
Heading back Bumthang we'll visit Jampay Lhakhang, the oldest temple in Bhutan dating back to the 7th century. From here we'll take a short hike over the bridge, alongside a stream, where you'll be surprised to see copious amounts of wild marijuana growing (you can look, but you can't touch!) alongside the banks. With a visit to Tamshing Monastery and Kunchosum temple, you can claim to have experienced three of the most sacred sites in Bumthang. Includes breakfast, lunch and dinner. 
After breakfast we'll depart for Gangtey/Phobjikha Valley, a broad valley with marshland through the middle, famous as the winter home of the endangered Black Necked Crane which migrates between Bhutan and Tibet every year. We'll stop en route to visit the Trongsa Fortress, the biggest fortress in Bhutan. When we arrive in Gangtey we'll stop at the monastery, located on a ridge overlooking the valley. It's said the Cranes bless the monastery by circling it three times each as they arrive, before landing in the valley. We'll walk from the monastery through the village, and down a nature trail, which runs alongside Phobjikha Valley.
Tonight, we'll stay in a traditional farmhouse with a local family where you can observe local traditions and way of life. Most houses have an old-fashioned stove/fireplace in the middle of the living room used for both cooking and heating. Take a walk around the small village, enjoy a delicious home cooked meal and relax and enjoy the family atmosphere.  There are no showers here, instead take the opportunity to experience a traditional hot stone bath  – this is a true, off-the-beat-track experience. Includes breakfast, lunch and dinner. 

After waving goodbye to your host family we'll stop into the Black Necked Crane Centre to learn more about this intriguing bird and the other animals that live in the valley. The centre is home to Karma, a Black Necked Crane who is now a minor celebrity in Bhutan. Karma hurt its wing and is unable to fly. Standing 1.4 meters high, with an impressive wingspan of over two meters, it's a rare opportunity to get up close to one of these incredible birds. 
After this it's an express trip back to Paro via Thimphu where we'll have the afternoon to relax and get ready for the Tiger's Nest hike tomorrow! Includes breakfast, lunch and dinner. 
Today we'll make an early start on the hike up to the iconic Taktsang monastery (Tiger's Nest) one of the most sacred places in Bhutan. You'll get glimpses of the beautiful monastery which clings to the rock face high above, as you climb up, spurring you to the end. The trek is challenging but after nine days of regular hiking at altitude in Bhutan you'll find it a lot easier to achieve. This is a true highlight of the tour and of any visit to Bhutan. You'll also see many Bhutanese people on the track, as it is believed that all Bhutanese people must visit this sacred monastery at least once in their lifetime.  
The Tiger's nest walk is a 5+ hour return walk. It has some challenging grades and is mostly uphill.  You need a reasonable level of fitness to do this walk.  The Tiger's Nest sits at 3,800m so some travellers may be affected by altitude. 
After the hike we'll return to town for some well-earned homemade ice-cream before heading back to the hotel to relax. This afternoon you'll have to option to experience a traditional stone bath, the perfect way to soothe your muscles after the hike!
We'll head into Paro town for the last night of the tour. Take a look around downtown, purchase any last minute souvenirs and enjoy a final dinner together in the city.
Includes breakfast, lunch and dinner. 
After breakfast we'll check out and head out to explore some of the sights around Paro. First we'll visit Kichu Lhakhang, a very old, peaceful monastery, famous for the orange trees in the courtyard that bare fruit all year round.  Then we'll visit the National Museum where you'll see historical artefacts of Bhutanese civilisation and traditions including a gallery of intriguing masks used in important ceremonies. We'll finish the tour with a visit to the fortress of Paro which boasts beautiful views over Paro valley, before transferring you to the airport for your departure. Includes breakfast and lunch. 
Please note: Bhutan has many interesting religious festivals, and where your departure aligns with a festival, the festival will replace the itinerary on that day.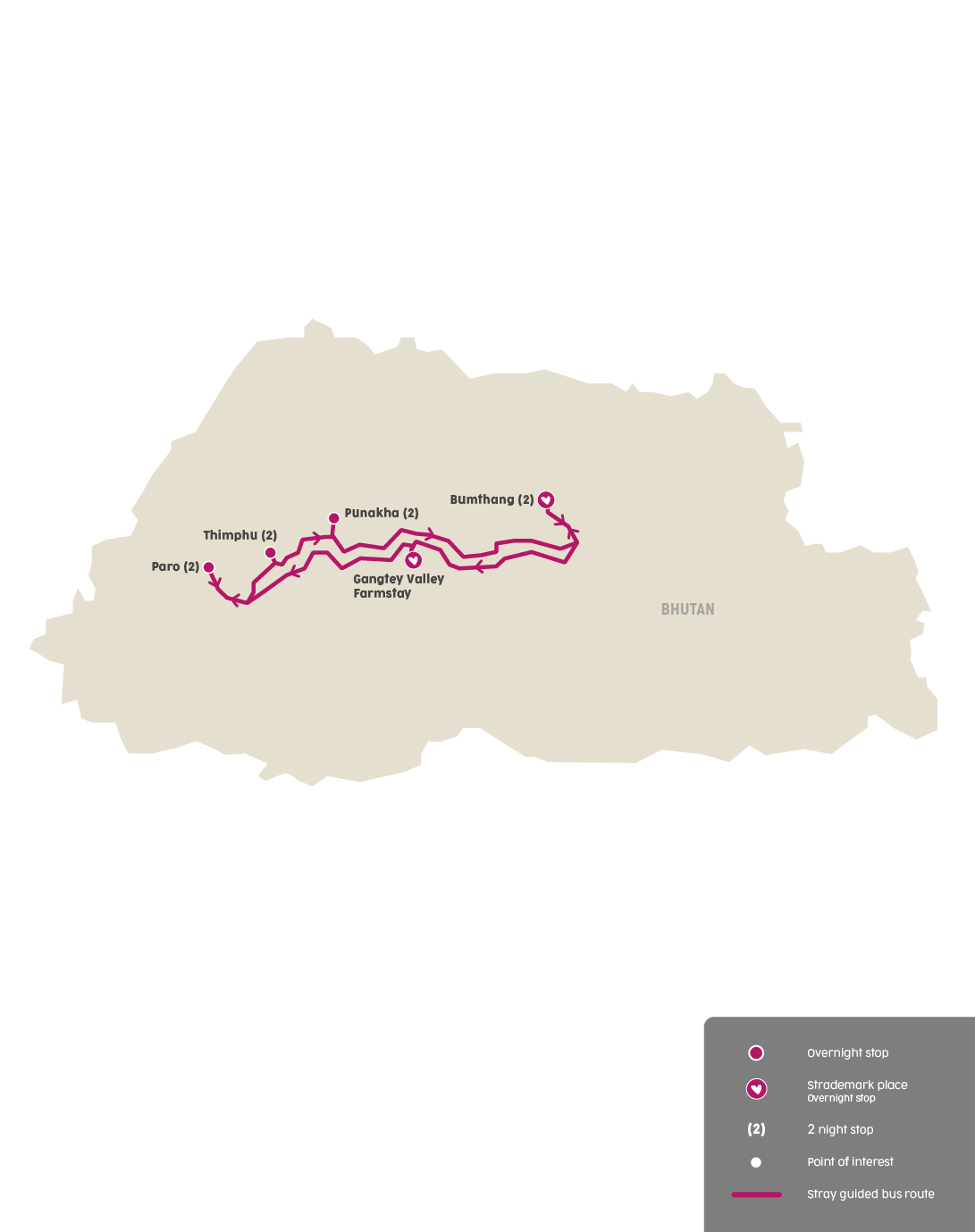 Extra Info
Due to COVID-19 all Stray trips are suspended until 1 November 2020. A new timetable will be available 1 August 2020. Please check our Service Updates page for more information.
---
Departure Dates:
November 2020 (Peak Season) 
Wednesday 4 November: Coincide with the Black Crane Festival (11 November) Gangtey
December 2020 (Off-Peak Season)
Monday 10 December: Coincide with Druk Wangyel Tschechu (13 December), Thimpu
---
Flights
There are two national airlines that fly in and out of Bhutan and only a select number of pilots trained to fly into Paro airport! After booking the Bhutan Explorer tour, you will receive an email with a quote for flights from Bangkok to Paro that will be valid for 12 days. 
You can choose if you would like to purchase the flights through Stray or book these flights to Paro on your own.  
If you would like to book the flights on your own, you must book the same flights as quoted to you by Stray so that you can meet the group and your transfer to Thimphu. 
The flights quoted to you correspond exactly to the tour dates. You will arrive on the morning the tour starts and depart the afternoon that the tour ends. They also align to the dates on your visa. 
You cannot stay longer in Bhutan as law states that foreign visitors to Bhutan must be travelling with a guide and this guided tour is only 10 days long. 
Visas
All tourists to Bhutan require a visa. As your tour provider, Stray is responsible for arranging your visa for you. The cost of the visa is $50 USD and is valid only from the arrival day to the departure day of the tour. After booking the tour you will receive an email with the option for Stray to book your flights and visa, or just your visa, and the link to pay. You need to submit a clear copy of your passport to Stray at least 45 days before you depart. Please ensure your passport is valid for more than 6 months after the day you depart Bhutan.  Visas are non-transferable and non-refundable.  You will be sent your visa approval letter via email. You will need to print it out to show the airline when you check in for your flight to Bhutan, and you should carry it with you while you are travelling in Bhutan.
Food
Most meals are included in the price of your tour. Meals in Bhutan are served buffet style and usually include 5-6 different dishes: 2-3 vegetable dishes, potatoes,  rice, sometimes pasta, and a meat dish. Meals are followed by fruit and tea and coffee.  If you would like to purchase beer, wine, additional water, soft drinks or juice, you may do so at your own expense.  Fresh vegetables are in abundance in Bhutan and 40% of the country are vegetarian as meat is limited and all meat is imported from India.  Bhutanese also include a lot of cheese and diary products in their cooking.  If you have any allergies or dietary requirements, please let us know at the time of booking.


The cost of travelling in Bhutan 
One of the common misconceptions is that it is really expensive to travel in Bhutan, due to the daily tourism fee of between $200-290 USD a day (depending on the time of year) which is dictated by the government. The government stipulates this daily fee and limits the amount of visas each year to ensure that Tourism in Bhutan remains a High Quality Experience and has a Low Impact on the people, culture and environment. 
What many people don't realise is that this daily fee is included in the price of your Stray Asia tour and there are almost no additional costs once you are in Bhutan. All meals, transport, guide, driver, accommodation and sightseeing and activities are all included! 
You will will only need to carry additional money (we recommend carrying around $200-300 USD) for emergencies, tips, drinks, snack and souvenirs, and if you wish you have an optional stone bath. There are ATMS in Thimphu (our first destination) where you can withdraw local currency (Ngultrum). You can also use Indian Rupees in Bhutan. Some larger souvenir shops have credit card facilities but may charge a fee. 
The Homestay
The homestay is in the small village of Gangtey in the middle of the Phobjikha valley.  Guests will stay in individual homes depending on the size of the group. Accommodation is in twin share bedrooms with mattresses on the floor with clean and cosy blankets and bedding. Single Room upgrades do not apply at the Homestay. 
The group will eat dinner in the living room around the fire which doubles as a cooking stove. The host family is friendly but do not speak English, the local guide can translate and assist communication. The Homestay experience will include a traditional evening meal and breakfast. There is NO hot water or showering facilities but the family will heat water on the stove for you to wash and pax can opt to take a hot stone bath (additional expense).


Temple Etiquette 
Bhutan is a very spiritual Buddhist country and religion is firmly ingrained in every day life. Please respect the culture and traditions. Ensure you are modestly dressed,  do not take photographs or video inside temples and don't sit on, or touch, any religious objects, paintings or statues. If you're unsure of what is appropriate, please ask your Tour Leader.
Hiking and Walking
An average level of fitness is required for this tour. We hike or walk regularly, some times uphill, sometimes for several hours and at high altitudes. The Tiger's Nest hike is the longest and most challenging (but also a highlight!). This trek will take an average of 5-8 hours depending on the fitness of the group. This is a high altitude trek so we complete this trek on the last day of the tour to allow the chance to acclimatise to the altitude and we also complete several short hikes throughout the tour to get used to hiking at altitude.  Good walking shoes or hiking boots are required, as the track can be steep and muddy. There is a restaurant half way up where we stop for a break and refreshments.
Roads and Transportation
The landscape in Bhutan is mountainous and the roads can be windy and bumpy. Bhutan is working very hard on getting the main roads up to a good standard, but large portions of it remain undeveloped. We travel in safe, private SUVs/Minivans/Minibuses depending on the size of the group. If you suffer from motion sickness, medication is advised.
Tipping
It is customary to tip your Tour Leader and Driver at the end of the tour to show your appreciation for their service. Recommendations for tipping drivers and local guides would range from USD1-2 per person per day. The amount is entirely a personal preference; however as a guideline USD20-30 per person, per week can be used.
Internet and Mobile Phones
Internet and wifi is available free at most of the hotels we stay at and mobile roaming is available in most of the cities. Ensure you have global roaming activated with your mobile carrier before you leave home if you wish to use your mobile phone while in Bhutan. You can also buy a local sim card in Thimphu (first stop) if you require one. Internet, mobile roaming and wifi is not available in remote or rural areas.
Smoking
Tobacco is illegal in Bhutan. Tourists may bring a limited amount in for personal use, but will be charged a duty at the airport. Smoking in public areas is not well received.
Clothing
In Bhutan modest dress is expected. Shoulders and knees should be covered. In some temples, long sleeves and long trousers/skirts are required for both men and women.  At any time of year, the temperature can vary greatly depending on the altitude. We recommend bringing lots of light layers. Thermal or Merino clothing is ideal as it is comfortable, warm and light. A wind/waterproof jacket is essential.  Men should bring a collared, polo style shirt or a long sleeve shirt for temples. Women will find a shawl or a scarf useful for covering up.
Packing List:
Camera or phone + plug convertor (standard format is D, F or G)
Good quality walking shoes or hiking boots
A variety of clothing for hot and cold weather, light layered clothing is best.
Conservative clothing for temples that covers knees and shoulders (Long pants, long skirts, shirts that cover shoulders, shawl or scarf)
Waterproof jacket
Sunscreen & toiletries
Earplugs
Insect repellent
Motion sickness tablets (for road travel)
Terms and Conditions
The Bhutan Explorer has special terms and conditions and a different cancellation policy. Please read both before booking: