Stray is New Zealand's award-winning, guided bus network for adventurous travellers and here are 10 reasons why, if you choose to travel with us, we'll give you an unforgettable experience in New Zealand! 
1. Stray's guided bus network is designed for adventurous travellers!
Watch this video and see for yourself what we're all about!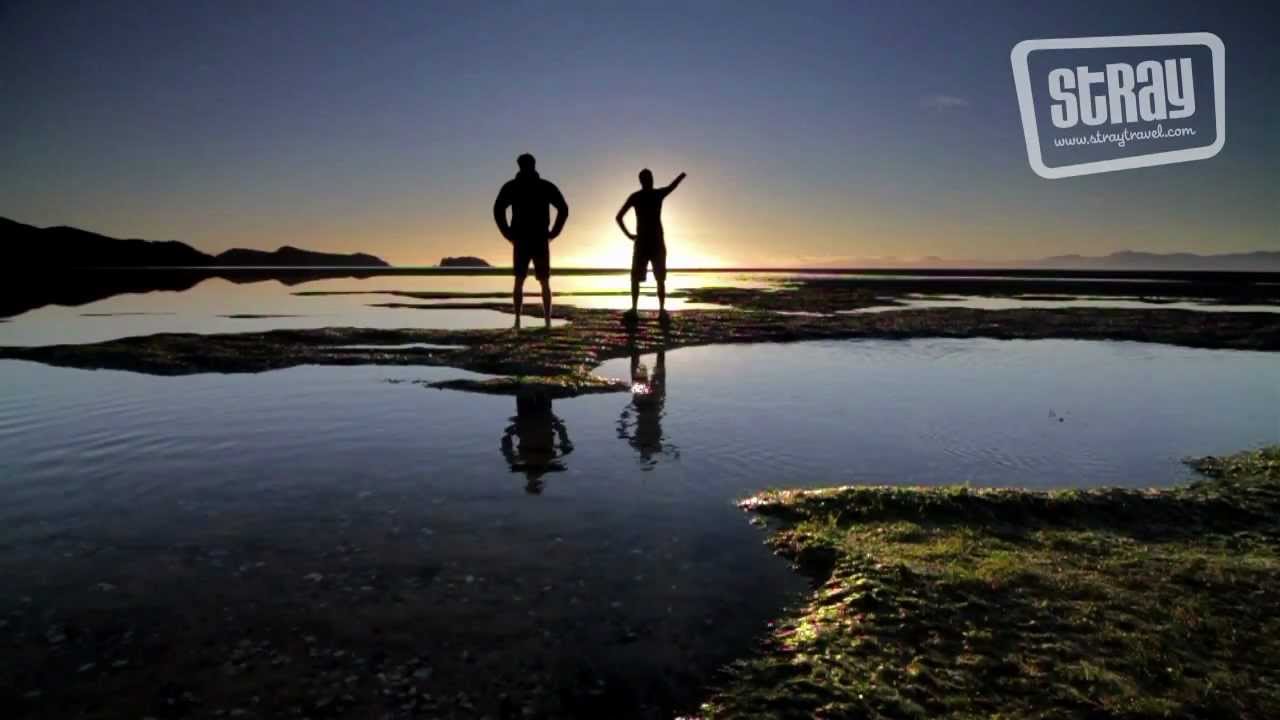 2. Outstanding unique stops and activities
Stray's mission is to get you further off the beaten track in New Zealand, immersing you in the places and activities that will, quite simply, blow you away. To name a few... an overnight stay on a real marae (Maori meeting ground), an authentic farmstay experience, a lodge set deep in native bush, a wildlife stop-over on Stewart Island, a night by NZ's highest mountain... All of these and more are exclusive to Stray. 
---
3. Top Driver-Guides
Stray is known in our industry as being a top place to work - and we should know! We give our driver guides market-leading training to help them take you around New Zealand; as well as being your local "guidebook" they provide commentary, book beds and activities, and provide information on anything from New Zealand history and culture... to the best drinking spots. These are all people that you'd like to adventure with and they are consistently mentioned when passengers talk about their favourite things on Stray. 
Meet some of our driver-guides >
---
4. "Stray" is what we do best!
Some bus companies will take you straight from A to B with barely a toilet break in between! We are Stray and Stray is what we do! That means with us you will experience great stops and inclusions en route. A typical travel day can see you stopping off for a short walk to a waterfall, numerous beautiful photo opportunities, pausing at an unusual piece of New Zealand art along the roadside, an opportunity to taste local wine or seafood, or even checking out some seals and other wildlife!
---
5. We save you money
... in so many ways! Firstly, you don't have to buy costly side trips as we already include the out-of-the-way, "must-see" places, e.g. Raglan, Mt Cook and Abel Tasman National Park. We can also get you great deals on activities so you can afford to do more, and there are always free or low cost suggestions for you to do.  Our Hop-on Hop-off passes are valid for 12months and during this time you can re-travel Stray operated routes and revisit the places you loved! Lastly, we save you time by picking you up and dropping you off at your accommodation; and by our extensive knowledge of where and what the best things in New Zealand are. 
---
6. Smaller group sizes
Our average group size is 24. The are many benefits to having this size: you don't feel like you're being herded around, we are able to include more accommodation and activity options, it's easier to meet people... plus we can get you off the beaten track and do way more in a day! Happy customers = happy us.
---
7. We attract the best people
We like to think we're pretty hot. In fact we attract independent people of a huge range of nationalities and ages - people who want to get involved in the place they are travelling rather than just looking out the bus window. We place value on attitude over age. You will make life-long friends and within a few days it will feel like one big holiday with your mates.
---
8. NZ owned and operated
Support the locals! Founded in 2002, we are kiwi and proud of it. We know our country and we're proud to show it off! 
Read about the history of Stray >
---
9. Feel environmentally smiley
Stray is passionately committed to environmentally sustainable tourism. Rather than just token gestures of energy-efficient light bulbs and recycling (which we do anyway) we are proud to lead the market with our environmental schemes and initiatives. For this work we have been awarded the Enviro-Gold accreditation from Qualmark. 
Jump to "Orange Is The New Green" >
---
10. Don't just take our word for it!
We won the Best Visitor Transport Award at the NZ Tourism Awards and the Best NZ Tour Operator Award at the Australasian Golden Backpack (traveller-voted) Awards in 2010. We have extremely high customer satisfaction and referrals (97.5%) because we offer travellers more of what they want – down-to-earth, real New Zealand with an awesome crew and a greater emphasis on your needs.