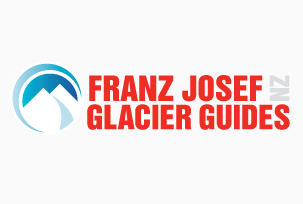 Contact
Franz Josef Glacier Guides
Glacier Base
63 Cron Street
Franz Josef
Ph 03 752 0763/ 0800484337
Price
$-$$$$
Your opportunity to visit our world renowned glacier, before it disappears. 
The opportunity to experience one of the most unique activities that New Zealand has to offer with a guided trip onto the majestic Franz Josef Glacier, known as Kā Roimata o Hine Hukatere to the Māori, is one not to be missed while travelling New Zealand's South Island.
Franz Josef Glacier Guides is an internationally recognised guiding operation that prides itself on providing the most incredible glacier experience.  They make a clear commitment to that their trip is the most spectacular and rewarding available, walking up into the glacier terrain with your experienced guide is a once a lifetime opportunity.  
Popular Tours 
The most popular tour is the Glacier Heli Hike; the best way to see as much on the ice as possible and the most cost effective way to get onto the glacier. A short heli hop from the township takes you into the remarkable Pinnacles area of the glacier. Here your guide will navigate you through a maze of ice and explain the dramatic environmental changes over the last few years. You will explore the awe-inspiring landscape in this incredible experience through Franz Josef Glacier.
Ice climbing options are also available on the ice and, should access be interrupted with rain, their Glacier Valley Walk fits the bill.
Guided Valley Walks are also available. 
All trips include complimentary access into the Glacier Hot Pools – the perfect way to relax and rejuvenate after your hike.
Book in your Stray Mate app for a discounted price! 
What to bring
2-4 warm upper body layers ideally woollen or polypro (not cotton)
Quick drying trousers or shorts (no jeans)
Food and drink for the day
Sunglasses (essential for Ice Climbing tours, recommended for others),
Sunscreen
Camera
Supplied for you:
Breathable Rain Jacket
Waterproof over-trousers (if required)
Socks and sturdy boots (or you have the option to wear your own hiking boots)
Crampons (with small waist bag) for superior glacier grip
Woollen hats and gloves (if required)
Have a question or want to book? Get in touch with our team