If you've got just under two weeks and you want to see the best bits of the East Coast, then the Cassowary Tour is for you. Beginning in tropical Cairns, the majestic Cassowary will lead you to the island paradise of Magnetic Island and the stunning Whitsunday Islands, finishing off in the riverside city of Brisbane. You'll travel with a local guide (and get their insider knowledge) and a bunch of like-minded travellers (your new lifelong friends) and explore some of the best places Aussie has to offer!
---
Tour Highlights:
What's Included:
Private Coach & Small Group
Only Stray travels by private, air-conditioned bus all the way from Cairns to Brisbane, with a maximum of 20 onboard. This provides more comfort, freedom, security and means we can see and do more!
---
Stray Guide
So much more than just your tour guide - expect entertaining stories, great recommendations, extra support and local insider knowledge. They know every inch of this country. You can't get this from a google search!

---
Accommodation
11 nights twin/double accommodation including 4 nights 3-4 star hotel and resort accommodation, 3 nights glamping in Noosa, 4 nights in cabins/villas.
---
Meals
17 meals included - 10 Breakfasts, 3 Lunches and 4 Dinners
---
Top Rated Experiences
Amazing scenery, tropical islands, snorkelling, glamping and wildlife spotting! There are so many awesome inclusions with the Stray Cassowary Cairns to Brisbane tour and we can't wait for you to experience them:
Enjoy the relaxed Cairns lifestyle, welcome dinner with a native bush food tutorial and the fun nightlife.
Embrace your inner nature-lover on Magnetic Island, a wildlife paradise filled with koalas and wallabies.
Explore the breath-taking Whitsunday Islands on an exhilarating day tour visiting both ends of the famous Whitehaven Beach, Hill Inlet lookout and snorkelling over amazing fringing reef.
Stay at an Eco Resort in the relaxed seaside town of Bargara near Bundaberg.
Head out on a full day tour to the jewel of the Southern Great Barrier Reef - Lady Musgrave Island and Lagoon where you will encounter abundant marine and wildlife.
Visit Noosa and spend three nights glamping in safari tents at Habitat Noosa Eco Camp - set amongst 65 acres of National Park on the edge of Lake Cootharaba and the gateway to 1 of only 2 everglades in the world.
Embark on a 4WD day Safari to the largest sand island in the world - K'gari. Visit a shipwreck, rainforest and swim in crystal clear waters.
---
2023 Tour Dates
2024 Tour Dates 
29 January

26 February

11 March

29 April
2 September
7 October
4 November
18 November
2 December
2025 Tour Dates 
27 January

10 February

24 February

10 March

24 March
---
What we're all about...
Stray are the experts in taking you off the beaten track. 
We're all about finding one-of-a-kind experiences and immersing you in the REAL Australia.
---
Our epic driver guides will ensure you get the most out of your trip. 
Tick off your East Coast bucket list with ease and be introduced to places you wouldn't discover on your own.
---
Travel is about creating lasting connections and sharing experiences. 
Stray travellers are open minded adventurers who make the most of every moment.
---
We aim to leave Australia better than we found it, supporting local communities and protecting our environment.
Travel with us and together we can make a positive change. 
Cairns to Brisbane: Cassowary Tour
---
Itinerary
Cairns Arrival Info
Check into the hotel anytime between 2 and 4.30pm. At 5pm head down to the hotel reception to meet your Stray guide and new travel mates. Then head out for a special welcome dinner together.
G'day and welcome to your epic East Coast adventure. If you've just flown in, we recommend jumping on a shuttle bus from the airport to our centrally located accommodation.   You can check into your hotel between 2 and 4.30pm. At 5pm head down to reception where you'll meet your Stray guide and your new Stray mates, who you'll be travelling with for the next few weeks. Then, everyone will head out for a special welcome dinner - a Taste of Australia Experience with a bush food tutorial and a 3-course menu featuring native foods that have been used by indigenous Australians for thousands of years. What a way to start your adventure right?!
Today you're free to do whatever you choose. Walk the Esplanade and go for a refreshing dip, check out the many shops and cafes in town, the new Forever Reef exhibit at the aquarium or visit the tropical Botanical Gardens. If you'd like to visit Cape Tribulation, the Great Barrier Reef or even skydive on this day please let Stray or your agent know in advance so we can reserve your spot as the best activities book up quickly (additional cost).
This morning we'll jump on the Stray bus and head south, stopping at the famous Josephine Falls along the way for a refreshing dip and some amazing photos. Next, we'll dry off and make our way to Townsville where we'll catch the ferry to our destination for the next two nights, Magnetic Island (known to the locals as 'Maggie'). Nearly 50% of Magnetic Island is national parkland so it's absolutely steeped in natural beauty, it's surrounded by beaches and is also home to loads of wildlife, including koalas! Settle in for a dreamy couple of days in an island paradise.
Today you have a full free day to explore so have a relaxing sleep-in or get an early start with a morning hike! This beautiful island is home to the historic Forts Complex, which you'll get to see during a scenic walk with your Guide, finishing with amazing views over the island and ocean beyond. Spend the rest of your day relaxing on a secluded beach, hiking through native bush, searching for wildlife or joining in on a wellness activity at your accommodation. Top tip: throughout the day, make sure you stay alert and keep your eyes on the trees - Maggie Island is one of the best places in Australia to see koalas in the wild.
This morning we'll say goodbye to Maggie Island and catch the ferry back to the mainland where we'll hit the road travelling south to Airlie Beach, the gateway to the amazing Whitsunday Islands! Check in and then spend some time checking out Airlie Beach - we recommend heading to the lagoon for a swim and then to one of the many local bars for sundowners.
Today you'll head out on the water to see the spectacular Whitsundays Islands up close. Starting with an exhilarating ride to the world-famous Whitehaven Beach where you can actually polish jewellery with the white silica sand, we'll explore Hill Inlet Beach and a guided walk-through Whitsunday Island National Park to the lookout for the most amazing views. We'll have lunch together and then do some snorkelling over vibrant fringing reefs. If you'd like to see the Islands from above, there's time for a scenic flight (optional extra) over the outer Great Barrier Reef (including Heart Reef) in the morning before the Whitsundays tour departs.
Today is a big travelling day to Bargara, a beachside suburb of Bundaberg, so load up on snacks, make sure all your devices are charged and keep your eyes on the road for some amazing views along the way. We'll make some stops to stretch our legs and arrive in Bargara in the evening, where we'll have a bush BBQ dinner together.
Rise and shine this morning for a big adventure, today is going to be special so make sure to pack your camera! We'll head to the marina where we'll board the Reef Empress, a luxury high speed catamaran. To wake us up we'll get a barista-made coffee which we can enjoy as we set sail for Lady Musgrave Island. The Island is a 14 hectares coral cay, a turtle breeding area and is the second southernmost island in the Great Barrier Reef chain of islands so it's pretty spectacular.
On arrival to Lady Musgrave Island, we'll be welcomed by one of their guides who will share some history and acknowledgement of our traditional owner tribes, as well as the important safety points about visiting this highly protected marine park.
After exploring the island, we'll have a delicious lunch and then we'll get to go snorkelling in the Lady Musgrave Lagoon. There's so much vibrant coral and marine life including manta rays, turtles and reef sharks, as well as ledges and caves just waiting to be explored. After all the under the sea fun, we'll head back to the mainland in the late afternoon.
Today we'll have a leisurely start to the morning and then jump back on the bus to head down towards the Sunshine Coast, arriving at Habitat Noosa, an Eco Camp where we'll spend the next three nights. Set amongst 65 acres of the Great Sandy National Park and perched on the edge of picturesque Lake Cootharaba, your accommodation is super close to some awesome walking trails that show you the rich history of the region and help you get up close and personal with some wildlife! Habitat is the gateway to one of only two everglades in the world, and it has its own bar and bistro serving up local produce plus there's also a Microbrewery onsite - we know, it all sounds un-beer-liveable doesn't it?
Today you have a completely free day to spend doing whatever you like. Explore the Everglades by kayak or boat (optional extra), head into Noosa town and check out the boutiques and cafes on Hastings Street, or just spend the day at Habitat and enjoy some beer tasting or water sports (optional extra). The Noosa Surf Club is one of our faves so if you'd like a long lunch in the sunshine, you can't go wrong with a local hotspot!
This morning, get an early start to make sure you can explore as much of the world's largest sand island as possible on a specially curated one-day 4WD adventure. Led by an experienced local guide, you'll see K'gari's most iconic sights from Lake McKenzie and 75 Mile Beach to Eli Creek, World Heritage-listed rainforest and the historic Maheno Shipwreck. After all the action of the day it's back to Habitat and our glamping tents under the stars.
Today is the final day of your Stray adventure. After breakfast we'll depart Noosa and head into central Brisbane (you can also finish your tour in Byron Bay, subject to availability). Give your Guide and your new mates a hug or a wave and head off for the next leg of your adventure, taking with you the most incredible memories, everything you've learned about Australia's special culture and wildlife, and of course some classic Aussie lingo - G'DAY MATES!
Cairns to Brisbane: Cassowary Tour
---
Accommodation
All accommodation rooms are twin/double share and include a private ensuite or bathroom with the exception of your accommodation at Selina Magnetic Island where bathrooms are separate and shared between up to 4 people.
If you are travelling by yourself, you will be paired with another traveller of the same gender to share a twin room (unless you purchase a solo upgrade).
Scroll through the gallery to see some of the places you'll stay:
Accommodation Upgrade
You can choose to upgrade your accommodation to a solo occupied private room (subject to availability). 
Please email us to check availability before your booking: [email protected]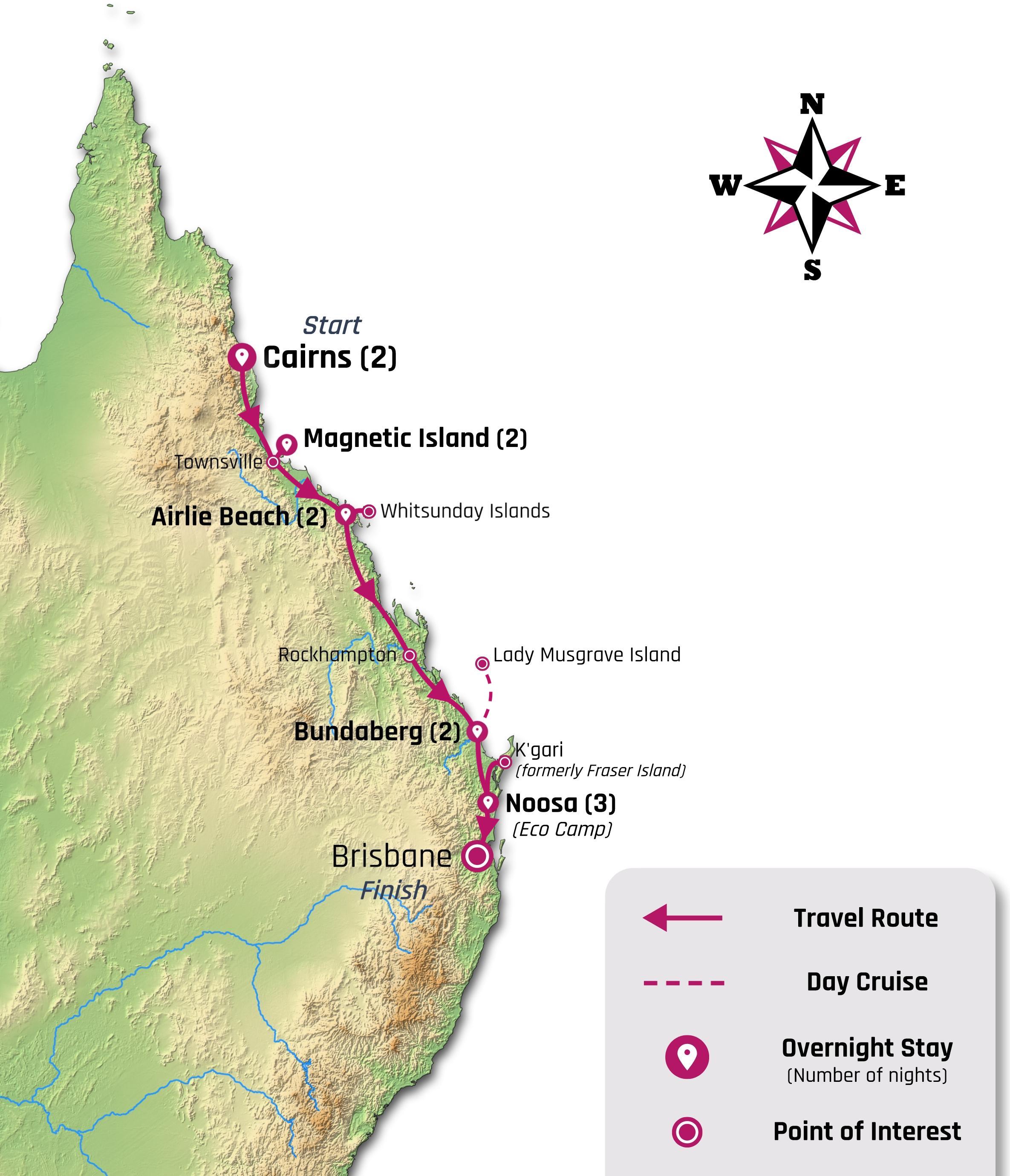 Need to Know
Trip starts: Arrival day is on a Monday and we depart from Cairns on Wednesday morning.
Transport: Travel by private Stray bus, ferry (Magnetic Island & K'gari), 4WD bus (K'gari),

fast

semi rigid inflatable 

boat (Whitsundays), cruise catamaran (Lady Musgrave Island)

.
Included meals: Any dietary requirements or allergies must be advised upon booking so that they can be catered to where possible.
Guides: Your Guide is your Bus Driver, Activity Organiser, Tour Guide, and friend. They're always on hand to give you travel trips, advice and any help you need.
Stray Travellers: Find your tribe and make meaningful connections with travellers from all over the world. The majority of our passengers are aged between 31-55 but there is no age limit! You just need to be reasonably fit and be young at heart!
Covid Safety Measures: To minimise risk to our travellers, staff and operators we will be doing everything we can to reduce the risk of transmission and we will be playing it safe with safety measures such as regular bus cleaning and disinfecting, and having hand sanitiser on the bus. If you would like a copy of our full COVID-19 Safety Plan, please email  

[email protected]

Payment Options: If you'd like to secure your place on the trip, but are a little bit short on cash, you can reserve a seat with a $200 deposit. Click 'Book Your Travel' and choose the deposit option in checkout. You then have 6 months to pay it off - too easy! Better yet - there's no admin fee. You can make payments when it suits you using our Extra Payments page. You just need to have paid for your trip in full 31 days before you start your travels.