This subtropical region north of Auckland is sometimes referred to as the "winterless north". Paihia is a great place to base yourself when exploring Northland.  The little town of Paihia is an attraction in itself with waterfront bars and restaurants, boutique shops and a sandy beach. From Paihia you can take a day trip right up to the northernmost point of New Zealand (Cape Reinga) or over to the west coast to see Hokianga harbour.  You can also take boat tours around the Bay of Islands and over to Russell, a colonial style village that was once the capital of New Zealand. 
---
Population: 148,500 in the whole Northland region
Vibe: Scenic and beautiful with a deep cultural and historical vibe
Known for: Long stretches of sun soaked beaches, ancient kauri trees that rule the forests, and New Zealand's earliest settlement history.
Must do: Take a day trip up to Cape Reinga, the northernmost point of New Zealand, where the two oceans collide and is the place that Maori say the soul departs New Zealand for the spirit world. 
---
Things to see and do
Kayak around the Bay of Islands
Kayaks are available to hire on the beach. Take one out on the bay and see how many of the 144 islands you can tick off! 
Catch the ferry to historic Russell
Catch the ferry from Paihia to Russell, the original capital of New Zealand! Enjoy a cold drink by the seaside at the historical Duke of Marlborough hotel, explore the local shops and galleries or just relax on the beach. 
Set off on a half-day boat cruise of the Bay of Islands, you'll see the famous Hole in the Rock and keep an eye out for dolphins and other marine life while you explore the bay!
This is your chance to swim with dolphins in their natural environment! 
If you don't want to get in the water you can join the tour just to watch. Either way it will be an unforgettable experience. 
Experience free-falling over the 144 islands of the Bay of Islands on one of New Zealand's most scenic skydives. Go on - take the plunge! 

Explore the Waitangi grounds
New Zealand's Treaty of Waitangi is a treaty to establish British governance and shared ownership of New Zealand that was signed by Maori chiefs and representatives of the British Crown in 1840. You can visit the grounds where this important document was signed and learn more about the history of New Zealand. The grounds are a half hour walk from Paihia township via Te Ti Bay.

Walk to the mighty Haruru falls 
Haruru means "big noise" which gives you an idea of what to expect from the horseshoe shaped falls. The Haruru falls are approximately one hour's walk from Paihia township or if you're visiting the Waitangi treaty grounds there is an excellent walkway from Waitangi to the falls that takes you over a mangrove forest. 
Go from East to West
Take a day trip over to Hokianga harbour on the west coast to see a different side of Northland. 
See the 2.8 million year old 
Wairere Boulders
 and visit the Waipoua Forest, where you can meet a national icon, the mighty kauri tree 
Tāne Mahuta
.
---
Eating and Drinking 
There are plenty of places to eat and drink in Paihia, just head along the waterfront and you'll find pizza, seafood, Thai Food, European-style food, craft beer bars and more. A local favourite is Jimmy Jacks Rib Shack where you'll get servings so big you'll feel like you never need to eat again! Or Legends restaurant inside the local RSA (Returned Services Association) that serves decent home cooked meals just like mum would make. 
---
Bay of Islands bus tours from Auckland:
---

READ OUR BLOG: 10 Reasons to visit the Bay of Islands 
10 photos from to show you why the Bay of Islands is worth a visit!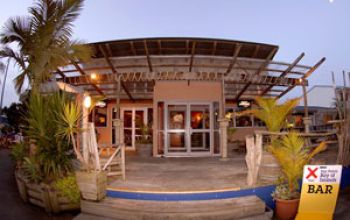 Base Bay of Islands, Pipi Patch provides clean and comfortable accommodation and a spa and swimming pool.