Sixty-five kilometres southeast of Rotorua in an isolated part of the Bay of Plenty, Lake Aniwhenua is definitely off the beaten track. 
Lake Aniwhenua is a man-made lake formed by a hydro-electric dam, situated between Kaingaroa Forest and Te Urewera National Park, a renowned hunting ground. It is surrounded by dense native bush, deep flowing rivers and lush farmland.
Long and narrow, the lake is mostly shallow (the average depth is 2.5m) and is home to plenty of brown and rainbow trout and eels, making it an ideal fishing spot and great for a sunset kayak. 
This region is steeped in history and culture. The Maori Ngati Manawa tribes have lived here for centuries and their culture still thrives. There are also many sites of historic significance, including the oldest Maori rock art in the country.
Murupara is the closest town and is also an entry point for the Whirinaki Forest Park, where there are some good walking tracks. The town of Murupara was once a very prosperous forestry town, but as forestry became more reliant on machinery and less reliant on human labour, the region has struggled. 
Stray stays at Kohutapu Lodge lakeside accommodation. Our hosts at Kohutapu Lodge are real visionaries who understand the positive impact tourism can have on a struggling community. Stray has teamed up with Kohutapu Lodge to support a local program that sees Stray passengers delivering hand-packed food parcels to the local school. Stray travellers spend time in the classroom with the children to help expand their thinking beyond the confines of Murupara.
>Lake Aniwhenua overnight experience 
Must See and Do
Go night time eeling
Weave a traditional Maori bracelet 
Learn the Haka
Kayak on the lake at sunset
Try a hangi - a traditional ground cooked feast that is definitely something you must try while backpacking in New Zealand.
See the oldest Maori rock carvings in New Zealand 
Get involved in the local community. 
Our host Nadine was so enthusiastic, hospitable and homely, she can make everybody happy; furthermore, the location was magnificent.
Find North Island Travel Passes
---
READ OUR BLOG: Planting a seed of positivity with Kohutapu Lodge
Plant your very own totara seed during the Summer months!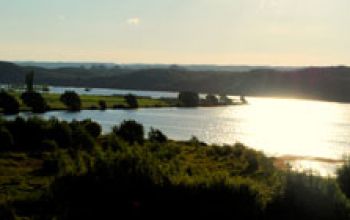 As one of Stray's top rated experiences, a visit to Lake Aniwhenua has a sense of magic th...