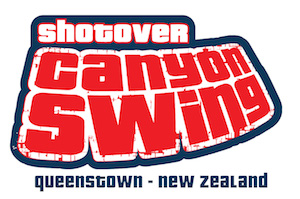 Contact
Shotover Canyon Swing Shop
35 Shotover Street
Queenstown, 9300
FP 0800 2 SWING/0800 279 464
Price
$165 & $229 RRP
Looking for an extreme adrenaline hit? You'll get it when you take on the Shotover Canyon Fox or Canyon Swing! Stand on the edge of the platform and try to steel your nerves as you look down to the canyon floor. 
Gravity is a toy.  Come out and play.
Canyon Swing
109 meters high
60 m Freefall
200m Swing
Choose your jump style! 
Launch yourself from the 109m high platform, free fall vertically alongside the cliff face for 60m then swing in the famous Shotover Canyon for 200m. The Shotover Canyon Swing is the world's highest cliff jump.
Choose your jump style! Jump, leap or be released, solo or tandem.  Upside down or right way up, so many options!  Shotover Canyon Swing's unique jump styles include The Chair, The Slide, Gimp Boy Goes To Hollywood and so many more.  There are over 70 styles to choose from!   Can't decide on which jump style?  Just go twice!!!
Canyon Fox
182 meters high
2 massive zip lines totalling 445m
Fly forwards or backwards
Try not to freak out as you run up the custom made, steep, 8 metre ramp, launching yourself over off the 182 metre high platform into the canyon! This is the closest you will get to base jumping off a cliff without a parachute! The zip line catches you, making you feel like superman as you fly across the canyon! It's so much fun you'll wish it wasn't over, oh wait, it's not! You get to go back across the canyon again, and on the second line, you and a friend can 'race' each other back to the other side! 
Details
Summer – hourly from 8.30am-5.30pm
Winter – hourly from 9.30am-3.30pm
Allow 2.5 hours
Each experience is captured and we offer high quality personalised photo and video packages.  You can view before purchase with no obligation to buy. 
Return transport included from the town centre.
The price listed is the retail rate - Stray passengers get a discounted rate when you book with your driver! 
Important stuff
Max solo weight 135kgs
Max tandem weight 180kgs
Closed toe footwear required
24 hour cancellation/amendment policy applies
Have a question or want to book? Get in touch with our team