Waves & Caves is an action packed trip from Rotorua taking in glowworms, lakes, waterfalls, and two of New Zealand's most beautiful beaches, on opposite sides of the coastline - showcasing New Zealand's spectacular nature.
This pass can be booked on its own, or added to selected National or North Island passes. 
(Available for travel from 8 October 2019 - 31 March 2020)
---
Pass Highlights:
What's included:
Flexible bus transport
Travel on our comfortable private minibus with the option to hop off anywhere along the route. 
---
Stray Guide
Far more than just a driver, Stray Guides are invaluable sources of local knowledge and support.
---
Reserved Accommodation
We'll reserve a bed for you for two nights at the Raglan Sunset Motel. Book and pay via our Stray Mate app to get the special Stray discounted rate.
---
12 month travel pass
Your pass is valid for 12 months from the first day of travel.
---
Not included: The cost of your accommodation, activities and meals is not included in a Freestyle Travel pass giving you extra flexibility to choose options that suit your budget and taste. 
---
Is this trip right for you?
✓ Do you want to explore with a group of like-minded travellers?

✓ Do you want to take the pressure off, kick back relax and let someone else do the driving?

✓ Do you want to visit Waitomo Caves, a black sand West Coast beach and a stunning white sand East Coast beach in one awesome 3 day trip? 

✓ Do you only have a short amount of time to travel?

✓ Do you want to start/finish in Rotorua?
The Waves & Caves Freestyle Pass is a 'sweet as' choice for you!
Itinerary
Given the spontaneous nature of our trips and lack of control over New Zealand's weather(!), what we do each day might occasionally vary from the itinerary below.
Departing early from Rotorua, our first stop of the day is Waitomo, where the main attraction is underground! Don't miss out on this unique opportunity for some seriously cool caving adventures. Choose your own pace, from a serene boat journey to see thousands of twinkling glowworms to the thrill of abseiling and blackwater rafting through a vast cave network. If you'd rather stay aboveground, you can also stroll to a large cave opening on the scenic Ruakuri Bush Walk. Next, it's on to Bridal Veil Falls, where a short walk through beautiful native bush leads to the impressive 55m cascading waterfall, before arriving at our base for the next two nights, Raglan. 
There's no better place to learn to surf than Raglan's legendary left-hand surf break, so we recommend a lesson this morning on how to catch the perfect wave! Even if surfing isn't for you, you'll still love the vibes of this rad little West Coast town. Cheer on your surfing mates from the black sand beach, test your balance with stand-up paddleboarding, stretch your body and mind with a yoga class or search for the perfect cup of coffee at one of the funky cafes in town.
This morning takes us from the West Coast to the East and Mount Maunganui, a popular beach destination in the magnificent Bay of Plenty. Once we arrive, you have time to get the blood pumping with a skydive, hit the walking tracks around the base of "the Mount," enjoying a scenic hop-on, hop-off cruise to secluded Matakana Island or spend time soaking up the downtown scene. In the afternoon, we'll regroup and hop back on the bus bound for Rotorua, stopping to see the stunning Okere Falls along the way. 
Timetable
Departure Days: Tuesdays & Fridays
Operating dates: 8 October 2019 - 31 March 2020
Timetables are subject to change but our team will email you if this happens whilst you are travelling.
---
Rotorua (via Waitomo) to Raglan
| | MON | TUE | WED | THU | FRI | SAT | SUN |
| --- | --- | --- | --- | --- | --- | --- | --- |
| Rotorua (Depart) | | 07:30 | | | 07:30 | | |
| Waitomo (Depart) | | 14:30 | | | 14:30 | | |
| Raglan (Arrive) | | 17:00 | | | 17:00 | | |
Raglan
| | MON | TUE | WED | THU | FRI | SAT | SUN |
| --- | --- | --- | --- | --- | --- | --- | --- |
| Raglan (Non-Travel Day) | | | Free | | | Free | |
Raglan (via Mt Maunganui) to Rotorua
| | MON | TUE | WED | THU | FRI | SAT | SUN |
| --- | --- | --- | --- | --- | --- | --- | --- |
| Raglan (Depart) | | | | 08:00 | | | 08:00 |
| Mount Maunganui (Depart) | | | | 15:30 | | | 15:30 |
| Rotorua (Arrive) | | | | 17:00 | | | 17:00 |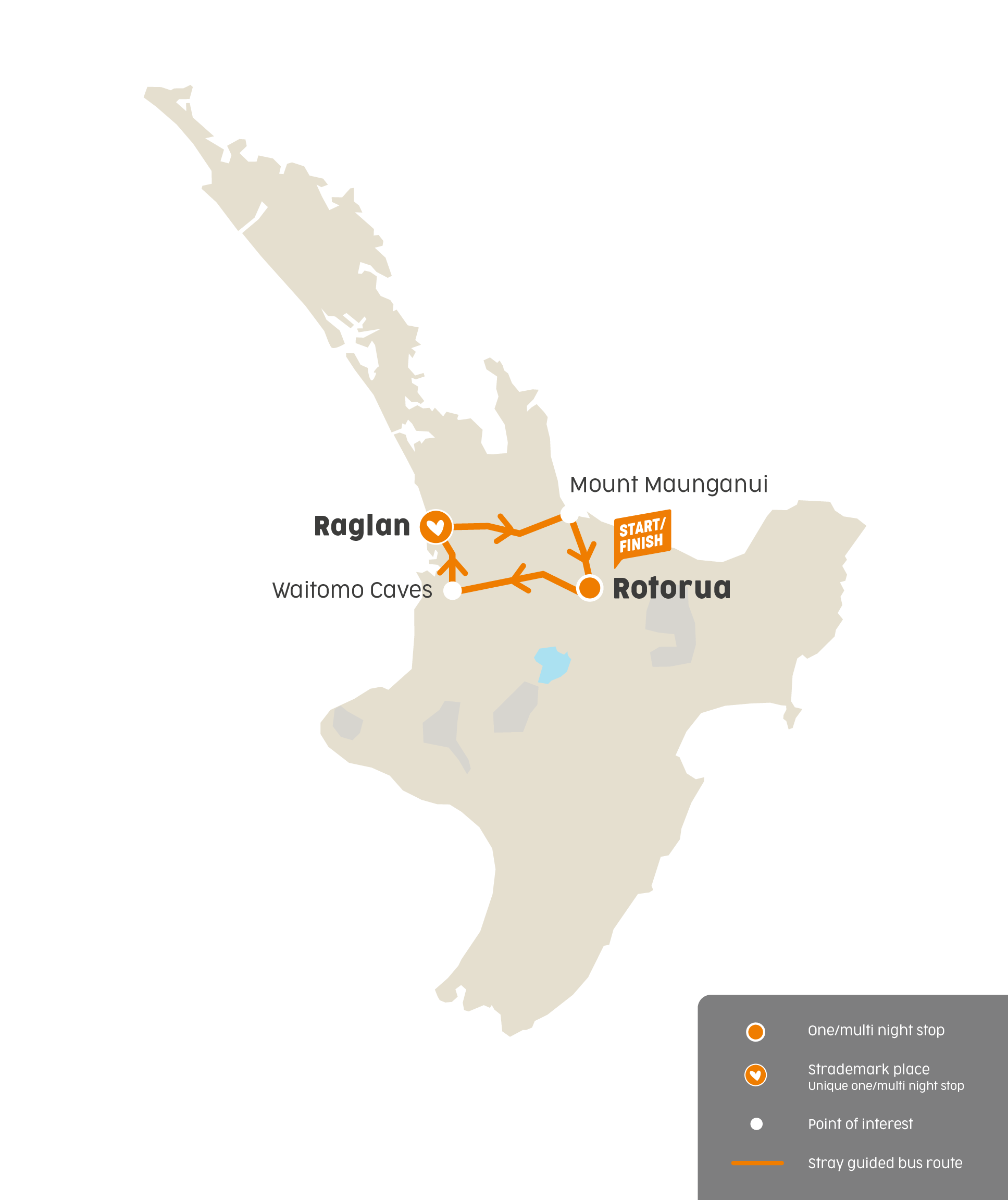 Need to Know
Some key details...


Transport - Travel by private, air-conditioned minibus (14-24 seats). 


Guides - Your Guide is also your driver - expect entertaining commentary, to learn some interesting facts about New Zealand and to hear a crazy story or two. 


Validity - This Freestyle Pass is valid for 12 months from your first day of travel. 
Timetables - Buses run twice a week.


Departure Info - The bus departs Rotorua on Tuesdays and Fridays at 07:00 from the bus stop on Ranolf Street behind Base Backpackers.
Booking Buses - Use the Stray Mate app to manage your trip - you'll receive log in details in your Booking Confirmation email. If you're on a short timeframe, we recommend booking all your buses in advance. 


Accommodation - Book Stray preferred accommodation as you go via the Stray Mate app - there will be a dorm bed allocated to you for two nights in Raglan providing you book via the app 24 hours before.  Backpacker hostel rates are between $27-$37 per night for a dorm bed. 


Activities - Book activities as you go via the Stray Mate app.


Stray Travellers - Our travellers are from all over the world, they are energetic, adventurous and mainly aged between 18-30. 75% of our travellers are travelling solo.
Learn more about: 
Travelling Freestyle   The Stray Experience   Our Unique Strademark Places