Travel through Northern Thailand and Northern Laos and get a taste of these incredible countries.  Discover lush rainforest, waterfalls, unique temples and stay overnight in a remote village, hosted by the local villagers, on the banks of the Mekong River. 
A "Freestyle Tour" is like a regular tour but with the BONUS of flexibility, so you have the option to hop off and spend longer in any destination on the travel route, before hopping back on to the next tour coming through that stop. Perfect for travellers who want more freedom! 
---
Tour Highlights:
What's included:
All Transport
Whether you're travelling on our air-conditioned buses, by boat, train, or even tuk-tuk, all your transport is included and organised for you. 
---
Local Stray Guide
Knowledgeable Stray Guides provide invaluable support and insider insights. Travelling with a guide makes navigating Laos a stress-free experience. Guides can translate for you and book optional activities on your behalf. 
---
Mekong River Homestay Experience
You'll get the opportunity to stay in a remote Laos village in a traditional homestay - a truly unique experience! 
---
 Stray Mate - Trip Manager Portal
View your itinerary and manage your travel on-the-go. Flexibility at its finest!
---
Accommodation
8 nights' shared accommodation in a variety of comfortable hotels, hostels, guesthouses and a traditional Laos homestay!  If you hop off, you can pay locally for any additional nights.
---
Meals
5 breakfasts and 1 dinner.
---
Top rated experiences: 
Visit the dazzling and bizarre White Temple in Chiang Rai.
Sit back and watch the world go by on a 2-day cruise down the Mekong River. 

Experience a traditional Baci ceremony at the Mekong River Homestay. 

Discover the Pak Ou caves full of thousands of Buddha statues from over hundreds of years.

Witness the sheer magnificence of the turquoise coloured Kuang Si Falls, Luang Prabang.

Visit a rescue centre for local Asiatic moon bears.

Tour the city sights of Vientiane.

Learn about the secret war on Laos at the COPE Centre. 
---
What we're all about...
We've redefined the 'traditional tour' to give you the flexibility and freedom you crave. 
Hop-off, stay longer and explore. It's your time, your way.
---
Stray are the experts in taking you off the beaten track in Southeast Asia. 
We're all about seeking out secluded destinations and one-of-a-kind experiences.
---
We believe we have a responsibility to make a positive impact on the communities we visit. 
Supporting local operators and hiring local guides means that you can learn more about the culture and get more out of your trip.
---
Travel is about creating lasting connections and sharing experiences. 
Stray travellers are open minded adventurers who make the most of every moment.
---
We'll keep you safe and stress-free, with guidance and support every step of the way. 
We'll do the organising, you come along for the ride.
Little Laos - Freestyle Tour
---
---
Itinerary
Due to COVID-19 all Stray trips are suspended until 1 November 2020. Please check our Service Updates page for more information.
---
Starts: Chiang Mai
Days: Wednesday or Sunday (View the full timetable)
Time: 6pm Welcome Night at Hugnur Hostel
Please note: Given the spontaneous nature of our trips, what we do each day might occasionally vary. 
Sawadee, Sabaidee (hello) and welcome to Stray!
Your adventure kicks off in popular Chiang Mai, an amazing city full of endless activity options, such as Thai cooking classes, bike tours or Muay Thai kickboxing. If you arrive early in the day feel free to visit a few of the 300 Buddhist temples in the city, the old walled city or the Tapae Gate.
At 6pm you'll meet your Stray Guide and new travel mates at the Hugnur Hostel for a Welcome Meeting. We'll cover how Stray works and answer any questions you have about the upcoming trip. Afterwards, make the most of your first night by getting to know each other over a delicious Thai dinner and a few cold beverages.
Seize the day by exploring this historically rich city or venturing outside the city to discover the natural beauty of northern Thailand. Chiang Mai is the perfect base for some of Thailand's best guided hikes and treks, as well as the top spot for adventure activities like mountain biking, abseiling and whitewater rafting. Tonight, enjoy dinner at one of the many great restaurants, then take in a ladyboy show, Muay Thai boxing or head out for a few drinks with friends. Meals included: Breakfast
This morning we depart Chiang Mai to head for the Thailand-Laos border.  We'll make a stop near Chiang Rai to check out the famous and intriguing White Temple (Wat Rong Khun). Wat Rong is a unique modern Buddhist temple that features some curious statues and murals that include images from Star Wars and The Matrix, Freddie Kruger's head hanging in the trees and a giant Predator emerging from the garden. We stop here long enough to grab a snack, stretch our legs and take a few photos before we continue on to cross the border into Laos. Once in Laos we take a short tuk-tuk ride to the small town of Houay Xai, our stop for the night. Meals included: Breakfast
Leaving Houay Xai you'll board our private slow boat to cruise down the Mekong River to the secluded village that will host you for an overnight homestay experience.  Sit back and soak up this incredible journey as you wind your way through lush farmland, thriving jungle and rugged mountain scenery, drifting past water buffalo, locals fishing, and kids splashing in the shallows. We arrive in the village in the late afternoon. This is a once-in-a-lifetime opportunity to become immersed in Lao culture, where you will get a taste of traditional Lao village life by staying with a family in their home and experience a special Baci (welcoming) Ceremony, a true highlight of the trip. Meals included: Dinner
See More moment: Experience a traditional Baci Ceremony performed to bring visitors to the village good luck and good health. This ancient ritual is said to protect you as you travel and is a heart-warming chance to connect across cultures.
Do More moment: Your contribution to the village funds annual projects to improve infrastructure and make a difference in this community.
We wave goodbye to the village and jump back aboard our private boat to head downriver to the famous limestone Pak Ou Caves. Pak Ou is an important pilgrimage site for Lao people, and here you will see thousands of Buddhist images that have been placed throughout the caves over hundreds of years. Back on board our boat a short trip takes us to the UNESCO World Heritage town, Luang Prabang. Luang Prabang has an old world feel that gives you the sense you've stepped back in time into a picturesque postcard setting. The fusion of French Colonial architecture with traditional Lao design set against a backdrop of misty mountains and lush green jungle makes this a truly majestic place. Meals included: Breakfast
Today you'll visit the beautiful Kuang Si Waterfalls, where the turquoise water and calm pools offer the perfect chance to cool off. The lower pools are especially perfect for a refreshing swim. If you're feeling fit, climb up to the very top of the falls to take in the view from the above. At the base of the falls, you'll also find a rescue centre for the native Asiatic moon bears where you can watch them happily living in a safe environment. If you're planning to hop off the bus, Luang Prabang is a great place to do so, with options to discover rural villages by cycling or trekking the area, take a traditional Lao cooking class, kayak the Mekong River, shop at the night market or, for culture buffs, visit one of the many beautiful temples. Meals included: Breakfast
It's an early start as we head south through mountainous terrain on one of the most scenic journeys you'll experience on the Laos travel route. Travel past hill-tribe villages, vast green valleys and rolling hills. Our journey today takes us to the little riverside town Vang Vieng, formerly known as the best place to take tubing trips down the Nam Song River to visit riverside bars and indulge in cheap booze. These days you can still go tubing, but now you get to enjoy the beauty of Vang Vieng's landscape without the sound of pounding bass in the background. Meals included: Breakfast
With its stunning natural scenery, Vang Vieng offers ample outdoor activities to choose from. We recommend hiring a bike to explore the town and visiting the Blue Lagoon, one of the best natural swimming holes in Laos. There are also great rock climbing and kayaking options. The fun doesn't stop after an adventure filled day either! This evening check out one of several international restaurants for a taste of home or head to one of the bars to really get the party started.
Today we cruise through to the capital of Laos. On arrival in Vientiane your Stray Guide will point out the city's main attractions, including Putaxai, Pha That Luang, That Dam, the Presidential Palace, and the COPE centre – a non-profit organisation that educates visitors and raises awareness for victims of UXO (Unexploded Ordinance) and the Secret War. This is where your Stray adventure comes to an end, but feel free to explore the city, get a massage, go shopping or people watch at one of the local restaurants by the river.
Little Laos - Freestyle Tour
---
---
Flexi Upgrade
After a massive day of exploring, you're going to need your beauty sleep! Scroll through the gallery to see some of the places you'll stay on the Little Laos Freestyle Tour. 
Accommodation ranges from funky, urban hostels, to family-operated guesthouses, budget hotels and exclusive Stray homestays.
ACCOMMODATION OPTIONS 
Standard pricing is for Shared accommodation but you can upgrade to twin-share or your own private room if you wish! 
Choose from: 
Shared accommodation:  a mixture of twin-share, triple-share and dorm rooms. 
Twin-share: share with one other person. If you're travelling as a couple, you can specify a preference for a double bed.  Solo travellers who choose Twin-share will be paired with someone of the same sex.
Single: your own private room 
Please note: At the homestay in Laos we stay with a local family in their home. As part of this experience private (twin-share and single) rooms are not available.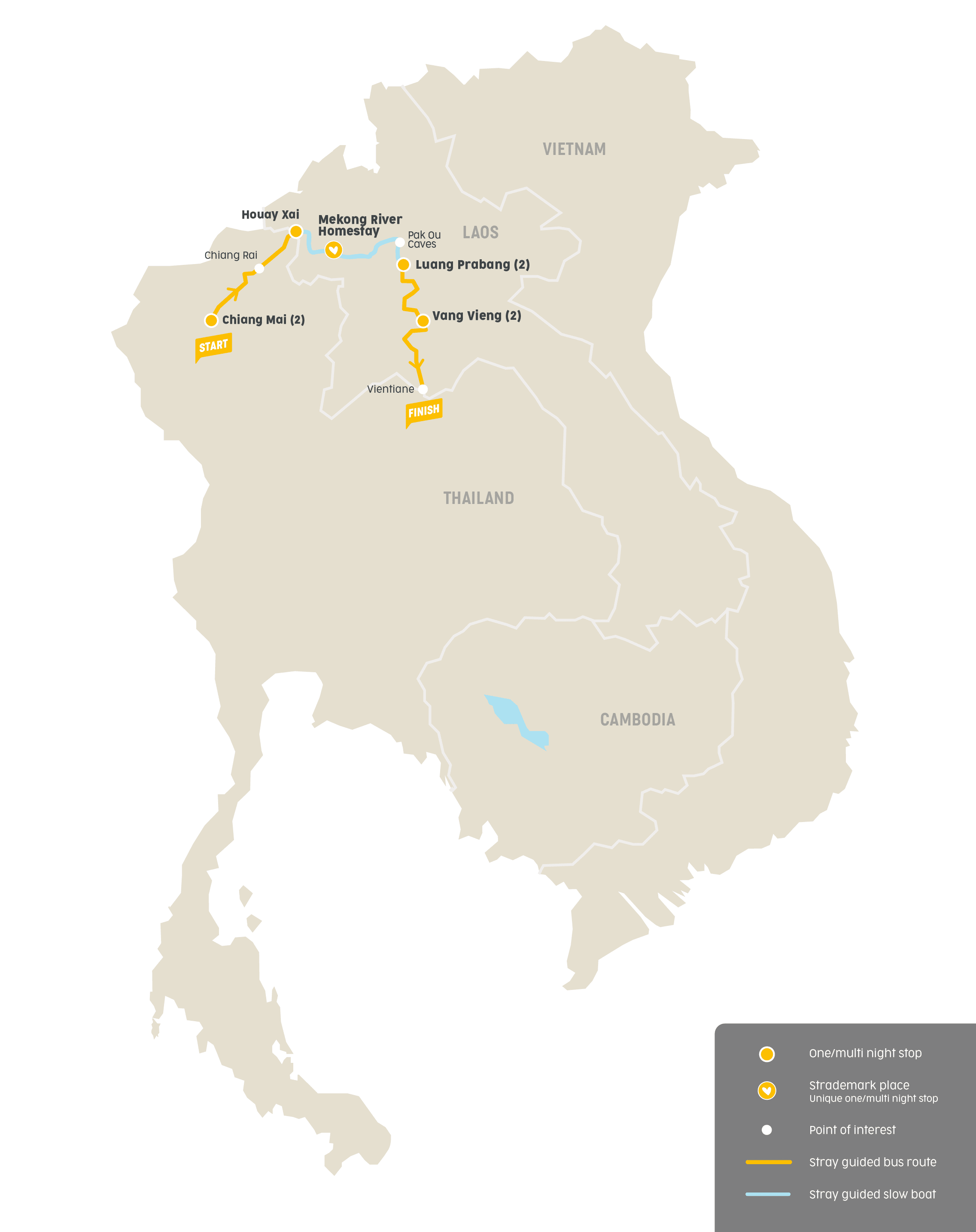 Need to Know
Due to COVID-19 all Stray trips are suspended until 1 November 2020. A new timetable will be available 1 August 2020. Please check our Service Updates page for more information.
---
Some key details...
Transport - All transport is included - you'll travel by bus (mostly private, air-conditioned buses with 24 seats), minivan, boat and tuk-tuks. 


Guides - Stray employs local Guides to ensure you get more out of your trip. Hear the local stories, try their food recommendations, get insider tips and advice. If you hop off you'll have several different Guides throughout your journey - they're all absolute legends! 


Hopping on/off - You don't have to complete the Little Laos Tour in 9 days, take your time and go with the flow! You can hop-off at any destination along the route and spend more time there, then hop back on the tour with the next group that is coming through. Where we recommend hopping off


Booking Buses - It's really easy to manage your trip online using the Stray Mate trip management portal.  You'll receive log in details in your Booking Confirmation email. If you're on a short timeframe, we recommend booking all your buses in advance.   


Travelling without hopping off - You don't need to hop off if you're short on time - you can travel your tour in the number of days in the itinerary. There are non-travel days throughout the route so you will not be travelling everyday.


Departures - Buses run twice a week so the minimum amount of time you can hop off for is 3 days. Use the timetable to plan your trip. 


Accommodation - Accommodation is included for all nights of the itinerary. If you choose to hop off, you'll need to arrange, and pay for your own accommodation. 
Activities - Top-rated activities are included and if you want to opt for extra activities, your Guide can provide recommendations and assist with booking. 


Visas - You are responsible for obtaining the visas you require for the countries you are travelling in. Visa requirements vary depending on where you're coming from and where you going, so we recommend that you contact the appropriate embassy in your country of origin to determine what you need. 


Travel Insurance - You must have a travel insurance policy to cover you for the entire time you are travelling with Stray in Asia. You will be asked for your policy details prior to starting travel.


Stray Travellers - Our travellers are from all over the world, are energetic, adventurous and mainly aged between 18-35.  You'll have people who have booked Freestyle Passes and Tours in your group, as the route is exactly the same, it's just the inclusions that are different. 


Group Size - Max 24, Average 9
Book with confidence

 -

 You can s

tart travel anytime within 18 months of booking and you can change your start date as many times as you like.  Once you start travelling, you can use your Freestyle Tour  for up to 12 months.
Payment Options - If you'd like to secure your place on the trip, but are a little bit short on cash, you can reserve a seat with a 20% deposit. You then have up to 6 months to pay it off - too easy! Better yet - there's no admin fee. You can make payments when it suits you using our Extra Payments page. You just need to have paid for your trip in full 14 days before you start. 
Learn more about: