The Far South (previously the Burt Pass) will transport you away from Queenstown and into the deep South, through Milford Sound to New Zealand's third island, Stewart Island. 
---
What's included:
Flexible bus transport
Travel on our comfortable private buses and hop-on hop-off anywhere along the route.
---
Driver-guide
Far more than just a driver, Stray Driver Guides are invaluable sources of local knowledge and support.
---
Reserved Accommodation
Have a bed reserved for you at every Stray overnight stop. Book and pay via our Stray Mate app.
---
12 month travel pass
Your pass is valid for 12 months from the first day of travel.
---
Not included: The cost of your accommodation and activities is not included in a hop-on hop-off pass. You have the flexibility to choose what suits your budget and pay-as-you-go. These can be booked via the Stray Mate app, often at an exclusive Stray price!
---
Is this trip right for you?
✓ Do you want to explore with a group of like-minded travellers?

✓ Do you want to take the pressure off, kick back relax and let someone else do the driving?

✓ Do you want to get off the beaten track in the Deep South and visit some of those harder to reach, remote destinations?

✓ Do you want exclusive Stray discounts on accommodation and activities?

✓ Do you only have a short amount of time to travel?
The Far South Freestyle Pass is a 'sweet as' choice for you!
 Want a tour with accommodation and activities included? Check out our Stray Journeys tours.
---
Highlights:
Our mission is to get you off the beaten track amongst authentic local culture and our experienced crew has chosen some incredible destinations so you can see more and do more! 'Strademark' Places are the places you're less likely to find in the guide book but the ones you'll be talking about long after the adventure has ended. 
See Milford Sound and stay at historic Gunn's Camp. The perfect place to switch off, stargaze and marvel at the stunning NZ Fiordland.
---
Want more? 
New Zealand Destination Guides 
Get inspired and start planning your trip!
---
World Nomads Travel Insurance
Travel smarter and safer - Stay covered on your adventures!
---
Short on cash but don't want to miss out? 
Deposit option available. Hit BOOK YOUR TRAVEL below and select from the payment options at checkout. Find out more.
Itinerary
This pass starts and finishes in Queenstown.
Please Note: The cost of accommodation is not included in your travel pass but under each day we have described our recommended accommodation, along with some free and paid activity suggestions. Given the spontaneous nature of our trips and lack of control over New Zealand's weather(!), what we do each day might occasionally vary.
Today you are in for a treat. It's an early start as make our way to Milford Sound, one of NZ's most famous destinations, sometimes called the 'Eighth Wonder of the World'. You won't want to nap on this leg of the journey as we drive past Lake Wakatipu and watch the landscape change from farmland to mountains, glacier-carved valleys and fiords. There is time to do an afternoon boat cruise around Milford Sound to soak up this untouched world, where it's likely you'll spot a few wild dolphins, seals and penguins. Next, we head for our unique Stray overnight stop, Gunn's Camp, located in the solitude of Hollyford Valley.
See More moment: Stay in a historic camp in the Hollyford Valley, created for the hardy men who built the roads here. Enjoy an evening under the stars, spot glowworms in the bush and listen for kiwi bird calls in the night.
We start the morning with a short riverside stroll through beech forest on the Viewing Gantry walk. Fiordland is part of the UNESCO World Heritage site Te Wahipounamu (which incorporates four national parks: Mt Cook, Mt Aspiring, Westland and Fiordland) and you'll understand why as you marvel at the other worldly surrounding landscape. This afternoon we travel further south via Te Anau to Invercargill and on to Bluff, where you can catch a ferry to Stewart Island. NZ's third largest island, Stewart Island, has an abundance of activities for the outdoor enthusiast, such as fishing, bird watching and tramping tracks. Those not going to Stewart Island will spend the night in Invercargill.
See More moment: When the solar winds are right, between March – September, you might be lucky enough to see the Aurora Australis, better known as the Southern Lights!
For those who stayed overnight on Stewart Island, this morning is free for you to explore, meet the locals, go fishing or enjoy some of the walks before catching an afternoon ferry back to the mainland. Those in Invercargill will have the option to visit Demolition World (a world entirely constructed from demolished buildings and recycled items), race your bus mates around a go-karting track or walk up to the Bluff Hill lookout before reuniting with the island-goers for an express journey back to Queenstown.
Timetable
The days and times shown below are for the current season. For future seasons, please refer to our Bus Timetables page.
Timetables are subject to change but our team will email you if this happens whilst you are travelling. You can also see your confirmed departure times in the Stray Mate app.
Queenstown (via Milford Sound) to Gunn's Camp
| | MON | TUE | WED | THU | FRI | SAT | SUN |
| --- | --- | --- | --- | --- | --- | --- | --- |
| Queenstown (Depart) | | | | 08:00 | | | 08:00 |
| Te Anau (Arrive) | | | | 12:00 | | | 12:00 |
| Gunn's Camp (Arrive) | | | | 18:00 | | | 18:00 |
Gunn's Camp to Invercargill/Stewart Island
| | MON | TUE | WED | THU | FRI | SAT | SUN |
| --- | --- | --- | --- | --- | --- | --- | --- |
| Gunn's Camp (Depart) | 08:30 | | | | 08:30 | | |
| Te Anau (Depart) | 11:30 | | | | 11:30 | | |
| Bluff Wharf (for ferry) (Arrive) | 16:00 | | | | 16:00 | | |
| Invercargill (Arrive) | 17:00 | | | | 17:00 | | |
Invercargill/Stewart Island to Queenstown
| | MON | TUE | WED | THU | FRI | SAT | SUN |
| --- | --- | --- | --- | --- | --- | --- | --- |
| Bluff Wharf (Depart) | | 15:30 | | | | 15:30 | |
| Invercargill (Depart) | | 16:00 | | | | 16:00 | |
| Queenstown (Arrive) | | 19:00 | | | | 19:00 | |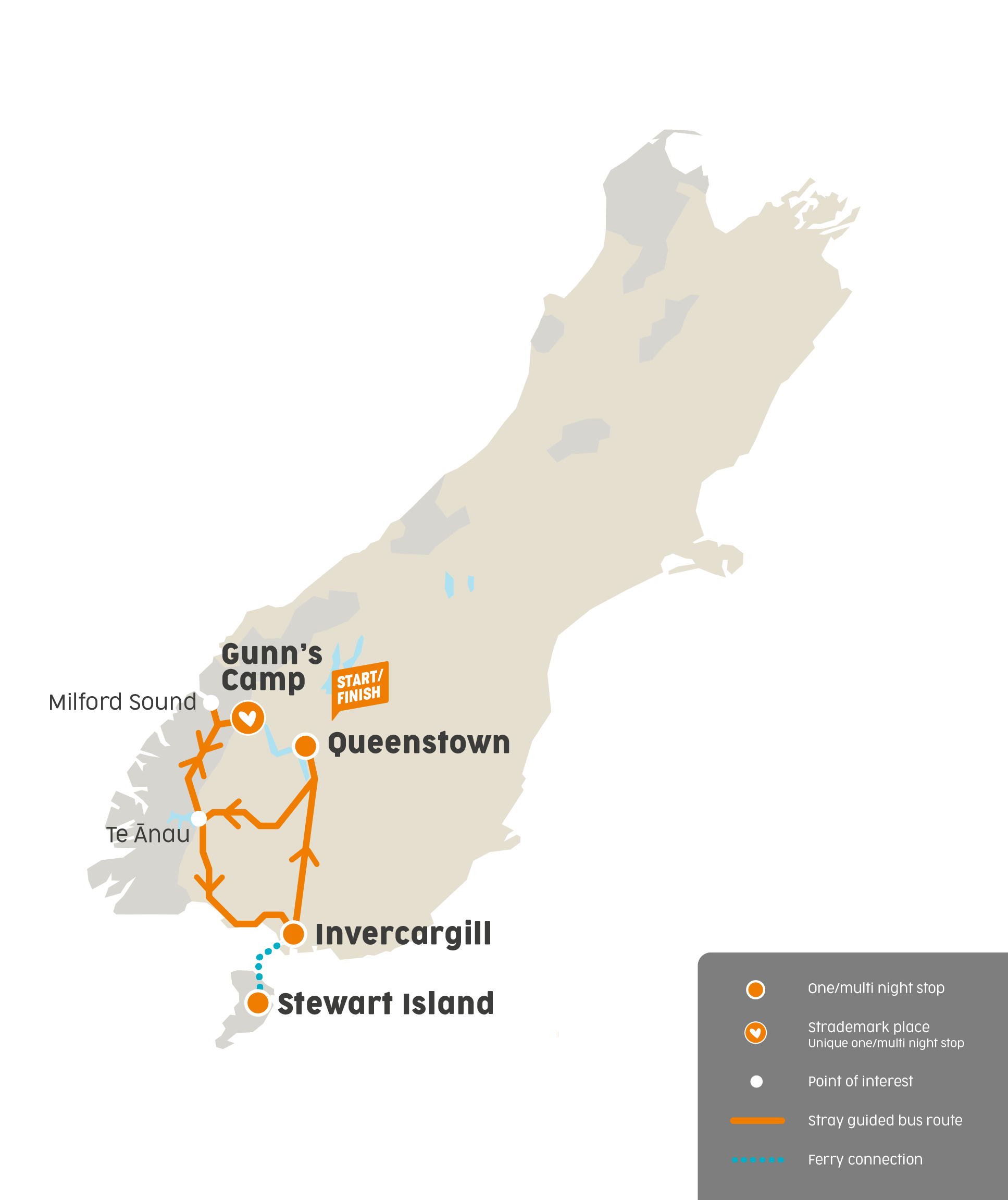 Need to Know

Some key details...


Transport - Travel by private, air-conditioned bus (14-48 seats). 


Guides - Your Guide is also your driver - expect entertaining commentary, to learn some interesting facts about New Zealand and to hear a crazy story or two. 


Validity - This Freestyle Pass is valid for 12 months from your first day of travel.


Hopping on/off - Hop on and off as much as you like along the travel route.


Minimum Days - You don't need to hop off if you're short on time - you can travel your pass in the "Minimum Days". There are non-travel days throughout the route so you will not be travelling everyday. 


Departures - Buses run to a seasonal timetable at least 3x a week.


Booking Buses - Use the Stray Mate app to manage your trip - you'll receive log in details in your Booking Confirmation email. If you're on a short timeframe, we recommend booking all your buses in advance. 


Accommodation - Book Stray preferred accommodation as you go via the Stray Mate app - there will be a dorm bed allocated to you at each overnight stop providing you book via the app 24 hours before. 


Activities - Book activities as you go via the Stray Mate app.


Stray Travellers - Our travellers are from all over the world, are energetic, adventurous and mainly aged between 20-35. 75% of our travellers are travelling solo.
Learn more about: 
Travelling Freestyle   The Stray Experience   Our Unique Strademark Places