If you only have a few days in New Zealand and want to see more than just Auckland, you can discover the sub-tropical Far North (previously the Patch Pass) with us!
If you have slightly less time, you can still visit the Bay of Islands, excluding Cape Reinga, with our Bay and Back Pass.

---
What's included:
Flexible bus transport
Travel on our comfortable private buses and hop-on hop-off anywhere along the route.
---
Driver-guide
Far more than just a driver, Stray Driver Guides are invaluable sources of local knowledge and support.
---
Reserved Accommodation
Have a bed reserved for you at every Stray overnight stop. Book and pay via our Stray Mate app.
---
12 month travel pass
Your pass is valid for 12 months from the first day of travel.
---
Not included: The cost of your accommodation and activities is not included in a hop-on hop-off pass. You have the flexibility to choose what suits your budget and pay-as-you-go. These can be booked via the Stray Mate app, often at an exclusive Stray price!
---
Is this trip right for you?
✓ Do you want to explore with a group of like-minded travellers?

✓ Do you want to take the pressure off, kick back relax and let someone else do the driving?

✓ Do you want to visit the Far North to see Cape Reinga and 90 Mile Beach ?

✓ Do you only have a short amount of time to travel?

✓ Do you want to start/finish in Auckland?
The Far North Freestyle Pass is a 'sweet as' choice for you!
 Want a tour with accommodation and activities included? Check out our Stray Journeys tours.
---
Highlights:
Want more? 
New Zealand Destination Guides 
Get inspired and start planning your trip!
---
World Nomads Travel Insurance
Travel smarter and safer - Stay covered on your adventures!
---
Auckland Arrival Pack
Get your trip off to a hassle free start with 2 nights' accommodation at Nomad's Auckland.
---
Short on cash but don't want to miss out? 
Deposit option available. Hit BOOK YOUR TRAVEL below and select from the payment options at checkout. Find out more. 
Itinerary
This pass starts and finishes in Auckland.
Please Note: The cost of accommodation is not included in your travel pass but under each day we have described our recommended accommodation, along with some free and paid activity suggestions. Given the spontaneous nature of our trips and lack of control over New Zealand's weather(!), what we do each day might occasionally vary.
Nau mai, haere mai (welcome)! Your Stray adventure kicks off in New Zealand's largest city, Auckland. We depart for the beautiful Bay of Islands, bound for the relaxed seaside town of Paihia often called the 'gateway to the Bay.' We stop en-route to visit the Parry Kauri Forest Park and hug some of the world's mightiest trees, the native kauri, on our way to Paihia.

Gear up for a big day, departing early to make the trip to the top of the country. Don't forget to pack lunch, water and snacks to keep you going. Travelling on a custom-built coach you'll drive up 90 Mile Beach to Te Paki Stream, where you'll learn the art of sand surfing on some of the biggest sand dunes in New Zealand. Our destination is Cape Reinga, where the Tasman and Pacific Oceans clash at the northernmost point of the country. The trip home includes a stopover at Mangonui for classic Kiwi fish 'n chips (pay on the day), before returning to Paihia in the evening.
NB. This day trip is operated by a local partner, so you cannot hop off the bus today. Please note: You can book/amend your preferred date in Stray Mate up until 11am the day before travel. After this time, any changes to your Cape Reinga Day Trip must be made directly with Fullers GreatSights at their Paihia waterfront office.
Enjoy a sleep in and spend the morning at your leisure. There's time to do the fantastic half-day Hole in the Rock cruise around the Bay in the morning or take this opportunity to squeeze in another optional activity before we jump back on board the Stray bus mid-afternoon. Destined for the bright lights of Auckland, there are plenty of exciting things to see and do if you have a free day or two.
Timetable
The days and times shown below are for the current season. For future seasons, please refer to our Bus Timetables page.
Timetables are subject to change but our team will email you if this happens whilst you are travelling. You can also see your confirmed departure times in the Stray Mate app.
Auckland to Paihia
| | MON | TUE | WED | THU | FRI | SAT | SUN |
| --- | --- | --- | --- | --- | --- | --- | --- |
| Auckland (Depart) | 07:30 | 07:30 | 07:30 | | 07:30 | 07:30 | |
| Whangarei - Info Centre (Depart) | 11:00 | 11:00 | 11:00 | | 11:00 | 11:00 | |
| Paihia (Arrive) | 13:00 | 13:00 | 13:00 | | 13:00 | 13:00 | |
Paihia to Cape Reinga and back
| | MON | TUE | WED | THU | FRI | SAT | SUN |
| --- | --- | --- | --- | --- | --- | --- | --- |
| Paihia (Depart) | 07:00 | 07:00 | 07:00 | 07:00 | 07:00 | 07:00 | 07:00 |
| Paihia (Arrive) | 19:00 | 19:00 | 19:00 | 19:00 | 19:00 | 19:00 | 19:00 |
Paihia to Auckland
| | MON | TUE | WED | THU | FRI | SAT | SUN |
| --- | --- | --- | --- | --- | --- | --- | --- |
| Paihia (Depart) | 14:00 | 14:00 | 14:00 | | 14:00 | | 14:00 |
| Whangarei - Info Centre (Depart) | 15:00 | 15:00 | 15:00 | | 15:00 | | 15:00 |
| Auckland (Arrive) | 18:00 | 18:00 | 18:00 | | 18:00 | | 18:00 |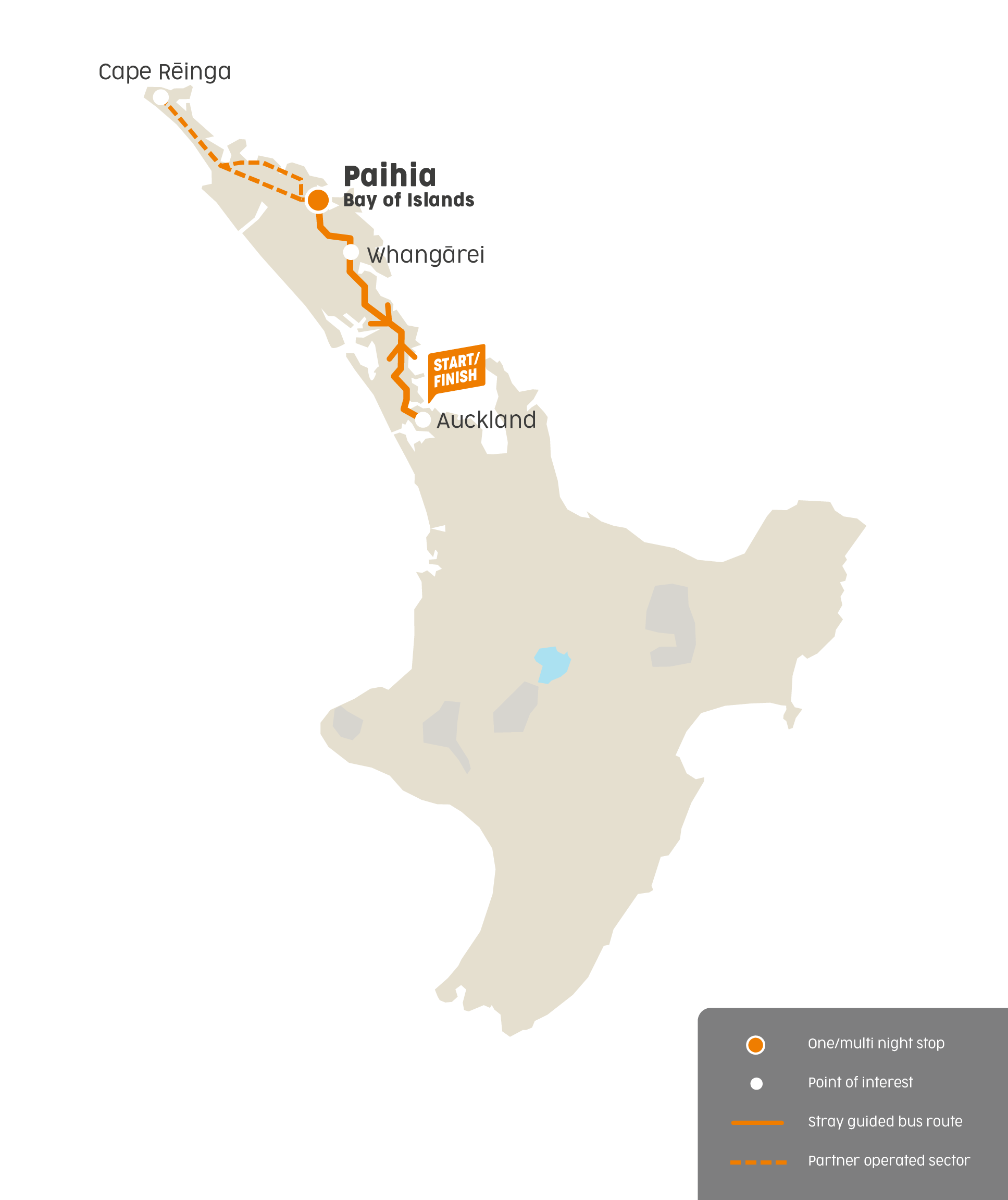 Need to Know

Some key details...


Transport - Travel by private, air-conditioned bus (14-48 seats). 


Guides - Your Guide is also your driver - expect entertaining commentary, to learn some interesting facts about New Zealand and to hear a crazy story or two. 


Validity - This Freestyle Pass is valid for 12 months from your first day of travel.


Hopping on/off - Hop on and off as much as you like along the travel route.


Minimum Days - You don't need to hop off if you're short on time - you can travel your pass in the "Minimum Days". There are non-travel days throughout the route so you will not be travelling everyday. 


Departures - Buses run to a seasonal timetable at least 3x a week.  View Pickup Points and Departure Times


Booking Buses - Use the Stray Mate app to manage your trip - you'll receive log in details in your Booking Confirmation email. If you're on a short timeframe, we recommend booking all your buses in advance. 


Accommodation - Book Stray preferred accommodation as you go via the Stray Mate app - there will be a dorm bed allocated to you at each overnight stop providing you book via the app 24 hours before. 

B

ackpacker hostel rates are between $27-$37 per night for a dorm bed. 




Activities - Book activities as you go via the Stray Mate app.


Stray Travellers - Our travellers are from all over the world, are energetic, adventurous and mainly aged between 20-35. 75% of our travellers are travelling solo.
Learn more about: 
Travelling Freestyle   The Stray Experience   Our Unique Strademark Places