Located in the gorgeous Bay of Plenty, across the harbour from Tauranga, Mt Maunganui is an upbeat coastal beach town with lively cafes and awesome surf-breaks. Stray passengers are lucky enough to stay in the heart of Mt Maunganui - close to all the action.
The mountain itself, officially known as Mauao, towers above the beachside township below and stands at 232m above sea level. This well known New Zealand landmark is actually an extinct volcanic cone that was formed approximately two and a half million years ago.
Boasting spectacular views from the summit, the Mount is a popular tourist attraction and an iconic symbol of the Bay of Plenty area.
---
Population: 20,000 residents, with visitor numbers soaring during summer months
Vibe: Laid-back, sun-soaked surfer vibe with a glam, boutique twist
Also known as: Mauao (official Māori name) & 'The Mount'
Must Do: Hike up to the top of the Mount and witness the incredible 360 degree views.
---
---
THINGS TO SEE AND DO
Take a hike
A trip to Mt Maunganui really isn't complete without a hike! Whether you want to climb the steps all the way to the summit to take in the incredible views of the white sand coastline or if you'd rather take it easy with a 45 minute walk around the base track - we highly recommend stretching those legs and exploring the walking trails. If you're an early riser, don't miss your chance to watch an East Coast sunrise from the top of the Mount! For those still in bed at that hour, you'll be pleased to know that sunset is equally as impressive.
Soak up the sunshine and relax
Kick back and enjoy some down-time on the white sand beach of Mt Maunganui. Read a book, top up your tan or just admire the views as you munch on some classic kiwi fish and chips! If you're craving something a little more indulgent, why not head down the road to the Mount hot pools. Unwind in the heated salt water pools and rejuvenate after a long, hard day of being a backpacker...
Get out on the water
Take a surf lesson and catch some waves on the beautiful Mt Maunganui beach. If you're a seasoned pro, make sure to take advantage of the Mount Backpackers $20 surfboard and wetsuit hire - there really is no excuse not to get out and show off your skills! If a surfing and splashing in waves isn't your thing, you can always head around to Pilots Bay (a short 7 minute walk across the peninsula) to a sheltered bay where you can hire a stand-up-paddle board/kayak instead and explore the harbour.  
After a long day of surfing and hiking, you'll no doubt have worked up an appetite. Luckily, Mt Maunganui has heaps of food and drink options - ranging from Indian, Turkish, Japanese, Thai and Mexican restaurants to fast food joints and healthy boutique cafes as well. There really is something for everyone - the hardest part is just making a decision...
During the day, make sure to check out the food trucks along the beach front. From smoothie bowls to coffee and tacos to burgers - there are plenty of places to score a cheap and easy breakfast or lunch.
If you'd prefer to self-cater and save some $$ then you can always cook up a storm in the communal kitchen at Mount Backpackers. However, if you ARE keen to get out and grab a bite then you'll be spoilt for choice! Just take a stroll along the main road, soak up the lively atmosphere and take your pick of one of the many restaurants and bars. 
Mount Social Club - Check out the quirky interior and enjoy some tapas with your Stray mates.
Wild One - A cute, wholefoods cafe with tons of vegan and vegetarian options.
Bay Sushi - Tasty sushi without the price tag, the perfect place to grab a to-go meal.
The Pizza Library - Relax in old cinema and coach seats as you indulge in a gourmet pizza. Or two.
Astrolabe - Breakfast, lunch and dinner combos for the backpacker budget.
---
Get to Mt Maunganui!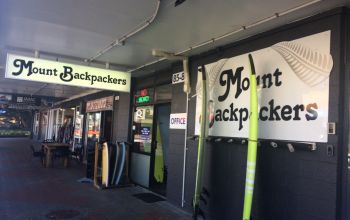 Mount Backpackers Hostel is Stray's preferred accommodation provider in Mount Maunganui.