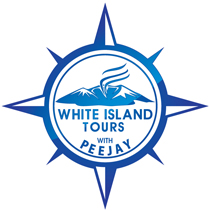 Contact
15 The Strand East, Whakatane, 3120
Phone 0800 733 529 or +64 7 3089588
Price
$$$$
Located 49km off the coast of Whakatane in the Bay of Plenty lies White Island – a constantly active marine volcano.  White Island Tours give visitors the opportunity to explore the inner crater of this extraordinary volcanic landscape. 
The majority of the volcano lies beneath the sea which means we can disembark directly into the crater complex without the need for mountain climbing! Equipped with hard hats and gas masks, visitors are able to get up close to roaring steam vents, bubbling pits of mud, hot volcanic streams and the amazing lake of steaming acid. The vivid hues of yellow and orange resulting from the abundant sulphur on the island make it a photographer's dream.   Experienced guides will lead visitors on a two hour exploration of the inner crater, providing a fascinating commentary on the geology of the island as well as stories of attempts to mine sulphur. Along with volcanic and geothermal features, you will see the remains of the sulphur factory which have survived multiple eruptions since being abandoned in the 1930s.
Once back aboard a light packed lunch is served which can be enjoyed while viewing the outer walls of the island where Pohutukawa forests grow and large Australasian Gannet colonies exist.  The trip home often has the added bonus of being able view any marine life such as seals, dolphins and whales that are in the area at the time.
A trip to White Island provides an unforgettable experience to explore New Zealand's only active marine volcano and could turn out to be the highlight of your travels in New Zealand.
What to Bring
Fully enclosed shoes with good grip.
Warm waterproof jacket
Drink/water bottle
Sunscreen
Camera
Swimming gear is optional in summer
Extra Info
Tours depart daily weather permitting
The tour will keep you busy for a full day – approximately 6 hours in total depending on conditions
A light packed lunch, safety equipment and permits to land on the island are all included.
Have a question or want to book? Get in touch with our team